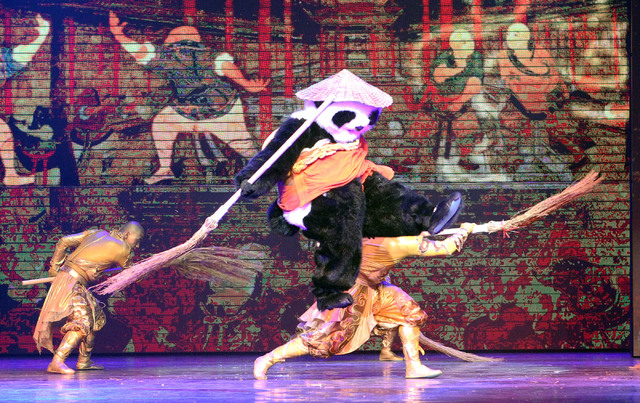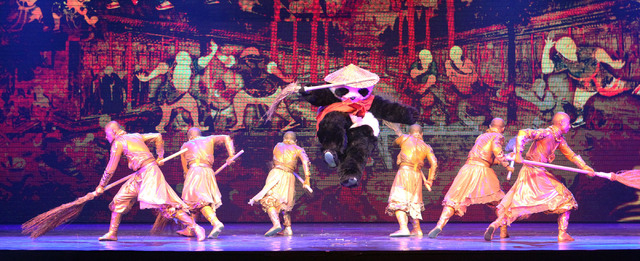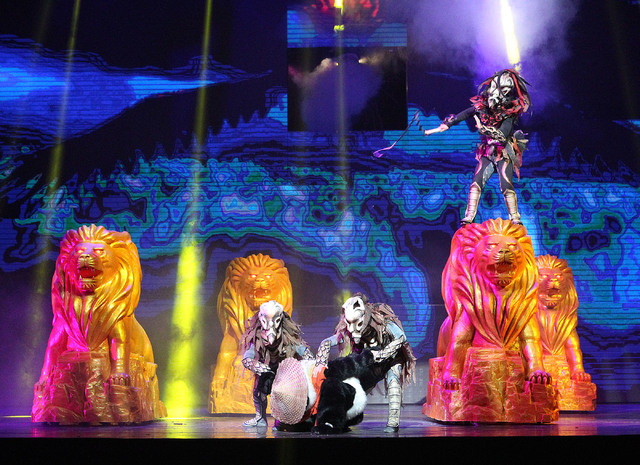 Sometimes you come across horror stories by people who worked as Disney mascots, sweating inside their Goofy suits to the point of passing out while posing for photos with theme-park kiddies.
Sympathies are likely to dry up, or at least shift, for those who see "Panda!," the new Chinese revue at the Palazzo.
Your Disney mascots may broil in the Orlando, Fla., sun, but they do not pole climb upside down, or do the splits atop two long poles in a full panda costume.
Or do a handstand, in a panda suit.
Or spin on their heads, in a panda suit.
Or hold a princess aloft so she can dance on pointe on his panda-suited hand.
Yes, the show is called "Panda!" And huggable, roly-poly pandas you get, from the moment they come bouncing down the aisles to kick off the opening acrobatics in their bamboo forest.
But the panda suit also turns out to be the stickiest part of it for the audience, as well as the actor inside. Perhaps we can blame Disney mascots for the slightly delirious feeling we get from this imported Chinese fairy tale adventure at the Palazzo.
I'm not sure how much East-West cultural translations are at play here, or if it's simply the difference between childlike and childish.
In its better moments, the show does bring out the kid in us as the main panda sets out to get some skills, man-da up and rescue his peacock princess back from a demon vulture (really).
You're thinking "Kung Fu Panda." And the collective effect overseen by director An Zhao is more like an animated film than any show on the Strip. Inventive video projections thrust us into a virtual animated world. They blend the human performers into the eye-popping graphics with almost perfect perspective, as they cross bridges or perch upon mountains.
But forget about wisecracking Jack Black. This revue is pure Eastern folklore in its sensibility, even if our panda looks a little like Mr. Peanut as he attends his wedding in top hat and tails.
The whip-cracking Demon Vulture crashes the wedding, kidnaps the bride and turns the animated background into a grim landscape of volcanoes. A wise old kung fu master sends our hero into the audience to retrieve a map and launch him on his quest.
By the time it's all resolved, you may have that dutiful-parent feeling you get in the home stretch of "Disney on Ice," when the novelty has long worn off and you're starting to think about the parking lot traffic.
Part of it is our Cirque du Soleil overload in Las Vegas entertainment. Through no fault of the hard-working Chinese dancers and gymnastics from the Tianjin and China National acrobatic troupes, displays such as the princess's contortions atop a pedestal come off as more familiar than they probably should.
Martial arts, a field Cirque hasn't saturated, become the chief point of fascination. The showstopping sequence comes when our panda arrives at the famed Shaolin Monastery, to witness the monks snapping staffs over one another's bald heads to warm up for a preliminary fight with the vulture crew.
As I often say of Las Vegas magic shows, how much you respond to the rest of it will depend on how much of it you've seen before. And whether you're taking the whole family to this one or attending it as grown-ups.
I will say that it takes a "Panda!" to make us realize how adeptly Cirque, or Julie Taymor's stage version of "The Lion King," strike a balance between the symbolic and the literal. This show's wavering approach is captured in one moment in which the vulture's head is a giant puppet head, but its wings are video animation.
An Easterner may take "Panda!" and its eccentric action at face value. But what really seems to be wrong here is that it's storytelling without theater. Lots of things happen (and it helps if you read the program to know what), but it's pageantry without any real character interaction or emotion.
It would be tough, after all, for a human princess to emote with a guy in a panda suit. But the soft, cuddly panda may be just how the Chinese want to be perceived on these shores. And for youngsters at least, a more spry and agile cultural ambassador is nowhere in sight.
Contact reporter Mike Weatherford at mweatherford@reviewjournal.com or 702-383-0288.
Review
"Panda!"
7:30 p.m. Tuesday-Saturday
Palazzo, 3325 Las Vegas Blvd. South
$48-$128 (702-414-9000)
Grade: B-