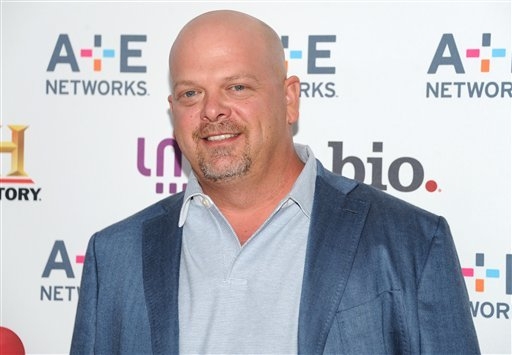 A spoof of "Pawn Stars" headed to the Golden Nugget early next year promises a "big musical finale, and almost every Vegas cliche you can think of," says Troy Heard, its director and co-writer.
But the very idea of "Pawn Shop Live" is more like the opposite of a Vegas cliche. So is its path to a showroom.
Tourists who line up in front of the Gold &Silver Pawn Shop may not see the wall that locals do between "Las Vegas entertainment" and that found beyond the Strip. But, thanks to the clout of the "Pawn Stars," this project is the rare title — and perhaps the first original work — to cross that invisible line into the type of casino showroom most visitors know as Las Vegas.
"There's been so much talent off-Strip, doing their own thing with minimal budgets," says Derek Stonebarger, who operates Theatre7 downtown and is producing the pawnshop parody. "I know the people I've worked with either on the film side or the theater side are talented enough, but it has always seemed separated. We're excited to bridge that gap."
Stonebarger says the original idea was to stage an unauthorized "Pawn Stars" parody in Theatre7 and hope it created enough buzz to catch a casino's attention. That step was skipped once the project came to the eye of Gold &Silver management, which decided to endorse it.
The move continues forward progress for those who would like to see more choice and fewer magicians in casino show venues.
"Evil Dead: The Musical" is so far the best example of a community production, first staged here at the Onyx Theatre. It moved to the tourist corridor to play two nights a week at the V Theater in the Miracle Mile Shops at Planet Hollywood Resort.
Later this month, "Evil Dead" will add nights as it moves into a third performance space inside the V complex. It's a modest success so far, but one that suggests the kind of mindless theater you see on a boozy Friday night in a "theater town" such as Chicago can be commercially viable in Las Vegas, too.
"The thing this has that the 'Evil Dead' doesn't is that the pawnshop guys, they're here," Heard says. Not only are the "Pawn Stars" strongly branded with Vegas, they promise to make occasional appearances at the end of the show or in the lobby afterward.
That type of support also promises a budget others eyeing a crossover would envy. Last year, a trio of community theater producers hatched what seemed like a solid plan to stage "The Best Little Whorehouse in Texas" at the Plaza.
On paper, it sounded great. A title with familiarity and sexy brand sizzle, but one not often performed. And it required only a small band on a single standing set.
But the execution was cheap, cheap. Taped music, a tacky set and no marketing. It proved the first rule of survival for any crossover: The production has to be better than what visitors could see in their own community theater back home.
That's been no problem on the other side of this two-way street. Those who work in showrooms have long lent their talents to community-based productions, sometimes even taking vacation time to indulge their love of theater.
Phil Shelburne, who helms the Excalibur's "Tournament of Kings," has been instrumental in raising the quality of Super Summer Theatre at Spring Mountain Ranch State Park.
This year's staging of "Legally Blonde" was good enough that there was talk of moving it intact to The Smith Center for the Performing Arts for a few more shows, before the logistics proved more complex than the idea.
"You would have assumed it was a national tour," says Andy Walmsley, the set designer who created the stages for "American Idol" and "America's Got Talent."
"Blonde" was one of several community-based productions Walmsley has volunteered to design just because "I love doing musicals. It's just fun.
"We're lucky because there's a huge pool of talent here," Walmsley adds.
"I'm still very new to all of this, which is ridiculous when I've been here eight years," he says with a laugh. "I'm finally getting with the program and seeing what else is here."
And it looks like those who operate the casino venues are starting to do that, too.
Contact reporter Mike Weatherford at mweatherford@reviewjournal.com or 702-383-0288.