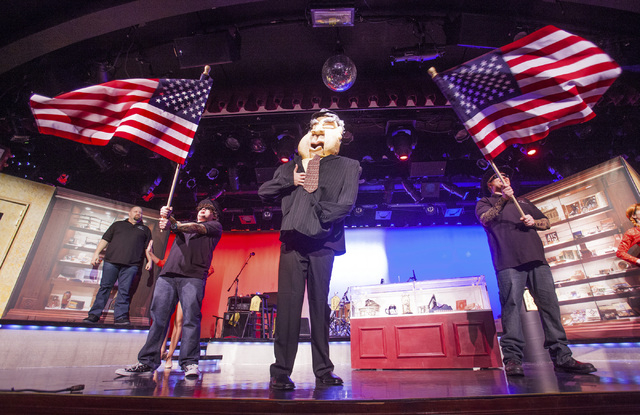 "This is the most unceremonious closing ever," Troy Heard said as we headed for the escalator leading out of the Riviera last week.
It was the last show of "Pawn Shop Live," a project that only took "two years of my life," said the theater director who had been in charge of a rare attempt to create a sketch-comedy play as a tourist product.
It failed. Twice. The cast — three of whom had performed every show in two different casinos since January — quietly shuffled out not long after the two dozen or so patrons. No final toast in the Wicked Vicky Tavern. Heard was off to rehearsals of "Arsenic and Old Lace," which opens Thursday at Spring Mountain Ranch State Park.
"It was dead before they killed it," Heard said of the painfully low attendance, which made it clear neither two casinos nor two distinct versions of the show would save it.
And no wonder. If you're asking why I'm still writing about a show few people bothered to see, here's why: "Pawn Shop" is one of the most bizarre sagas of Las Vegas entertainment in a long time.
How weird? Let me tell you how a spoof of the family-friendly History Channel "Pawn Stars" ended up offering a daily afternoon dose of simulated sex with a crack whore.
It all sounded promising last winter. The "Pawn Stars" are undeniably among the city's most recognizable celebrities. When they heard an unauthorized parody was in the works, they got on board, figuring fans might just go for a new way to "buy" them.
The spoof intended for locals in a tiny studio theater was instantly upgraded to an afternoon berth in a real showroom at the Golden Nugget. Cinderella story? Or Grimm fairy tale?
"It was an idea that got too big too fast," Heard says.
Comedy, especially the sketch-based kind, needs to develop in front of audiences. During "Pawn Shop," Heard staged his own comic mash-up, "Cherry Orchard of the Living Dead," at the Onyx Theatre.
"To me that was a baby workshop. No way was it ever considered the final product," he says. "I didn't launch that in a casino with a megapublicity campaign behind it."
But whether it's the modest "Pawn Shop" or the blockbuster "Michael Jackson One," commercial Las Vegas shows tend to open cold and fine-tune in front of paying customers.
"Pawn Shop" was headed in the right direction but simply needed more jokes. "Someone to punch up and put in laughs," Heard agrees. Moving to the Riviera in July provided just that chance, and an outside writer was brought on board. But the old version — now produced directly by "Pawn Star" Rick Harrison — continued to run until a new script by writer-comedian Howie Gold arrived.
It was more than a punch-up. It was a top-to-bottom rewrite. A "hard R" aiming for David Mamet's brand of poetic crudity. It was labeled "strictly adults only," but still ran at 4:30 p.m. The opening video featured the real Harrison telling the cameraman to "get the (expletive) off my property," setting up what was more or less 50 minutes of running jokes about the Chumlee character's new stripper girlfriend.
Sorry kids, but this is how your lovable TV guys talk off camera. And, since they paid for it, this was the script that made them laugh.
"It was a lose-lose situation," Heard says.
The raunchy version needed to run late at night, but TV "Pawn" fans were an afternoon crowd. "They wanted the endearing schlubs. They didn't want David Mamet."
The moral of the story? Whoever is calling the shots "better know theater," Heard says. "Or they better know live entertainment. It's a whole other monster from TV."
Still, useful ground was broken here. The gap between local theater and resort entertainment was narrowed. Heard isn't dissuaded. He and some of the same actors are trying it again with the interactive "Joni & Gina's Wedding," opening Oct. 2 at Ron Decar's Event Center downtown.
But it's going to move very slowly, Heard says, as the creators figure out what works and what doesn't. The biggest lesson he's learned from all this is that once a tourist product "is out there, it's out there. Rarely do you get a chance to fix it."
Contact reporter Mike Weatherford at mweatherford@reviewjournal.com or 702-383-0288.