Piano, improv shows bring new daytime options to the Strip
February 25, 2011 - 2:05 am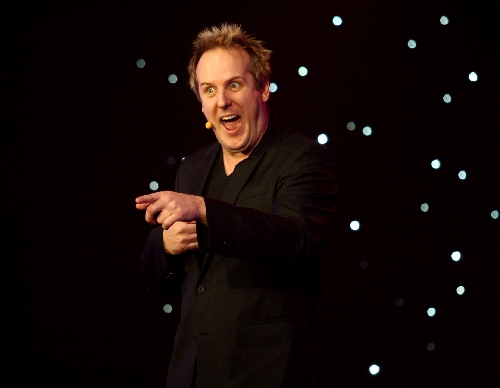 You've seen Mac King so many times you know all the jokes, but you can't afford to shop or gamble all afternoon, either.
Fear not. A couple of new shows are trying to crack the Strip by working afternoons at the V Theater. A hometown piano man and an Australian improv troupe bring some nice-enough folks with valid choices to the daytime scene.
"Piano! Las Vegas"
Las Vegans know Ryan Ahern by his last name, even if they think of it more when they need a palette jack than a calming dose of piano.
The 32-year-old is of the Ahern Rentals family, but since he was 12, his family knew the heavy equipment he used best was a Baldwin grand.
Perhaps if he grew up in another city his influences might be Oscar Peterson or Keith Emerson. But it was Las Vegas where Ahern won piano contests sponsored by the Liberace Foundation and where he played for private parties at Liberace's mansion.
Along with Roger Williams, Ahern cites two more distinctly Vegas showmen as mentors: Giovanni Marradi and Glenn Smith. If these don't give you the general drift of his "Piano!" show, then consider a set list that includes a "Phantom of the Opera" medley, "Wind Beneath My Wings" and the theme from "E.T."
Liberace only gets name-checked in one tribute medley. But that florid, midtempo style informs Ahern's solo renditions of Seal's "Kiss from a Rose" and Queen's "Bohemian Rhapsody" as well.
Needless to say, "Piano!" will fill the gap for anyone missing Liberace and his museum. But Ahern knows that's a shrinking demographic, and he makes a token attempt to expand the scope of the hour show with a six-piece band.
There's a welcome break from the predictable with "Corazon de Nino" by Argentine pianist Raul di Blasio, a run at Maroon 5's "This Love" and a '50s rock medley where Ahern adds some vocals (and soon, he promises, a drum solo as well).
If the overall impact is underwhelming, there are twin culprits. The one more easily remedied is the lack of dynamics that comes from rendering everything with the same frilly steadiness that doesn't pack much fire or drama.
Harder to cure is that Ahern is not coming into this already known or with a compelling narrative. He's a nice guy playing nice music. But he doesn't have a defining personality, or even a good gimmick beyond his keyboard-patterned sneakers. Too bad someone already thought of the cape and candelabra.
"Aussie Improv Comedy Explosion"
Word must be getting back to Australia that a charming accent is recession-proof, if you sing in Human Nature or strip in "Thunder from Down Under."
The past month has piled on "The Australian Bee Gees Show" and this trio of improv comedians, doing an hour of improvised "games" (but no scripted sketches) usually practiced here by Drew Carey and Wayne Brady.
The trio — Grant Davies, Lisa Ricketts and Matt Foster — offer a pleasant-enough introduction to the format for newbies, even if none of them displayed the warped genius that really sells this gig. Nothing on this afternoon inspired that "Good God, how did he come up with that so fast?" amazement you get from Brady.
There are many couplets of the "hat" and "cat" variety when the three make up song lyrics, though Ricketts admirably rhymed "Yasser Arafat" to the name of an audience member named Pat.
Those who remember The Second City's run on the Strip might recognize the attempt to dramatize an audience member's life story, or the "interrogation" game: Foster is sent out of the room, then brought back in to figure out his "crimes" as supplied by the audience via clues from the other two.
Doing this in the afternoon keeps an audience engaged at an hour that can otherwise lead to unintentional napping. But the 4 p.m. show also can draw youngsters, and the trio tried hard to avoid raunch.
They had to cave in a bit for a challenge to make up songs about the Strip's porn pamphleteers, and the resulting laughter suggested improv should join the list of Vegas distractions that don't pretend to be good clean fun.
Contact reporter Mike Weatherford at mweatherford@ reviewjournal.com or 702-383-0288.
Reviews
"Piano! Las Vegas"
2:30 p.m. Saturdays-Thursdays
V Theater at the Miracle Mile Shops at Planet Hollywood, 3663 Las Vegas Blvd. South
$37-$48 (260-7200)
Grade: C+
"Aussie Improv Comedy Explosion"
4 p.m. Thursdays-Tuesdays
V Theater at the Miracle Mile Shops at Planet Hollywood, 3663 Las Vegas Blvd. South
$47-$58 (260-7200)
Grade: B-