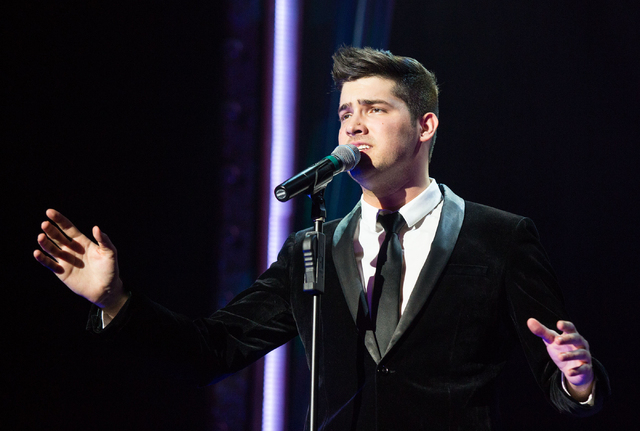 Here's a funny little quirk of Las Vegas ticketing. The real Elton John is in town this weekend and you can get into the upper balcony for $55, while a loungey little tribute to him (and Billy Joel) called "Piano Man" costs $65.
Few pay that second price, of course. Don't expect to score a half-price seat for John at Caesars Palace. But for "Piano Man," which moved into the V Theater's "Zombie Burlesque" cabaret at 5:30 p.m., more tickets will come from discount outlets or time-share pitches.
Having the real Elton in town won't help this well-crafted but weightless revue of hits by John and Joel, plus a couple by Barry Manilow. It plays more like it's designed for captive audiences — cruise ships, theme parks, the Las Vegas lounges of yore — than a competitive ticket on today's Strip. And that's just one reason why it seems like "Piano Man" is from an earlier era of Las Vegas, not the creation of a 27-year-old producer.
Ethan Walker is a former dancer who was all set to be company road manager for last summer's arena tour of "Jesus Christ Superstar" when it was abruptly scrapped due to low ticket sales. He decided it was time to pursue his goal of producing a Las Vegas show. He sold V Theater operator David Saxe on "Piano Man" and created the show in six weeks.
The producer is quick to admit it's still a work in progress. But he gives us a couple of reasons to root for it, not the least of which is a seven-piece band. The "Zombie" band and singer Sophia Monica get to "daylight," along with Russel Francis and Savanna Smith of "Vegas the Show."
The show also has an easy flow with natural transitions, though Walker says the future of Manilow's songs may be limited. Though we get to see Monica in showgirl attire for "Copacabana," we all know John and Joel are more of a piece; they even toured together. But yes, these songs are modern standards and it's pretty easy to flow from finger-snappers such as "The Longest Time" to ballads such as "Your Song."
Still, a show called "Piano Man" needs a piano. Instead, keyboardist Eric Arellano was stuck in the shadows above the stage. Walker plans to move him down to the main stage level, but has to wait on a folding piano to be built because there's no room to store a real one.
Welcome to the world of Las Vegas producers.
Then there are the costumes, which don't match the music. It sounds kind of silly to say you've got to keep it real to sing the music of Elton John, a man who has performed in ostrich feathers. Still, that's who he is and what he does.
Here, the spiffy red tux jackets and spangly purple cocktail dresses just seem generic and dated (There's something going around this winter, judging by similar affliction at Wynn Las Vegas' far more lavish "ShowStoppers.") Sometimes a Billy Joel song just needs a T-shirt.
But the quartet of singers also fails to connect with the material on a more fundamental level, and that will be harder to fix.
Francis and Brett Pruneau almost sound like Joel at times, but you rarely feel like the singers have listened to the lyrics. It's only when Smith sings the first verse of "Tiny Dancer" or "Someone Saved My Life Tonight" that you feel a brush of sandpaper.
"Piano Man" has great songs, good singers and a live band, so give it time to see if it can translate some of the slick posturing into a real feel for its material. Perhaps Walker's next expense as producer should be five balcony seats for he and his singers to see the real Elton this weekend.
Contact reporter Mike Weatherford at mweatherford@reviewjournal.com or 702-383-0288.
Review
"Piano Man"
5:30 p.m. Monday-Saturday
V Theater, Miracle Mile Shops at Planet Hollywood Resort, 3667 Las Vegas Blvd. South
$64.99-$84.99 (866-932-1818)
Grade: C