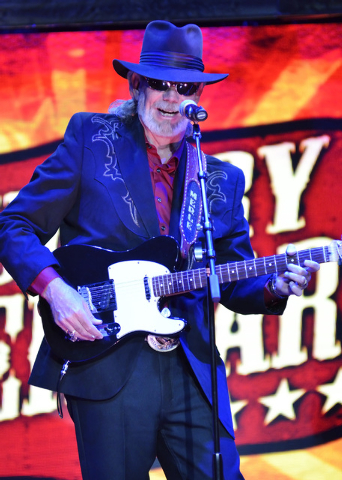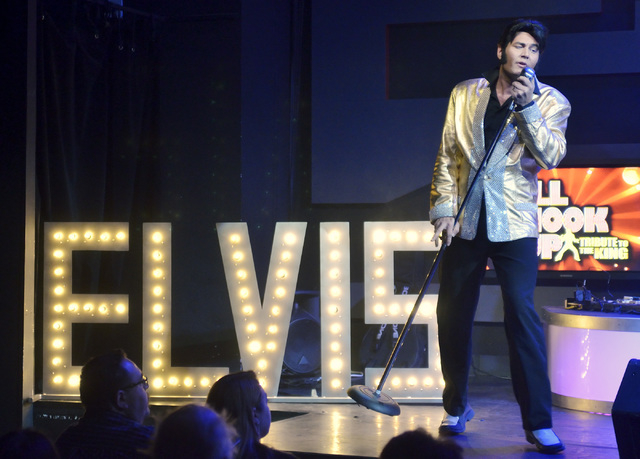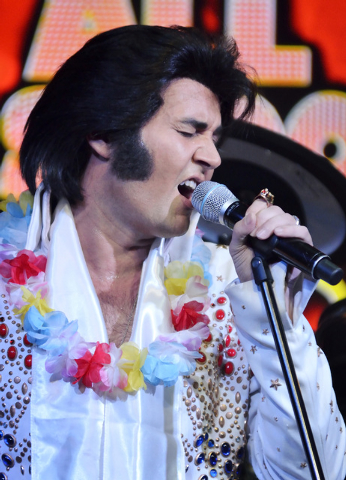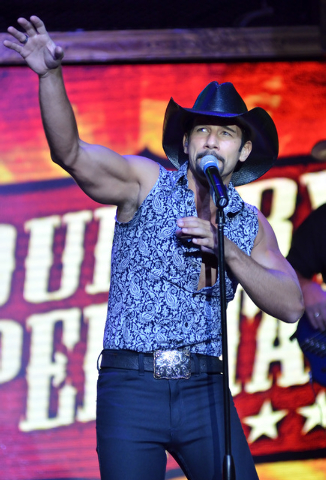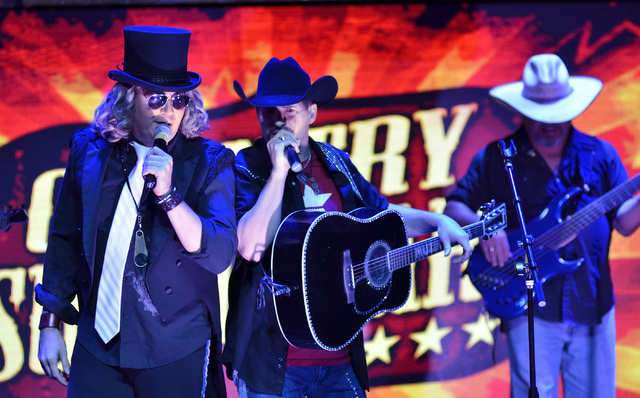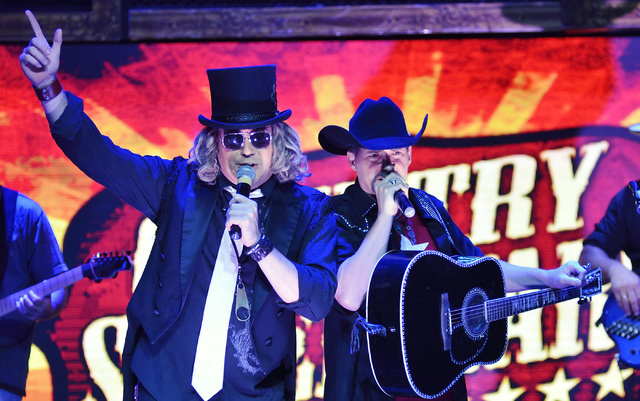 It isn't Las Vegas without an Elvis impersonator, sure.
But anymore, it isn't Las Vegas without a Tim McGraw impersonator, some nights working a few blocks away from where the real McGraw is singing.
You can choose either one at adjacent venues inside the V Theater, where Travis Allen's lean-and-mean "All Shook Up" Elvis tribute runs right across the hall from the durable "Country Superstars."
Both are overseen by producer Leonard Quenneville, and both stretch the definition of what we expect from a "show," versus a "set."
The Strip — specifically "Legends in Concert" — pioneered the tribute as variety show. But the real industry growth is seen more in suburban and tribal casinos: full-length, long-form tributes to everyone from Abba to Led Zeppelin, which play more like bands doing sets. Sometimes they don't even bother with the costumes.
These two shows land sort of in the middle. Both attempt the costumed illusions, but neither aspires to a biographical narrative, or punches up the visuals with dancers or video.
"All Shook Up" almost entirely rests on the swiveling hips of Allen, who is practically right on top of the audience in the most awkward of the V Theater's three venues: an odd-shaped room better suited for the mentalism of roommate Gerry McCambridge.
"Country Superstars" is much better off in the V's newest venue, a cozy theater which landlord David Saxe recently outfitted with raked, movie theater-style seating. Each show gives you four acts pulled from a larger bullpen (big enough that "Superstars" is simultaneously playing the Riverside Resort in Laughlin on select days this month).
Given that a tribute show is a little snickery by definition — suspect wigs, hiding behind sunglasses — Quenneville at least has the right priorities for a limited budget. Both shows are musically solid, with live bands and credible singers reminding you why you cared enough about the tributees in the first place.
Look around, and you'll discover "All Shook Up" is more of a rare chance to see Elvis on the Strip than it used to be (unless you count they guys posing for photos on the sidewalk). Elvis is even taking an eight-week vacation from "Legends" starting in July.
Though Cirque du Soleil cited an aging fan base when it closed "Viva Elvis," Allen drew a good cross-range on this night. He turns out to be visually convincing and a fine singer; no faking it with that stock Elvis impersonator voice.
A 70-minute running time trims the middle act — the black leather "Comeback Special" era — which Elvisphiles recognize as the standard tribute format. We jump from the early, rockabilly hits such as "Heartbreak Hotel" and "Don't Be Cruel" to the jumpsuit "Aloha from Hawaii" phase, where the trio adds backing tracks for the bigger sounds of "Burning Love" and "An American Trilogy."
Emcee Mick Tiano covers the costume change with an old-school set of impressions which could have been in front of the real Elvis in the '70s. But this is otherwise a straight shot of the King, with close to 20 songs and a minimum of chatter. And for a small crowd rallied to its feet by "Suspicious Minds," it was enough.
Across the hall, a vocal shot of female adoration also rewarded Adam D. Tucker's pumped-up, fan-fiction version of Tim McGraw, a solid closer for this day's "Country Superstars" quartet.
This one was a dude-ranch lineup, a bit of a bummer since the larger bullpen includes Corrie Sach's unrivaled Reba McEntire, Donna Huber's Shania Twain and even a Taylor Swift in Sarah Jessica Rhodes.
Sam Dailey kicked it off as Merle Haggard, whose convincing voice needed a lighter touch from the four-piece band that came ready to rock the Garth Brooks and Big &Rich tributes which followed. Eric York captured Brooks' moon-faced likability if not his voice.
Quenneville and Jeff Fairchild were just plain fun as Big &Rich. If the real duo doesn't take up residence on the Strip where it belongs, this is the next best thing. Beyond the topless-cabaret anthem "Save a Horse, Ride a Cowboy," these guys even keep up with their latest single, "Look At You."
This lineup didn't include Ron Keel's standout Ronnie Dunn or Roy Hammock's dead-on Willie Nelson either. So I've seen "Superstars" be better just by showing up on a different night. As a reviewer, I'm not sure quite what to tell you.
How about one of two things: 1. It's Vegas, baby. You roll the dice and take your chances. 2. It's Vegas, baby. When in doubt, stick with Elvis.
Contact Mike Weatherford at mweatherford@reviewjournal.com or 702-383-0288.
Reviews
"Country Superstars"
7 p.m. Monday-Saturday
V Theater, Miracle Mile Shops at Planet Hollywood Resort, 3667 Las Vegas Blvd. South
$50.99-$69.99 (866-932-1818)
Grade: B-
"All Shook Up: Tribute to the King"
6 p.m. daily
V Theater
$50.99-$69.99 (866-932-1818)
Grade: B-