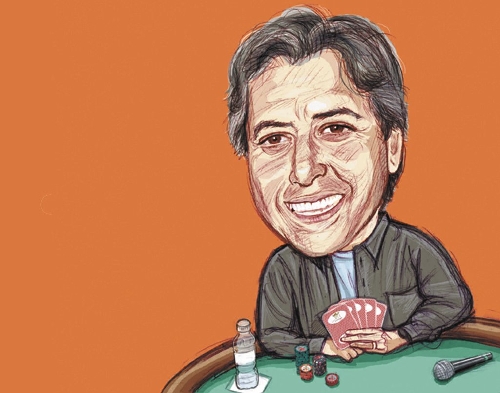 When men of a certain age click on a "Raymond" rerun while channel-surfing, do they stop to check it out?
Absolutely, says Ray Romano. "Everybody Loves Raymond" always seems to be playing somewhere on cable, and "normally you can tell right away from looking at your face, your hair and the cast if it's early or late in the series," he says.
But once in a while he is stumped.
"I'm losing my memory because I'm getting older, but I haven't lost it enough yet that I don't know what's coming up," says the 53-year-old comedian, who returns to The Mirage today and Saturday. "There's a very few that I'll watch and I'll go, 'Where does this show end up?' Then it's a pleasant surprise, like for the audience.
"But that's only a very few. … Don't forget, I was in the writer's room. I still kind of know a little bit of the line that's coming next. It's like 80 percent. The 20 percent that I don't, it's fun to watch though."
FROM RAYMOND TO 'MEN'
Romano's current show, "Men of a Certain Age," is harder to find. Its seasons are brief, and TNT doles the episodes out in short blocks; the latest batch debuts June 1.
But it was noticed enough to win a recent Peabody Award. And when Romano opens his live shows up for audience questions at the end of his Mirage act, "It's still a majority 'Raymond' questions, but it's nice to see some new ones, too."
That doesn't mean he will replace the "Raymond" gag reel he used in his Brad Garrett co-bill dates with one from "Men." "Blooper reels from one-hour single-camera dramedies are not the same," he says. "It's a different energy."
The gag reel was a small sacrifice to avoid another live-audience sitcom. "I knew I didn't want to try to copy what I'd just done. I want to leave my legacy as Raymond," he says. "I'm proud of it, but I had done it. Now it was time to explore this. It's still fun to be funny in this genre. We consider it a drama, but it has a lot of comedy in it."
Like "Raymond," Romano shares the comic perspective of his stage routines in the newer series, which focuses on three buddies (the others are Scott Bakula and Andre Braugher) trying to find their middle-age places in life.
"I bring a little bit of myself to each character, for sure," he says. "Raymond's a little more heightened and a little more broadened." But he can play Joe on "Men" with "a little more pathos and a little more angst." With a single camera, "you have the luxury of being subtle and being small."
But they both "dip into reality," he adds with a chuckle.
A STAND-UP FOR LIFE
When Garrett took over the Tropicana's comedy club and Romano did an unbilled guest spot there, it was a full circle back to opening the same room as The Comedy Stop in 1990. Rosie O'Donnell was on the same bill, but neither headlined.
"It was my first time in Vegas, period, and it was my first gig in Vegas," says the native of Queens, N.Y. "My wife was pregnant with my first-born daughter."
Now, The Mirage is the only place you can find him unless he's doing a benefit. "There are not many unknowns there," he says. "That's not to say I still don't get a little bit of nervous energy before I go on, but it's OK. You're not jumping into the unknown like you are many times when you go up onstage."
Romano has a solid section of Vegas-specific jokes he started in the days of eye-catching women peddling cigarettes and glow-in-the-dark yo-yos on the casino floor. If he performs anywhere else, "I got 10 minutes of Vegas stuff I can't do. I gotta scratch and claw my way," he jokes.
"I always get a charge when there is new material to put into the act," he says. "But the way it happens now, it'll just come and I'll write it down. … I'm not working stand-up night in and night out like I used to do, when writing material was my first priority."
He says he understands why Garrett got into the comedy club business. It's not much different from his developing "Men." He's no stranger to the poker room — more than once he's been in the World Series of Poker — and plays a lot of Pro-Am golf, too.
"I don't want my wife to hear this, but financially, I don't need to be out of the house," he says with a laugh. "But spiritually, I do. It's what I do. It makes up who I am. Part of who I am is what I do.
"Not to get too highfalutin', but creativity is part of my identity. I was going nuts there for a little while after 'Raymond' doing nothing. The whole genesis of ('Men') was because of that," he says.
"I don't need to do stand-up, but I love it, and one thing I'm sure of is that I'm a stand-up comic. As an actor … I'm still insecure about certain things. But I feel in my heart and soul I am a professional stand-up comedian. … I know in my core that that's what I do well."
Contact reporter Mike Weatherford at mweatherford@ reviewjournal.com or 702-383-0288.
Preview
Ray Romano
10 p.m. today and Saturday
Terry Fator Theatre at The Mirage, 3400 Las Vegas Blvd. South
$95.49-$117.49 (792-7777)