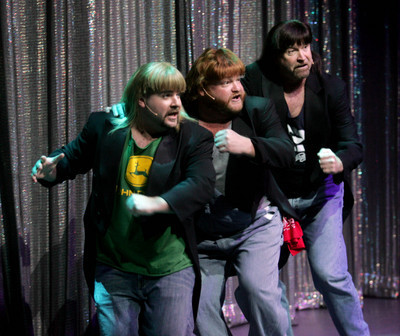 It's not a big secret that the 3 Redneck Tenors aren't real rednecks. After all, it's easier to fake being a redneck than an opera tenor.
But the mullet-haired trio playing the Luxor through Tuesday keeps surprising people anyway.
The Rednecks made the judges of "America's Got Talent" sit up straight last summer when they broke into an a capella version of Beethoven's Fifth Symphony.
And it may surprise viewers to know they didn't try out for the NBC talent contest. "They called us three times," explains Matthew Lord, the singer who put the trailer-park tenors together. "That's why we couldn't win."
"Talent" always seemed like it made up its rules on the fly, but a scandal still might have erupted if word got out the rednecks were recruited. "They wouldn't let us go on to (the point in the show) where the voting took place because then they lose control," Lord explains.
"Talent" producers wanted to get more "Gong Show"-crazy in the second season, and figured they couldn't miss with an act named 3 Redneck Tenors. But if they had gone a few search-engine hits deeper, they would have discovered Lord created the group in 2005, and that it was building a good reputation among season-subscription and symphony pops promoters.
"I turned ('Talent') down the first two times. I'm old enough to remember 'The Gong Show,' " Lord says. When he finally caved in to a formal audition, the TV producers "all just rolled their eyes. They thought we were going to do 'Blue Collar (comedy).' "
Instead, they were "stopped in their tracks" hearing the trio's formal harmonies. But they still must have thought they were dealing with real hayseeds when Lord and his partners wouldn't break character. "They asked me, 'What are you guys doing the rest of the day? Can we follow you guys around with cameras?' "
Lord had to tell them, "You know these are wigs and we're actors. … I've lived here (in New York) for years."
Indeed, Lord's nickname of "Opera Redneck" eventually inspired the show idea, but it was one the California native had carried since the early 1980s. He has performed with opera companies around the country, and in 2004 he finally added New York's Metropolitan Opera as the resume credit to which all singers aspire.
A redneck identity crisis came up again after the "Talent" appearance drummed up tons of interest in the group. A major agent saw the show, assumed they were a cruise ship act and offered them an opening berth for Jay Leno at The Mirage.
But when he reviewed the group's media packet, the agent called back and said, "You guys are a full show. If you're not an opening act, you don't want to be tagged as one."
So the Rednecks ended up spelling Carrot Top during a series of his vacation weeks at the Luxor. They're set to return March 19-24 and April 23-28, and perhaps monthly thereafter if they continue to sell well.
Audiences may once again be surprised to discover that, yes, it is a complete show, complete with a set — trailer shell, outhouse and lawn furniture, of course — a live band and a story arc.
The backwoods saga is narrated by the man who calls himself The Colonel (Dinny McGuire), fashioning himself after another legendary Southern manager. He recognizes raw talent in the three bumpkins Billy Joe, Billy Bob and Billy Billee (Lord, John Wilkerson and Alex Bumpas) and steers them through shows at various bowling alleys, saloons and gun stores on a gravel road to success.
In their quest to earn enough money to build a new "dream trailer" for their hot cousin Edna Mae, the trio adapts to each new booking by working its way through a bottomless ice chest of Lone Star and music ranging from "Nessun Dorma" and "O Sole Mio" to "Stayin' Alive," "You Light Up My Life" and a medley of classic TV themes.
Lord says the Redneck name alone piqued so much interest in 2005 that 35 dates were booked before the product was ready. "There is no show, but I'm writing it and it'll be really good," he recalls telling presenters.
The upside was that the show evolved with input from both presenters — who "begged me to do an adult show without adult language" — and early audiences.
It worked. The Tenors are good for two bookings a year at Bass Hall in Fort Worth, Texas. "We bring in the NASCAR crowd. Half of that audience had never been to Bass Hall," Lord says.
The current show might be dubbed "retro redneck," more "Green Acres" and "Gomer Pyle" than the willful stupidity of the Blue Collar brand.
"I'm a product of that '60s television," Lord says. "I think people are nostalgic for that and we kind of bring it back."
Just don't tell people Gomer is really Jim Nabors.
Contact reporter Mike Weatherford at mweatherford@reviewjournal.com or (702) 383-0288.
what: "3 Redneck Tenors — A New Musical Adventure"
when: 8 p.m. today, Sunday-Tuesday, 9 p.m. Saturday
where: Atrium Showroom at the Luxor, 3900 Las Vegas Blvd. South
tickets: $36.50-$58.50 (262-4400)