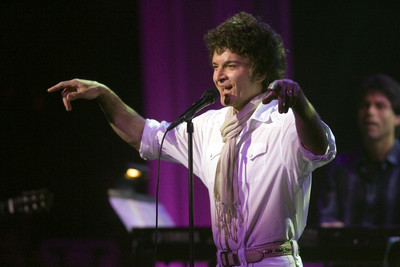 Gino Vannelli likes the agreeably retro atmosphere of the Flamingo's showroom. It has "a nostalgic vibe to it," he says.
He can say this now, soaking it up from the perspective of an infrequent visitor. It has been 25 years since the imminent threat of showrooms such as this one becoming the singer's home base.
"An artist is a man, a human being, before he's an artist," says the 55-year-old singer-songwriter, who returns to the Flamingo Las Vegas today and Saturday. "When they forget that, they become some kind of parody, some kind of wound-up, cranked-up toy other people are manipulating
"Pretty soon," he says, "you have nothing left to say to people. You mean nothing to people except maybe some kind of nostalgic icon."
Funny he says that here. The Flamingo is the showroom where Elvis Presley slipped in to watch Tom Jones while plotting his own 1969 Las Vegas debut. By the time Vannelli had the No. 4 hit "I Just Wanna Stop" in 1978, he could have succeeded Jones as the next bare-chested belter of the casino circuit. And he might have felt like as much of a wind-up toy as Presley.
"I saw by 1980 that could easily happen to me, that I was turning into that," Vannelli recalls. So he walked away from it all, into a more obscure future. And in Las Vegas, that future is still being determined.
Last year, Flamingo president Don Marrandino explored the idea of booking Vannelli every month or two during Toni Braxton's breaks. After the stint that included this interview last May, the singer's planned summer return was postponed until November, and then again to this weekend.
No return dates are booked, but Marrandino says the door remains open if Vannelli continues to draw well.
The Canadian-born singer commands a loyal cult following and says he has "distilled my audience to understand my approach to music, my approach to life."
They are used to sporadic recordings that include an album ("Canto") sung mostly in Italian, and live performances with orchestras and a Dutch jazz trio that radically rework his old studio recordings.
But Vannelli was never that easy to categorize. It wasn't really an issue when he started making records in the early 1970s, an era when it was accepted and even encouraged for everyone from Steely Dan to Boz Scaggs to blend rock riffs and pop ballads with jazz, funk and soul influences.
His father was a jazz musician and "when I was 4 years old, I knew who Count Basie and Duke Ellington were," Vannelli says. "I saw Stan Kenton when I was 10."
It was an oft-told story that Vannelli signed to Herb Alpert's A&M Records after staking out the studio gates. "My brothers (musical collaborators Ross and Joe) and I were out of money. We had one day to make a decision" about staying in Los Angeles or moving back to Montreal.
He waited by the A&M guard gate and rushed up to Alpert, begging "Let me play for you." He felt the trumpeter was "my last bastion to enter the pop mainstream," and Vannelli's instincts were good. The label head agreed to an audition and liked what he heard.
A&M invested five albums in Vannelli before the big payoff with 1978's "Brother to Brother" and its signature hit "I Just Wanna Stop." Another Top 10 hit came with "Living Inside Myself" in 1981, but within a few years, Vannelli "just decided to turn on it." Music legend has it he joined a monastery.
Well, he says, he didn't join one. But he visited several around the world in pursuit of "a more esoteric, off-the-beaten-path trajectory." He traveled to Japan and the Andes mountains, met with Buddhist monks in Tibet and Camaldolese Benedictine monks in Big Sur, Calif.
He read transcendentalist literature and studied Kabbalah and the mystical aspects of other religions. "I wasn't particularly into one system of belief, I wanted to understand life and the stars and what lies beyond the stars," he says.
Now happily reconciled with his singing career, Vannelli has been recording 20 songs he wrote during a year's stay in Holland. "The vision has to be there, huh?" he says. "And the passion has to be there. Passion operates on its own frequency."
Contact reporter Mike Weatherford at mweatherford@reviewjournal.com or (702) 383-0288.
PREVIEW
who: Gino Vannelli
when: 7:30 p.m. today-Saturday
where: Flamingo Las Vegas, 3555 Las Vegas Blvd. South
tickets: $71.50-$82.50 (733-3333)