Ricky Martin is ageless, or at least tireless, when he goes 'All In' for Vegas
April 11, 2017 - 11:24 am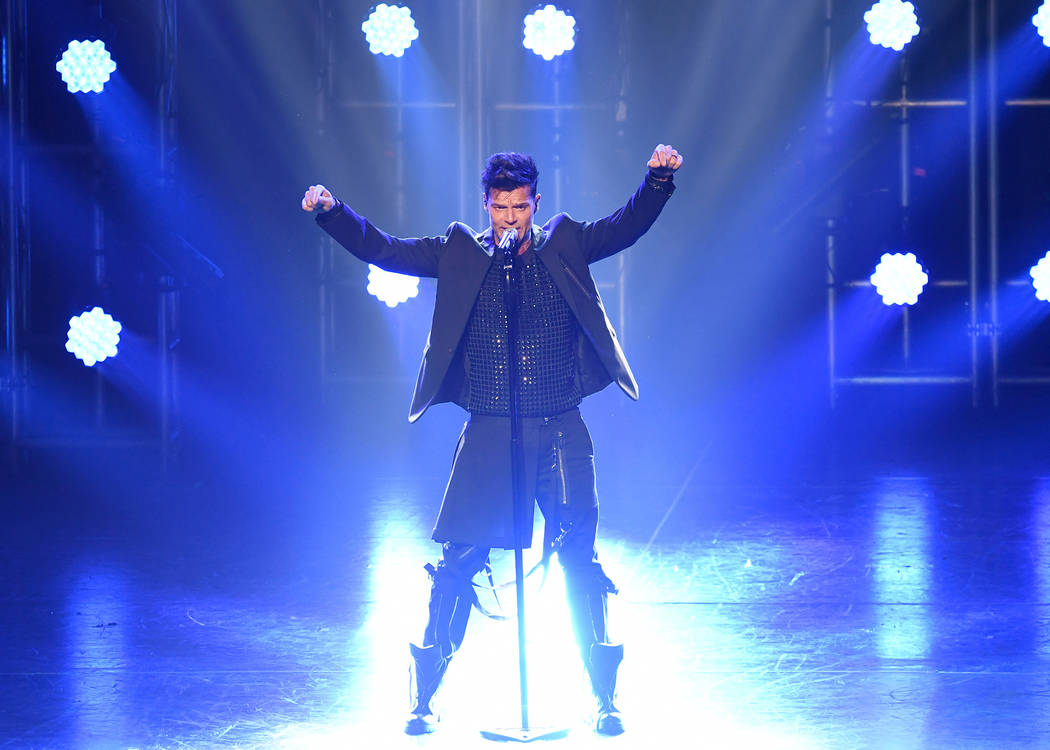 Some things never change, unless you think about the deeper symbolism. But nobody really wants to do much thinking at a Ricky Martin concert.
Martin's exclusive-to-Vegas "All In" show at the Park Theater begins the same way his breakout 1999 tour did: With "Livin' La Vida Loca," then and now his biggest hit in the English-speaking world.
And then and now, it's a bold way to front-load a show. Back then, it seemed to be a wink to the Spanish-speaking audience Martin had cultivated for nearly a decade, since leaving the teen pop group Menudo. "You're already here, so stick around and see what else I can do," the opening salvo seemed to say.
But now? When Martin descends to the Park Theater stage on a square lift in his gold lame jacket, surrounded by women in feathers and dudes in sleeveless white shirts, it seems to be more of a way to say "Welcome back. And see? Nothing has changed."
And at 45, Martin is genuinely ageless. Or at least tireless. Still a magnetically gorgeous specimen with a slightly above-average voice. So constantly in motion that when he finally stops for the rare moment to plant his feet and sing, it's a cue to the audience: big dramatic ballad time.
The spectacle is again overseen by pop tour veteran Jamie King, who envelops us with 16 dancers, moving lighting contraptions and giant video images on the side walls: Christina Aguilera! Bigger than King Kong! (for her virtual duet on "Nobody Wants to be Lonely").
Some of the intimacy might not be a promoter's first choice. The upper balcony was curtained off on opening night. And much of what would be prime floor seating goes to a stage-thrust extension surrounded by general-admission fans; one roughly shaped like the number 8, with two distractingly large and empty "doughnut holes" in the middle.
But a real band, including a three-piece horn section, gives the show a live immediacy to offset the careful choreography of every single move. And that choreography is vibrant beyond your standard-issue pop concert, with a drum line for "Drop It on Me" giving way to a flamenco dancer for "Lola Lola."
Martin and King pay homage to old Vegas with mixed results. A Frank Sinatra medley of "Luck Be a Lady" and "The Lady Is a Tramp" upstages the crooner with dancers shaking their bon-bons and playing peek-a-boo with a giant curtain.
But "It's Alright" is a cool homage to the famous "Jailhouse Rock" movie number, with Martin and the male dancers making like Elvis on mobile scaffolding.
When it comes to working the room, though, the Sinatra lessons haven't quite seeped in. Martin spoke to us only in quick intros or outros to the songs on opening night, once to say, "Vegas is home now."
Seems like it should be, though. An opening-night crowd that was hard to coax to its feet had to give in for the white-suited carnival finale of "Maria" and "The Cup of Life." The requisite blast from confetti cannons sometimes seems like a cheesy punctuation mark to a Las Vegas pop show, but here it seemed more like part of a real celebration of something that doesn't require a lot of thought:
Martin still throws an inclusive, bilingual party, and you're still welcome if you want to come.
Contact Mike Weatherford at mweatherford@reviewjournal.com or 702-383-0288. Follow @Mikeweatherford on Twitter.
RELATED
Ricky Martin 'All In' with Las Vegas residency
Ricky Martin's new show brings director Jamie King 'full circle'