Riviera ready to rack up shows anew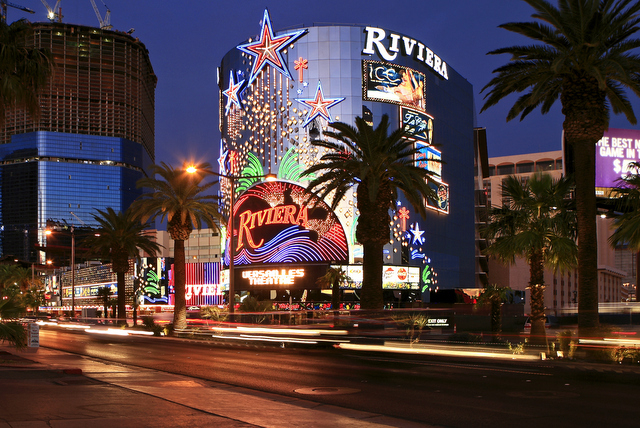 The Riviera always had a crazy number of show venues for what its room count and location could support. So don't be surprised to learn it's on the way back to hosting seven or eight titles again.
"Pawn Stars Live!" a locally generated spoof of the Gold &Silver gang, closes at the Golden Nugget March 29 and reopens at the Riviera on April 21.
By then, the Riviera Comedy Club and two other shows ("Illusions" and "Crazy Girls") will have been joined by "Men The Experience," which becomes the roommate of "Crazy Girls" on March 31, and the twin titles "Forever Doo Wop" and "Forever Motown," which open April 8 in the enclosed Casino Lounge on the main floor.
"I didn't expect to produce this many shows in such a short period of time," says Carlos Reynoso, a partner in the fledgling Red Mercury Entertainment, which agreed last November to manage the Riviera's five venues (counting the lounge).
Red Mercury will produce "Doo Wop"/"Motown" and "Men," while "Pawn Shop" will still be produced by Derek Stonebarger. Still to come, Reynoso says, is an original comedy show — "a new idea that hasn't been done before" — to share the comedy club with the continuing stand-up, and the return of the Riviera's original showroom, the Versailles Theatre.
In better days, the historic showroom hosted Frank Sinatra and Dean Martin (separately). But it has been shuttered about five years. During that stretch, Riviera management sought a tenant who would finance a showroom remodeling, but found no takers; something about how if a show closes, you can't take the carpet with you.
Reynoso now says the Riviera owners themselves have invested in upgrades including new carpet and upholstery, and by summer the Versailles could be back in business hosting a rotation of headliners in a format modeled upon the Colosseum at Caesars Palace.
Red Mercury partner Darin Feinstein previously leased the Rio's showroom, which hosted an oldies show featuring some of the singers who will be part of the "Doo Wop" and "Motown" ventures, including Early Clover, Jerome Jackson and Tonja Foster. As the titles suggest, an overlapping cast will salute two different eras of music at 7 and 9 p.m.
By all superficial evidence such as highway billboards, the Golden Nugget seemed to fully back the "Pawn Shop" spoof that opened in January. But Reynoso says he always wanted that one for the Riviera; he just wasn't quite in a position to sign it when the Nugget beat him to the punch.
The wait may end up in a stronger show though. Now that "Pawn Shop" has been tested in front of audiences, director Troy Heard says he knows what is and isn't working and how to fix it. It will be "a much more clear show" with "a very different feel" that opens at the Riviera, he says.
The new version will dial down the story of how the Harrison family rose to reality-TV fame, and base more of the comedy on the TV format of people coming into the shop to sell strange things. …
On "The Voice," celebrity judges aren't allowed to see what the contestants look like before they hear them sing. But you could have seen Ryan Whyte Maloney at Gilley's inside Treasure Island, unless a mechanical bull ride left you with blurred vision or you were chatting up someone in a really big hat.
Anyway, the singer who worked Gilley's as recently as last summer made it through the blind auditions and onto Team Blake (Shelton) of the NBC talent contest. …
Never can say goodbye? Sean E. Cooper bid farewell to "The Coop Show" on Facebook, announcing that he was moving on from the fledgling variety showcase he started in the early evenings at Sin City Theatre before his usual turn as the comic relief in Luxor's "Fantasy."
But when contacted, Cooper said he and his partners were giving it more thought and might reopen the show he gave up Saturday.
"I don't want to lose it, but I would like to see an audience in the room," he said of the effort that opened in late December, just in time for the winter tourism slowdown.
Cooper and landlord John Padon agree the act has great potential on cruise ships, but Cooper would have to give up "Fantasy" to make that ship sail. Stay tuned. …
Yes you can say goodbye. Eric Jordan Young is leaving the part he created as the singing host and guide of "Vegas! The Show" at the Saxe Theater in the Miracle Mile Shops at Planet Hollywood Resort. His last show is March 12. …
If you miss Mark Giovi, who sang with the Las Vegas Tenors and in "Bite" before leaving town, he's back for one night as part of a Friday show at the Italian American Club with Genevieve and Bill Fayne. Tickets are $20 for the 8 p.m. show. …
Finally, it would be risky to say Jimmy Mulidore is the most tenured Las Vegan to headline Cabaret Jazz at The Smith Center for the Performing Arts without doing the research. Someone else who moved to Las Vegas in 1957 may have beat him to the punch.
But the point is you can't get more Vegas than Mulidore, who plays Friday and Saturday. He arrived here when he was 19 and never looked back. While most Cabaret Jazz bookings tend to be more "cabaret" than "jazz," Mulidore, now 76, never abandoned the hard-bop saxophone inspired by his hero James Moody and others throughout a career as a showroom player and contractor.
The weekend shows, featuring fellow saxman Eric Alexander and singer Paris Red, come just as 12 albums Mulidore recorded for small labels get a digital reissue through iTunes and other outlets. His written memoir is due next month.
Contact reporter Mike Weatherford at mweatherford@reviewjournal.com or 702-383-0288.