Rod Stewart big on nostalgia in laid-back show
November 12, 2010 - 12:00 am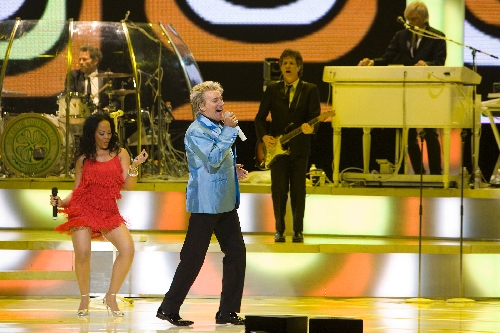 When Rod Stewart shifted his recording efforts to "The Great American Songbook," plenty of fans bought into it while others shrugged and said, "He's no Tony Bennett."
Onstage though, he kind of is. Stewart only sings one standard in his greatest-hits showcase in the Colosseum at Caesars Palace. But his whole stage persona is becoming the late-career victory lap that defined Frank Sinatra's last 20 years and still sustains Bennett.
For Stewart at 65, that means pelvic rock being replaced by a winking self-awareness in the vein of another Vegas master, Tom Jones. Even the rump-shaking, booty-to-the-crowd "Walk like an Egyptian" move comes off more like an in-joke: "We had our times, didn't we?" the eternal chick magnet seems to be saying in body language.
And while he stopped short of reworking any of his own hits into loungey-swing arrangements a la Richard Cheese, there was no mistaking Saturday's version of "You're In My Heart" had a little more bounce to the ounce and a trace of Bennett in its reading.
That's all good if you're not expecting "Stay With Me" and if you're OK with a mannered, reined-in version of "Maggie May." Stewart launched his signature hit Saturday with one hand casually in his pocket and a foot tapping in rhythm.
"Rod the God" may be smoothly transitioning into his lion-in-winter phase, but he can still boot a souvenir soccer ball from the stage to the first balcony. He was good-humored and spry enough, even if the 12-piece ensemble out-muscled his vocals in the sound mix.
It was more like the well-coiffed charmer was defining the leisurely pace on his terms, an attitude that kept the show from appearing as lazy as it really was: 85 minutes, which included a turn on "Proud Mary" by backup singer Di Reed and a drum solo (!) to cover an offstage blazer change.
The only rush was the star's telling the crowd, "I been told not to do much talking tonight and get a lot of songs done."
The all-access, Vegas-friendly tone was set with the opening double-whammy of the O'Jays' "Love Train" and Sam Cooke's "Having A Party." The rest of it was a predictable hits revue with only the rare surprise. "It's a Heartache" was a funny one, because it's best known for the parched voice of Bonnie Tyler, whom they called "the female Rod Stewart."
You could also call "I Get a Kick Out of You" a surprise, but it's an ironic one for a guy who just released his fifth "Songbook" album of standards. Stewart had said he didn't think the standards blended well with his pop-and-rock oeuvre. And he still seemed a bit wary, asking the crowd to rank the effort by cheers or boos.
No boos on this night. The vocal sailed on Stewart's fine-grain rasp, even if the arrangement was leaden. It helped that the saxophone solo went to the striking Candy Dulfer, who plays jazz on her own time.
The rest of it was big on nostalgia, if light on emotion. The hits all speak for themselves, from "The First Cut Is the Deepest" to "Downtown Train" and "Young Turks." The closest Stewart came to striking a special mood was for "Have I Told You Lately," and even that one couldn't fend off a big finish with a big funny face to match on the overhead screen.
The finale to this crowd-pleasing, by-the-numbers effort was, of course, a rote, straight-faced reading of "Do Ya Think I'm Sexy?" The answer to the title is still a big yes for his female admirers. And for now at least, that's more important than being "Forever Young."
Contact reporter Mike Weatherford at mweatherford@ reviewjournal.com or 702-383-0288.
Review
Rod Stewart
8 p.m. Sunday, Wednesday and Thursday, Nov. 20-21
Colosseum at Caesars Palace,
3570 Las Vegas Blvd. South
$69-$225 (731-7333)
Grade: B-