Roger Waters melds classic rock, modern concerns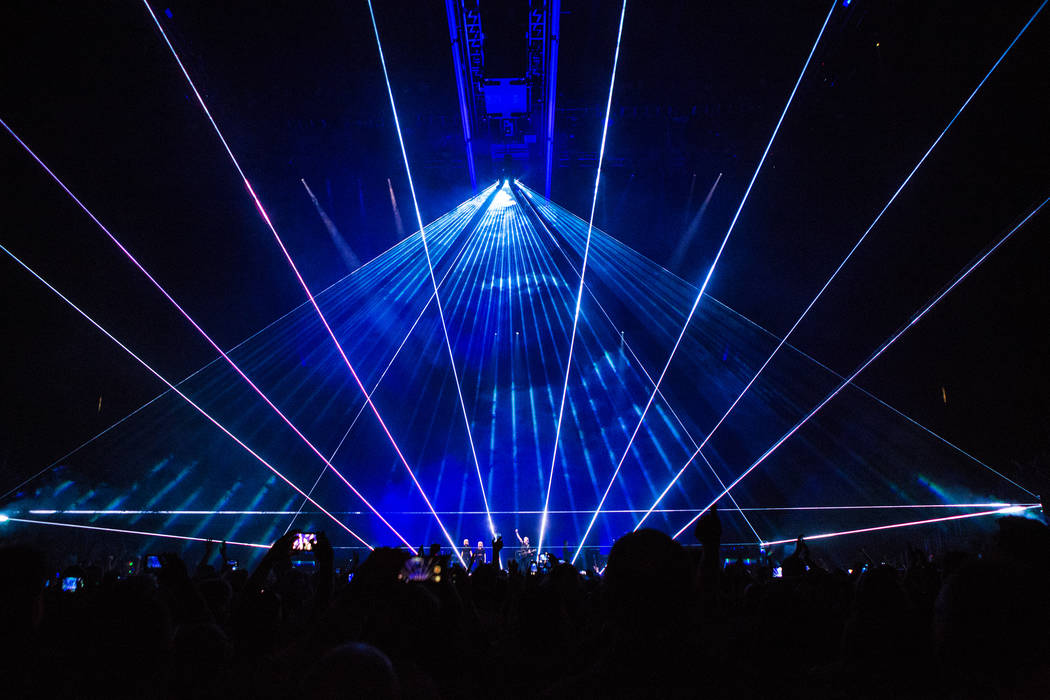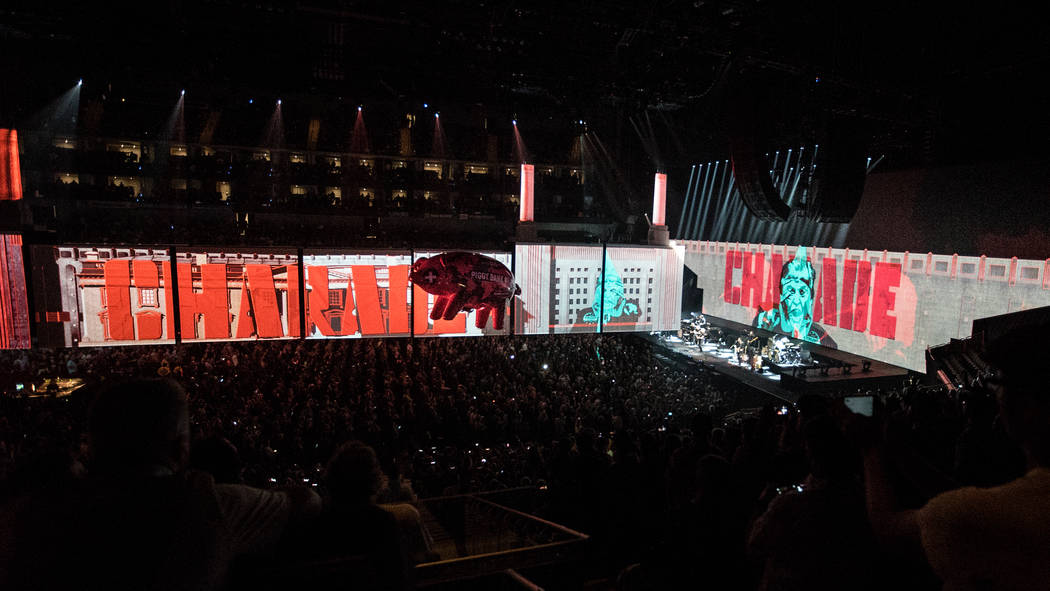 The tour is called "Us + Them" for reasons made very clear. But Roger Waters' tour stop Friday at T-Mobile Arena also seemed at times to alternate between "us" and "him."
The co-founder of Pink Floyd is the last person keeping some of rock's most cherished music alive on a grand scale. Ex-Floyd partner David Gilmour's last tour was almost living-room scale compared to this barrage of IMAX-size video, chest-rattling surround sound, laser pyramids and floating pigs.
Waters seems to realize an album as iconic as "Dark Side of the Moon" belongs to all of us. So he played nearly all of it, even though Floyd was more of a musical democracy back then, before Waters came to dominate on "The Wall."
And the final song was "Comfortably Numb," one of that album's few songs where Gilmour got a writing credit and equal voice. Waters let singer-guitarist Jonathan Wilson take over Gilmour's lines, becoming a fan himself as he stood on the edge of the massive stage, mouthing the lyrics and gesturing for us to sing along.
But other songs were for "him." Well, they were really for us too, but how can we have any pudding if we don't eat our meat?
The song "Us and Them," for instance, began with the classic Floyd video that's always accompanied it: office drones on a city sidewalk, marching along in their humdrum lives.
But then it changed to images more in line with the evening's overarching themes: a refugee child's face; people in the streets with protest signs: "Love is love," "Black lives matter," "Climate change is real." Not this time will we drift into a meditation on our inner struggles, when there's so much outer turmoil.
Waters also hit hard with video showing a mother and daughter separated in "The Last Refugee," from his new album, "Is This the Life We Really Want?"
The second set of a three-hour evening divided the arena with a wall of video screens materializing above the floor. All the more projection surface for the blistering one-two "Animals" punch of "Dogs" and "Pigs (Three Different Ones)," the latter devoted almost entirely to cartoonish images of President Donald Trump.
A final screen crawl, "Trump is a pig," made sure no one will accuse Waters of being vague or subtle.
The new "Smell the Roses" — with its bleak imagery ("There's nothing but screams in the field of dreams") — was another "him" song.
But musically, "Smell the Roses" and another new one, "Picture That," were throwbacks to the hypnotic, psychedelic boogie of "One of These Days," the 1971 instrumental that was the oldest song in the set list.
What better way to draw the line from '60s concerns to modern ones? Well, there was that dance line of local youngsters, closing out the first set with "Another Brick in the Wall," and shedding their coveralls to reveal T-shirts emblazoned with "Resist."
But the 73-year-old curmudgeon sounded quite warm at the end, telling us "There's a lot of love in this room. Don't think we can't feel it, because we can."
And the final image on the giant video screen after the lights came up and the band left the stage? The mother and daughter reunited on the beach. Hope springs as eternal as Waters' career.
Review
Who: Roger Waters
When: Friday
Where: T-Mobile Arena
Grade: A