Roseanne Barr mines material that comes with age, wisdom
February 1, 2013 - 2:06 am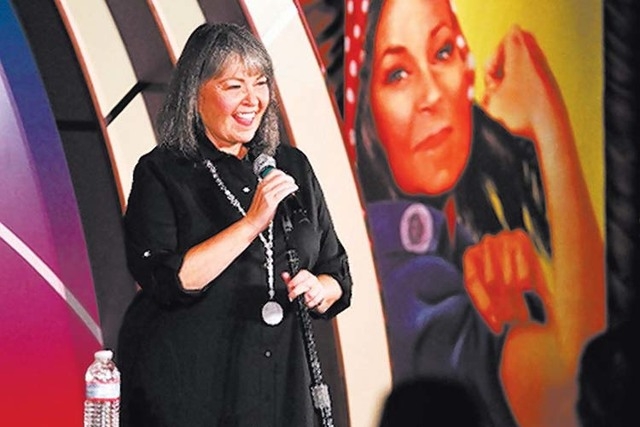 Maybe 60 is the magic number for Roseanne Barr.
Watch the opening video montage – which is now almost required for celebrity comics doing stand-up dates – and you remember that for all but the most dedicated fans, this has not been a consistent love affair.
The blue-collar "domestic goddess" who first caught our eye on the talk shows led to a beloved sitcom. But then came the crotch-grabbing national anthem, Tom Arnold and the backlash.
For most of the past decade, Barr has been relegated to the backroads of talk radio – and on the political left, where most talk-radio listenership is not – and reality TV projects such as "Roseanne's Nuts" that the larger public felt free to ignore.
Still, she drew thousands of real votes in several states as the unconceded (until she gets a certified vote tally) presidential candidate from the Peace and Freedom Party.
And now she's back full circle to a cozy stand-up club. But this time she's 60. And something just feels right about that.
The audience can sense it. Barr fields a lot of "You look great!" yells from the floor of the Laugh Factory comedy club at the Tropicana, where she has dug in through March 3 and plans to return in April (her headline shows are a separate ticket at 7 p.m., before the club's usual multicomic format).
She's down to "a svelte 175 pounds," she tells them. "Despite the fact I had gastric bypass surgery, I was able to beat it."
Her look suits her age, and her age suits her stand-up, which blends mellowed resignation with the bitchiness we used to like from her.
She's old enough to know what she's talking about: "Maybe we're supposed to be depressed," she says of an overprescribed society, "until we do something to change something."
But young enough to still know what we want to hear. If Lindsay Lohan wants to be taken seriously as an actress, "why doesn't she try to act like she's not a drunk whore?"
And smart enough to make fun of herself. Claiming that "Dancing with the Stars" has been stalking her to be a contestant, Barr proclaims the show is "beneath a has-been of my magnitude."
"That's not even dancing," she says. "It's more like gay gymnastics."
Read most of these lines with her voice in your head, and you realize she's one of those comedians who is so well-known that you can read these lines with her voice in your head.
That helps her sell some borderline-generic material – "I'd like to kill and eat Jenny Craig!" - but adds a layer of resonance in the second half of the hour, when she turns to older material and talks about her life and family.
"I know firsthand the challenges of being an unfit mother," she says. "Those early practice children are so important."
Of her five children, a 40-year-old daughter still poses the prickliest relationship, even though Barr tells her, "Do you have any idea how much more screwed up your life would be if I had taken more of an interest in it?"
But now she's happy to spend more time with her grandkids. And like George Wallace up the street, she's fine with playing the grumpy old fart years ahead of schedule, instead of joining the Joan Rivers cosmetic battle against aging.
She watches Nancy Grace like "all the old bags" and performs on gay cruises "like the old-lady comics do." A 7 p.m. show on the Strip seems like a perfect fit then. You can kick up some dust with an old friend, and share some wicked laughs, but then turn in early.
Contact reporter Mike Weatherford at mweatherford@
reviewjournal.com or 702-383-0288.
Review
Roseanne Barr
7 p.m. Saturday-Thursday
Tropicana, 3801 Las Vegas Blvd. South
$60.95-$82.95(739-2411)
Grade: B