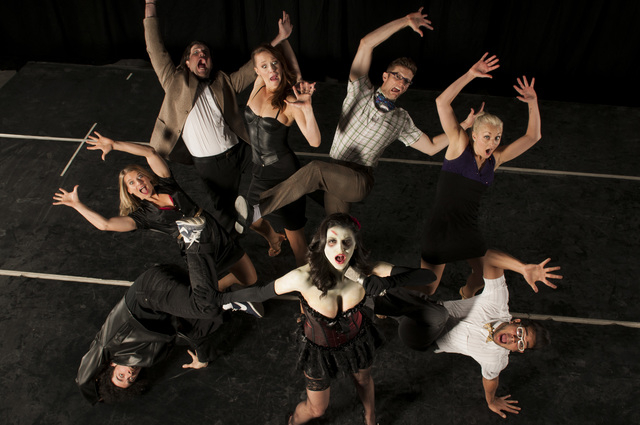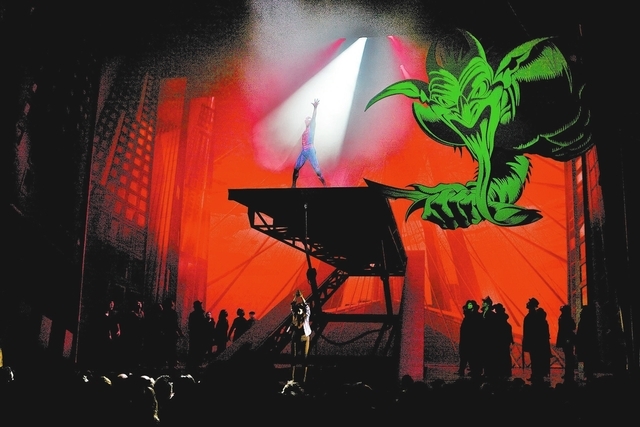 Sure, if I didn't write this column, I'd rather be reading about zombies and superheroes, too. But occasionally Las Vegas takes care of us, as this week's roundup reveals.
Alas, there will be no "Walking Dead Christmas Special"; the cable hit's midseason finale is Dec. 1. However, it can be a very zombie Thanksgiving for early patrons of "Zombie Burlesque."
The latest opus from producer David Saxe missed its target opening of Nov. 7 by a Las Vegas mile. But Saxe says Monday is locked in for the new show in a new venue, the third inside the V Theater complex he operates in the Miracle Mile Shops at Planet Hollywood Resort.
Saxe says he is tired of people asking what the campy revue will do the rest of the year that's not Halloween.
"It's not a Halloween show," he says. "We had to make it a great show period."
Part of the delay came from outfitting the new space, which seats a cozy 170 with some booth seating along with theater seats. "Country Superstars" and "Evil Dead The Musical" both move in to share the room with zombie showgirls.
"Superstars" producer Leonard Quenneville will replace "Superstars" in the upstairs "V-2" with "All Shook Up — Tribute to the King." Dave Hooper will front a live band as Elvis in most shows, spelled by Chad Collins a couple of times per week. …
Does history repeat itself at Aria? Should cast members of "Zarkana" be saying "Uh-oh"?
"Zarkana" is the Cirque du Soleil show that famously replaced "Viva Elvis," which has the dubious honor of being the only Las Vegas Cirque to fail.
Now "Zarkana" is set to go off line in January, both for "routine maintenance" and for some "new enhancements making it even more exciting and vibrant," according to a statement from the company.
Not a bad plan. "Zarkana" could use some enhancing if you ask most jaded locals, and recently had to pull its "Wheel of Death" act when a performer was injured. (There is still a "Wheel of Death" in "Ka" if you must see one).
The only ominous part is that "Elvis" also was to get updated to a "Version 1.5" in early 2012, before Cirque and its landlord decided not to bother and fold the show altogether. No way that could happen here, right? You may have heard that Broadway "Spider-Man" musical is looking for a home here. But The Venetian has the best odds for that one. …
Just to keep the human stars of the Strip on their toes in this comic book world of ours, a couple of animated announcements.
Marvel Comics legend Stan Lee was to visit The Venetian's branch of Madame Tussauds Wednesday to cut the ribbon for a "Marvel 4D" attraction, which includes wax figures of the Marvel movie heroes, as well as a 10-minute film spiced up with shaking seats, splashes of water and the like.
Madame Tussauds as a whole has been getting a makeover one area at a time to freshen the overall experience.
And everyone's favorite talking robots, in the "Fall of Atlantis" show at the Forum Shops at Caesars, are about to be updated by Nov. 27, in time to perform for holiday shoppers. New video screens and sound equipment will support the animatronic stars, who get new costumes and programming tweaks. …
The "Celtic Woman" franchise is no stranger to Las Vegas, but the durable touring show marks two local "firsts" on Friday and Saturday: It's the first local stop for the holiday version, which is called "Home for Christmas" to tie in with a PBS special of the same name that begins airing Nov. 30.
And it's the Irish-themed production's first play on the Strip, after getting as close as The Smith Center and Orleans Arena in past years. The four Venetian dates, continuing Wednesday and Nov. 28, are with a 45-piece orchestra, and feature original fiddler Mairead Nesbitt along with two of the singers, Susan McFadden and Lisa Lambe, who will be in the PBS special.
Contact reporter Mike Weatherford at mweatherford@reviewjournal.com or 702-383-0288.