'Shotspeare' bellies up to the Vegas bar with mayhem
October 28, 2016 - 9:00 am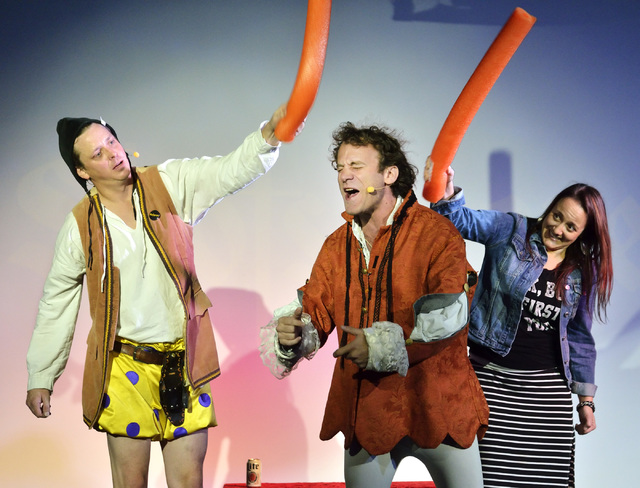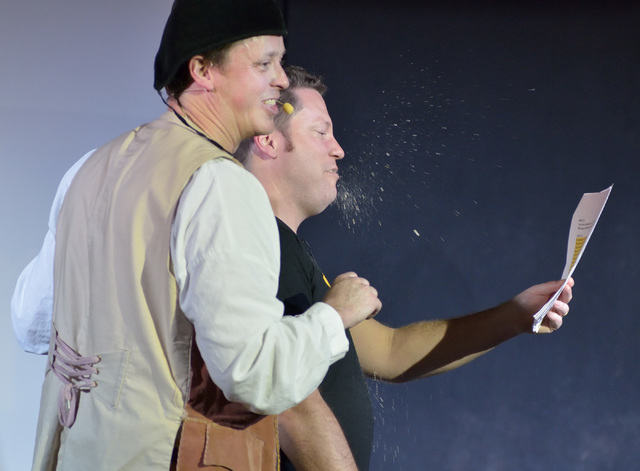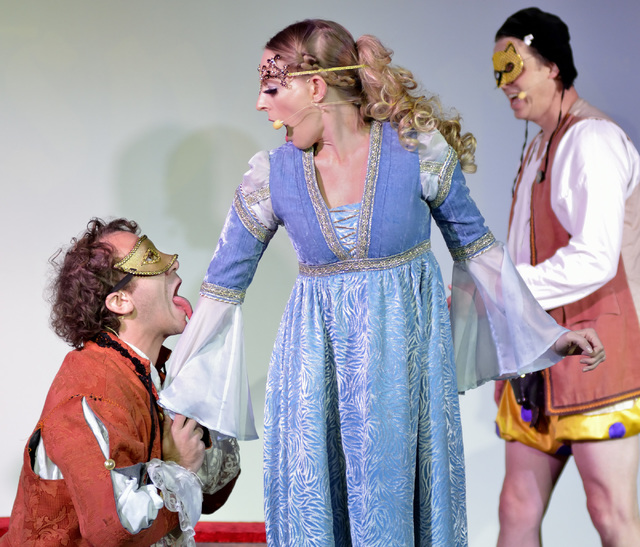 From the Titanic-sinking spectacle "Jubilee" to the Broadway hit "Jersey Boys," shows are closing left and right because their production costs outweigh their ticket sales.
Is this the future then? A quintet of actors tearing into a 12-pack of Miller Lite before treating a small cabaret full of people to "Shotspeare," a loud, raunchy send-up of "Romeo and Juliet"?
Probably not.
But its no-budget, chaotic vibe is a fun overcorrection of things like "Puppet Up!," an improv puppet show that delivered maybe half again as many laughs but was said to cost $80,000 to $100,000 a week to deliver them.
That would buy a lot of Shotspeare-brand custom vodka in a lounge at Planet Hollywood, which wasn't designed for live theater but will do in a pinch.
Like "Evil Dead the Musical," "Shotspeare" moves "B-movie" or "fringe" theater from small locals venues to the heart of tourist-zone mania. At least this one can hold its own on the booze front with any bachelorette weekend. Where else do you pelt the performers with rolled-up socks?
Matthew Morgan and his spouse, Heidi Brucker Morgan, front the Los Angeles troupe rounded out by local talents such as Vegas theater stalwart Ernie Curcio. They race through a vaudevillian, speed-date version of "Romeo and Juliet," annotating it with dirty jokes.
It's not enough to pull a line from the real play — Mercutio saying, "Thou hast most kindly hit it" — and punch it with the modern meaning of "hit it." They make sure you get that by adding, "And when he says 'hit it,' he means (expletive)."
And there are two more callbacks to that line.
The audience gets four chances to stop the action — even during one of the impressive sword fights — and send the actors to a side table for a vodka shot.
And then there's the "Wheel of Soliloquy," which keeps the crowd from having to listen to long monologues. Instead, we smack the characters with foam swimming-pool noodles or watch an audience recruit try to read a speech as saltine crackers are stuffed into his mouth.
If you haven't guessed, there's more here for fans of sketch comedy than anyone who actually likes Shakespeare.
In an interview, Morgan had said that all this comes out of a genuine love for the Bard. But the few points in which any of the real play emerges — such as an exchange between Juliet and Brian Sloan as her nurse — end up slowing the slapstick momentum.
And hey Shakespeare, what's up with that ending? Except for using an airline dose of Jack Daniel's as a certain dram of poison, there's no real attempt at a comic twist. It just, pardon the pun, kind of lies there.
If the show is allowed to stick around, it's sure to improve little details such as getting the sound right — letting you actually hear all the jokes — and unifying the tone between the local and L.A. actors. Curcio performed as though he was in a real Shakespeare play. It wasn't a bad contrast to all the mugging; I'm just not sure it was on purpose.
The bigger problem is the adage, "Comedy only looks easy." Going in, I imagined the central premise would turn out be a carefully crafted illusion. That what posed as a frat party would really be as meticulously timed and controlled as a Marx Brothers movie.
Even at this underground, DIY level, an audience inherently trusts the cast to be in control. This night teetered too close to the free-for-all it pretends to be. The ultimate irony? Some lout in the audience yelling "Shot!" all the time, destroying any remaining comic rhythm.
Guess that's what happens when you invite a bunch of drunks to your drinking games. But enough solid and even smart laughs still emerge — say, Tybolt defeated by a glass of vodka to the eyes — to make you hope "Shotspeare" can fine-tune the difference between theater and a reality show.
Read more from Mike Weatherford at reviewjournal.com. Contact him at mweatherford@reviewjournal.com and follow @Mikeweatherford on Twitter.
Review
What: "Shotspeare"
When: 10:30 p.m. Thursday-Saturday
Where: Cabaret at Planet Hollywood Resort, 3667 Las Vegas Blvd. South
Tickets: $44.95-$64.95 (702-777-2782)
Grade: B-