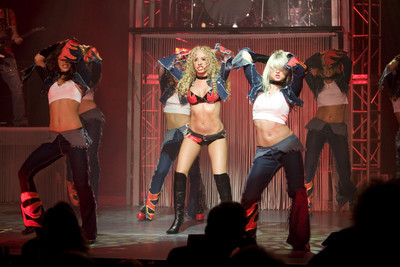 Producers are paying more to get into the skin game, giving customers better reasons to skip that shakedown at the strip club.
Used to be, cabaret jiggle shows could get away with shoestring budgets and broken-down comedians. Guys who were shackled to their wives were happy enough to get at least a glimpse of Sin City.
But "Peepshow" recently spent $12 million to reinvent burlesque with Broadway talent on a big stage. Now comes "Sin City Bad Girls," which is more in the traditional business model — small cast in a cozy room — in the Las Vegas Hilton's Shimmer Cabaret. But it, too, shelled out for a live band and a powerhouse lead singer.
The rock trio adds extra crunch to the dance numbers, and two of the musicians — guitarist Ray Jon and drummer Kip Mungin — take their turns singing when the star, Lorena Peril, is busy changing backstage.
None of that will matter if it's a lap dance you crave. A show called "Erocktica Live!" tried the same live-band thing in 2005 and didn't last long. But the Hilton is Convention Central, and the "Bad Girls" might be just the ticket for name-taggers who don't want to turn in early, but aren't up for a cab ride that will cost a roll of twenties either.
Peril's bare abs can hold their own with the striking quintet of dancers, and her voice very nearly pulls your attention away from the gyrations of Anna-Marie Arpaio on a slinky version of The Police classic "Roxanne."
Alas, it's a long time between that early highlight and Peril dishing up some dirty blues near the end. In between lies a bumpy road of bad rock and country, with Peril caught in the lounge trap of having to cover tunes such as Gretchen Wilson's "All Jacked Up" that don't suit her voice.
However, she did play Christina Aguilera in the costumed tribute show "American Superstars," so there's no questioning her credentials for "Nasty, Naughty Boy," the stripper anthem that replaced "You Can Leave Your Hat On" as the song legally required for a topless show.
Don't worry, they do that one, too. It turns out to be the most creatively staged number, as Peril, the "boss," takes sexual harassment to new heights, putting "job applicant" Drea Hall through the paces on a pink office chair.
Too bad there isn't a lot of space for more such creativity. The band risers — and apparently, the need for quick-change booths behind them — eat up too much of an already small stage.
The band at least keeps up with the strip-club DJs, taking on Nickelback's "Something In Your Mouth," Rihanna's "Bad Girl," and the obligatory dirty country medley with Big & Rich's "Save A Horse, Ride A Cowboy" and the obligatory humiliation of a guy from the audience.
At least he didn't have to pony up an extra $20 to feel the shame.
Contact reporter Mike Weatherford at mweatherford@ reviewjournal.com or 702-383-0288.
Slideshow
Review
"Sin City Bad Girls"
9 p.m. Mondays through Saturdays
Shimmer Cabaret at the Las Vegas Hilton, 3000 Paradise Road
$54.51-$65.51 (732-5755)
Grade: B-