Springboard to stardom can start with Strip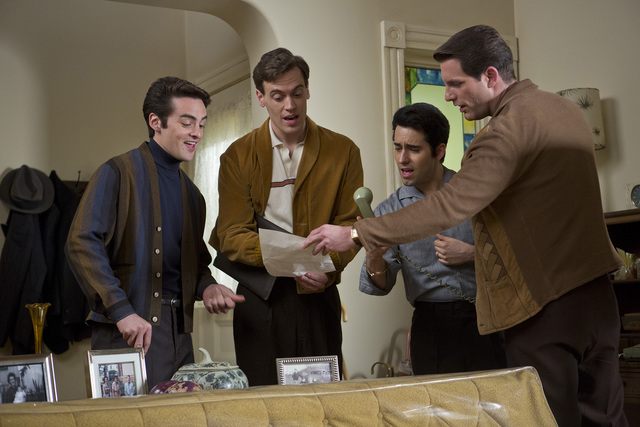 You saw 'em back in the day. You probably just didn't realize it.
Elsewhere in today's paper, you'll see Erich Bergen, who opened "Jersey Boys" here, is co-starring in the new movie version of the Broadway hit, and will be on the upcoming CBS drama "Madame Secretary" next fall.
Who else has moved on from Las Vegas to more prominent work and/or fame? The Strip is better known as a place you play when you're already famous.
But occasionally it does serve as a launching pad. Here are some examples, starting with the most famous one I was able to witness.
■ Jason Sudeikis spent two years in The Second City sketch troupe at the Flamingo before he left in the fall of 2003 to become first a writer, then a performer on "Saturday Night Live." When I see him on the big screen now, I'm still reminded how few people I interviewed as workaday Las Vegas entertainers have reached that level of stardom.
■ Sierra Boggess. This name will split Broadway buffs from the rest of pop culture. But after she opened "Phantom ­— The Las Vegas Spectacular" as one of the dual-cast Christines in 2006, Boggess became a "Phantom" favorite. She left Las Vegas to open Disney's "The Little Mermaid" as Ariel, but returned as Christine for the "Love Never Dies" sequel in London, and is now back in "Phantom" on Broadway.
■ Jill Paice. The first Sophie in "Mamma Mia!" at Mandalay Bay in 2003 also broke new ground with Andrew Lloyd Webber by starring in "The Woman in White" in London and on Broadway. After playing Scarlett in a short-lived British musical of "Gone With the Wind," she's now on Broadway in "Matilda."
■ When the rockin' soul band Vintage Trouble opened for The Who last year, I didn't connect frontman Ty Taylor back to his days in "We Will Rock You." In 2005, I even did a column about Taylor getting breakout exposure on the TV talent contest "Rock Star," built around the band INXS looking for a new lead singer. Taylor fooled me by losing his mohawk somewhere in the eight years.
If you shift focus to stand-up comedy, the examples multiply. Even though the Strip's club-formatted rooms tend to favor veteran road dogs over unproven newcomers, the larger comedy club industry has a structured ladder of host, "middle" and headliner.
Bill Burr is only the latest example of a comic working his way up to theaters and cable TV specials. As part of a longer interview with Burr coming Friday, he told me about playing the Tropicana's old Comedy Stop.
"I actually had a headlining week, and they bumped me down from headliner to feature," he recalls. "And they were right. I went out there and there was some old people in the crowd and the first couple of jokes didn't work. I just got psyched out. I was working with two seasoned veterans," and one took over as headliner.
"It was definitely humbling, but it was the right decision."
For the most part though? You may not be able to say you remember 'em when, but their good work did not go unrewarded.
Contact reporter Mike Weatherford at mweatherford@reviewjournal.com or 702-383-0288.