Steely Dan stays consistent, complex, cool in Las Vegas residency
April 25, 2017 - 11:16 am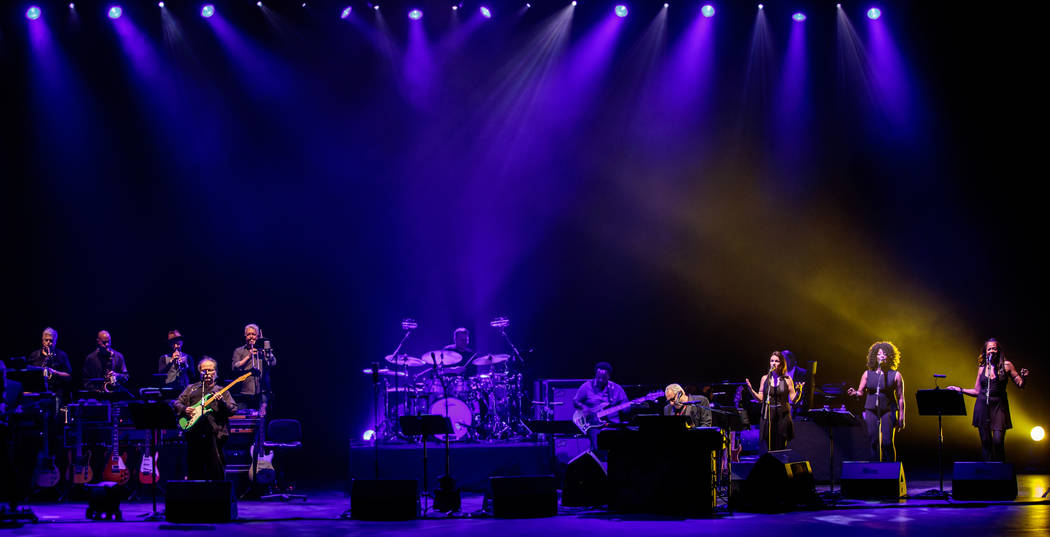 Was it an unusually focused and studious Vegas showroom crowd?
Or an atypically boozy night at the Berklee College of Music?
The answer was somewhere in the middle. The bartenders hopping, but the fans relaxed and dialed in on this Wednesday at The Venetian, which landed in the middle of Steely Dan's nine-show residency, "Reelin' in the Chips" (with more shows through April 29).
And Steely Dan knows how to work the middle.
The aging fan base of the '70s-era jazz-rockers can bank on a fusion of retro-cool Vegas and hard-punching jazz chops, not seen since Stan Kenton recorded a live album at the Tropicana.
There's no stage adornment or video in the Opaline Theatre (largely dormant since "Rock of Ages"). So people stayed seated and tuned in to a pristine sound mix. Lead singer Donald Fagen parked at his Fender Rhodes, head cocked like Ray Charles, while co-founding guitarist Walter Becker blended in with the 10-player, three backup singer ensemble.
With no song in this set newer than 1980, the Dan has evolved into a consistent touring product and band. Becker, 64, or Fagen, 69, do the Duke Ellington thing for their modern-day big band, introducing the sidemen with (or instead of) the song: Jim Beard's piano wind-up to "Razor Boy" or Roger Rosenberg's bass clarinet intro to "Everyone's Gone to the Movies."
Those songs were the deepest album cuts in nearly two hours stacked with FM radio standards, including "Kid Charlemagne" and "Rikki Don't Lose That Number." But the actual "FM" and "Peg" were missing on this night — a reminder the group has so many favorites, it has to rotate them for those catching more than one show.
Fagen's voice has lost range and power over the years, so the three female singers add the blend and kick of top-shelf Scotch. Some hits, such as the opening "Black Cow," stuck to the way you remember them. "Showbiz Kids" was among others so rearranged, the intros became a "Name That Tune" game. Most of the songs built in extra room for flourish, such as Keith Carlock's drums powering up "Aja" and "Bodhisattva."
In what has become a tradition, "Hey Nineteen" included a four-minute breakdown for Becker to chat up the crowd with the duo's trademark humor, welcoming "the people of Las Vegas, and the 97 percent of people who are from some other place."
But Las Vegas locals could get spoiled if this becomes an annual thing. Back when in 2003, Becker mused that "We could become sort of domesticated Vegas entertainers, like Joey Bishop or Wayne Newton."
With a 1,700-seat theater packed like it's never been, a long line at the bar, yet a crowd so pleasant the security guard down front could sway to the music? Who's gonna stop them?
Contact Mike Weatherford at mweatherford@reviewjournal.com or 702-383-0288. Follow @Mikeweatherford on Twitter.
Review
Who: Steely Dan
When: 8 p.m. April 21, 22, 26, 28, 29
Where: Opaline Theatre at The Venetian, 3355 Las Vegas Blvd. South
Tickets: $81.50-$424.50 (702-414-9000)
Grade: A-