August 29, 2008 - 9:00 pm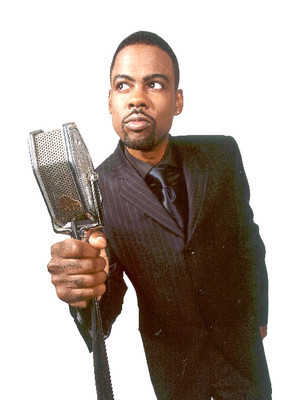 Sometimes, Chris Rock thinks about the past.
"It's so weird, bumping into (Steve) Schirripa courtside of the Knicks game," Rock says of "The Sopranos" actor. In an earlier life, Schirripa managed the Riviera Comedy Club and booked the young comedian there. "We both look at each other and start laughing. 'Can you believe we're doing good?' "
And sometimes, he thinks about the future.
Rock, who plays the Colosseum at Caesars Palace today and Saturday, says he tries on everything from movies to talk shows "because it's going to stop one day, and you're going to be mad you didn't take advantage of the opportunities.
"It's not that you fall," the 43-year-old clarifies. "It's just one day, there are new people and, you know, the opportunities aren't what they once were."
Could it really happen to Rock after 12 years at the top of the comedy ladder? That's already beyond the fad status of a Dane Cook or Katt Williams.
"Hey — Michael Jackson, man," he is quick to counter. "One day you're Vanilla Ice and the next day you're … Vanilla Ice."
"It happens to everybody, man. I prepare for the worst," he says. "I think every show I do, I realize I could get booed off the stage and they could throw tomatoes at me."
For the indefinite present, Rock remains on top of the comedy world. Almost literally. For his next HBO special, "Kill the Messenger," airing Sept. 27, the comedian performed the same material in three cities — New York, London and Johannesburg, South Africa — and blended the footage.
"You get to see three different audiences laughing at the same jokes all over the world," he says. Sure, he injected a few local jokes and buzz words into each set. "But the beauty of it is people kind of laugh at the same things all over the world. It's kind of amazing when we cut (back and forth)."
Rock doesn't change his political or election-season jokes in other countries. "We go to war, and it affects a lot of countries, so they're really onto our stuff."
During the primaries, the comedian was a high-profile Barack Obama supporter. He cracked Bush jokes while introducing Obama at a Harlem fundraiser in November, and recorded an automated phone message to solicit Obama votes for the New York primary in February.
But the primaries were "a different situation," he says. Now that it's closer to the general election, "If he calls, I'm there. But I don't want to get the guy in trouble or be a detriment at all.
"You know how easy it is to take one of my jokes out of context and have it on Fox News?" he explains. "I got 800 Reverend Wright-like moments in my career. Especially if you cut out the laughter."
He understands the dilemma fellow comedian Al Franken faces as he runs for the Senate in Minnesota. "Could Stephen King run for anything?" Rock muses. "Anything out of his books …"
When his "No Apologies" tour wraps Sept. 13, Rock says he will take a break from the live stage to pursue a movie. He will never give up stand-up, but he has been able to walk away from it for long stretches.
"Stand-up's the main thing when it's the main thing," he says. "I kind of tour on a three-and-a-half to four-year cycle. When I'm done, I kind of put it down and don't mess with it for a while. You try to use your opportunities. If you've got the opportunity to do a bunch of different things, try 'em all out."
Contact reporter Mike Weatherford at mweatherford@reviewjournal.com or 702-383-0288.
PREVIEW Who: Chris Rock When: 11 p.m. today and Saturday Where: Colosseum at Caesars Palace, 3570 Las Vegas Blvd. South Tickets: $95-$175 (731-7110)