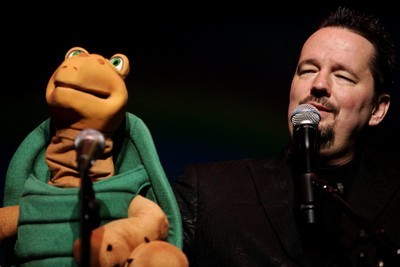 Terry Fator's got talent, and America loves him. There's no arguing that.
Does he have an act that will sustain that adoration for five whole years? Time will tell. But there's no raining on his parade right now.
The ventriloquist, who hit the jackpot on "America's Got Talent" last year, tells his packed house at the Las Vegas Hilton that he will stay after the show to meet them. The line forms three or four people wide, and runs more than 60 yards back, from Fator's post near the showroom doors to the Shimmer Cabaret and beyond.
Whoever wins the third season of "Got Talent" on Oct. 1 will have eyes full of dollar signs after Fator rocketed from state fairs to a five-year deal at The Mirage, touted to be worth $100 million. (Tickets aren't yet on sale for shows starting Feb. 9, but capacity houses at $100 per ticket would generate more than $30 million per year).
But the new winner will have to match Fator in the likability department to pull in that kind of lettuce. Something about his smile and stage presence stands apart from the ventriloquism. People warm to him from the moment he starts telling his Las Vegas Hilton audience about the kids who used to call him "Ferry Tator," and what would those kids say now?
Fator is using his year of monthly dates at the Hilton — he returns Monday through Wednesday — to test new segments in a run-up to his Mirage debut. It's perfectly understandable that much of his old material didn't make the leap to hyperspace along with his career, and just as understandable that he would try to punch up the act before February.
Things I saw last month you may not see next week. Shedding the ventriloquist dummy early in the show to imitate James Blunt's "Beautiful" all by himself? It probably stays, because it made the ladies sigh. It also sends a subliminal message about going toe to toe with Danny Gans when Gans moves across the street to Wynn Las Vegas.
Paying tribute to Tony Bennett by singing a capella to the audience without a microphone? Ehh, tell me if he keeps that one.
Maybe he's testing the crowd to see how far he can push the likability thing without ventriloquism. But most of the act is devoted to his undeniable skills. Fator opens with the same showpiece that defined him on "Got Talent." Without preamble, he walks out with a puppet of a cute little girl and lets rip "At Last" with full-blown Etta James soul.
A variety of puppets and ventriloquist hat tricks follow. There's a mullet-headed rocker who head bangs to Ozzy Osbourne's "Crazy Train" (the seven-piece band arrangement sounds like the Pat Boone version on Ozzy's reality show). Walking a more treacherous line of stereotype is Julius, a black soul singer puppet who calls Fator "a cracker," but nails the Gnarls Barkley hit "Crazy."
The show needs a better arc; most transitions involve Fator saying, "Our next guest …" And most of the humor is standard issue:
"I am a ventriloquist."
"Get out of here. I thought you were a Presbyterian."
But this is a family show, and most youngsters haven't seen a ventriloquist before. It's new to them, and they'll probably laugh as hard as mine did.
One segment is both the best and worst part of the show. Fator dresses up like Michael Jackson for a lampoon that embarrasses him as much as it does the disgraced pop star, heaping on overkill that is out of proportion to how seldom people think about Jackson these days (unless, of course, rumors of his becoming the Hilton's next big star prove true).
So it probably should go, but that also would be too bad. The bit with Jackson begging for country music lessons from Fator's cowboy puppet Walter T. Airedale is pure Texas humor. It's the only clue to Fator's upbringing in that state and arguably the only sharp edge emerging from the generic comedy and obligatory impressions of Kermit the Frog, Louis Armstrong's "What A Wonderful World," etc.
Fator is so many voices and so many puppets that it's easy to forget he's just now coming into his own.
Contact reporter Mike Weatherford at mweatherford@reviewjournal.com or 702-383-0288.
ON THE WEB Audio slideshow REVIEW who: Terry Fator when: 8 p.m. Monday-Wednesday where: Hilton Theater at the Las Vegas Hilton, 3000 Paradise Road tickets: $58.91-$124.91 (732-5755) rating: B