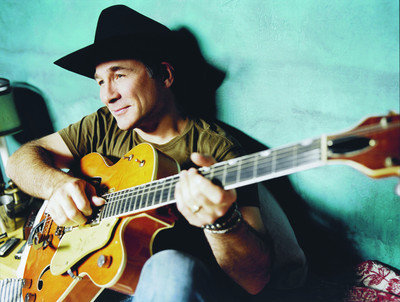 Kenny Chesney lifted Jimmy Buffett's whole flip-flops-in-paradise bit, and now he plays stadiums. Toby Keith wrote a song about how he loves bars, and now he owns a chain of them.
Clint Black is playing The Orleans showroom this weekend and says, "I've never been good with the gimmick thing. I always believed if I worked really hard writing songs and put it all back into the music, that it would take care of me."
Sucker!
He says he spends a lot of time in his home studio with real-time analyzers, "trying to figure out how to get my guitar amp to sound in the audience the way it sounds in the studio. … I create graphs and try to reproduce the sound of an acoustic guitar through a speaker. They're too tinny or plinky usually."
Nerd!
"I suppose if I was as good at marketing as Garth (Brooks) is, or had the great ideas of Kenny (Chesney), maybe that's what I'd be out doing, but I don't," he says. "All I really want to do is make a better-sounding record."
Chump!
Ah well, he did get the hot-wife part right. He and Lisa Hartman Black were part of Oprah's "Celebrity Spouse Challenge." If it doesn't qualify as a gimmick, it surely brings Oprah levels of attention.
His timing wasn't so bad either. Black broke big with his "Killin' Time" album in 1989, just before country album sales started getting their due with Soundscan, a new system that tracked actual retail sales instead of taking the word of record store owners.
"That's what really kicked the whole thing into gear. Soundscan turned the country music industry around," he says. "Country sort of defined itself there in the early '90s as being as popular as any other genre."
Black says he and chief songwriting partner Hayden Nicholas managed to crank out so many songs, they always kept about three albums ahead of themselves. And his three-octave voice gave those songs a lot of variety without bending what he calls the "honesty" of his singing. "I was never trying to shape my voice into some kind of a tone that fit the genre or the song."
But there's still hope for a gimmick yet. Black took part in a recent TV variety show called "Secret Talent of the Stars," doing two minutes of stand-up comedy. Coming up with that material and testing it in real comedy clubs was "hard, frightening and exhilarating," he says.
The CBS talent show was supposed to be a series but was canned in April after just one episode. Still, so many people watch anything on TV that even one poorly rated episode set the phone of Black's agent ringing.
His agent is telling him "there are suddenly a lot of opportunities in television for me (as an actor or host, not a stand-up). My manager is really intent on seeing me do something on TV."
He's putting his next album on the back burner while he waits to see what happens. He's also playing the hits on the road this summer.
And he agrees, laughingly, that if he had his own restaurant, "I'd eat there all the time."
Contact reporter Mike Weatherford at mweatherford@reviewjournal.com or 702-383-0288.
who: Clint Black
when: 8 p.m. today-Sunday
where: Showroom at The Orleans, 4500 W. Tropicana Ave.
tickets: $66-$99 (365-7075)