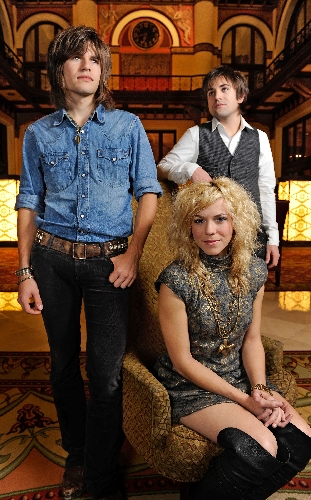 Someone put a picture of the Darlings on The Band Perry's dressing room door.
The Perrys think that someone might be Brad Paisley, headliner of the tour that visits the Mandalay Bay Events Center on Saturday. He's a prankster, that Paisley.
And The Band Perry "was the first to throw the punch" on the pranking by wearing Spock-like alien ears onstage. "Just a little subtle thing to kind of kick off the tour," Reid Perry explains. "We were kind of wondering, do you pre-emptively prank Paisley or do you wait for him to start it?
But back to the Darlings. It does show how things have changed for the image of a family band down South, since the days of the hillbilly clan headed by Denver Pyle caused trouble for Andy Griffith and the TV denizens of Mayberry.
"It was kind of a running joke in the family, but it never left the household," Reid says of the sibling trio with younger brother Neil and older sister Kimberly.
But there's no moonshine jug, and The Band Perry covers "Fat Bottom Girls" by Queen, because country acts breaking today probably were raised by parents who grew up on rock radio.
"Our mama was the country lover in our house, and our dad was the rock 'n' roll lover, so we do play some songs that are a tip of the hat to Dad," Neil Perry says.
The band's previous Mandalay Bay visit was for the "Fan Jam" component of last year's Academy of Country Music Awards, where they performed their breakthrough hit "If I Die Young" before winning the Best New Artist award.
"We never won any trophies in sports or anything growing up," Reid says of his youth in Alabama and Tennessee. "I just don't even think we had the athletic ability to even give it a show."
Although, brother Neil adds in a joint phone interview, "Our dad, Steve, and Kimberly both were coaches for our basketball team. Everything it seems we did was always a family affair."
And there lies the reminder that nature provided the configuration. The band can't deny the serendipity of the two-guys-and-a-female-singer thing, but the trio had a head start on Lady Antebellum. "We celebrated 13 years in October," Reid says, six in the current format.
When Reid was 10 and Neil 8 (they are now 23 and 21), the brothers played in one band and Kimberly (now 28) sang with another. "We traveled around all over the Southeast. Our mom was our first bus driver and our dad was our first booking agent," Reid says.
"About six years ago, we came to a point where Neil and I had actually grown physically tall enough so that it didn't look weird with us onstage with Kimberly. Kimberly needed a band, and we needed a lead singer."
The "height logistics" thus conquered, the trio is now playing the Top 10 country single "All Your Life." Opening Paisley's tour gets them in front of arena crowds, and the need to guarantee value in a concert ticket has said goodbye to the days when opening acts were pushed to the lip of the stage.
"The great thing is people are starting to show up and listen to our music and sing along with us," Neil says. "Brad has been great. He's let us have access to the whole stage, which is pretty cool for those of us who love to run around onstage."
The brothers say their mom has set the bar high for future success, with the ultimate goals being a Grand Ole Opry induction and/or a Las Vegas residency in the manner of Garth Brooks, with whom they share manager Bob Doyle.
Longevity will require a lot of togetherness, but so far it hasn't been a problem. "I think being siblings, we've had a great support team around us," Neil says. "When one of us is having a bad day, the others are there to cheer us up. If one's having a bad day, we all are."
But those seem to be few and far between.
"It's a good time to be a band in country music," Neil says.
Contact reporter Mike Weatherford at mweatherford@ reviewjournal.com or 702-383-0288.
Preview
Brad Paisley, The Band Perry, Scotty McCreery
7:30 p.m. Saturday
Mandalay Bay Events Center, 3950 Las Vegas Blvd. South
$45-$85 (632-7580)