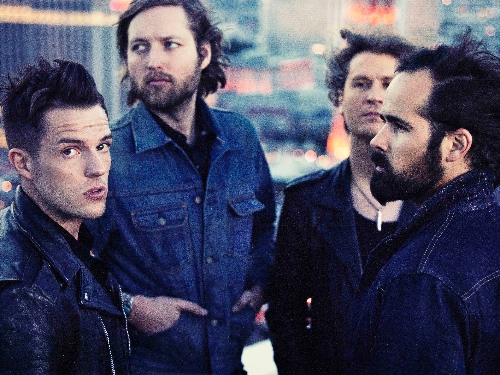 Ronnie Vannucci pauses a second, then comes up with a great phrase to describe a Killers hometown show: "comfortably chaotic."
When the band is onstage, "There's usually a craziness that ensues anyway," he says. "That coupled with the location being Vegas and the date being New Year's weekend" should make for some high energy today and Saturday at The Cosmopolitan of Las Vegas.
"When you're a rock band, every day feels like New Year's Eve," says the drummer for the quartet playing its first Las Vegas show in three years, capping a string of North American tour dates to support The Killers' fourth album, "Battle Born."
But when these shows are over, they go home – or in Vannucci's case, leave town – skipping the madness when the Strip closes for its big street party Monday night.
"When I was 21, I was tired of it," the 36-year-old says of the New Year's scene. "I would historically stay in my end of town or in my own house rather than engage in the craziness."
Ah, but there was that one year …
"I can remember one before the Fremont Street Experience was even built, I made out with my first cousin. We didn't really make out," he amends. "It was more of a weird, awkward, too-long kiss on the lips at the stroke of midnight."
Sounds like the making of a Killers song. "Battle Born" continues the band's journey into Springsteen country and operatic arena rock, with anthems full of "blond hair blowin' in the summer wind" ("Runaways) and "the neon nights, the leather seats, the passage rite" ("Miss Atomic Bomb").
"Battle Born" swings for the fences, or perhaps for a musical mainstream that no longer exists. The heartland rock that served as a common denominator in Springsteen's '80s now borders on square pegdom in a music business carved into niches.
"I feel sorry for any new band out there that's trying to get sort of a leg up," Vannucci says of a soundscape dominated by synthesized rhythm in electronica, pop and hip-hop.
But, he adds, "I think it all comes down to songs."
"Mumford & Sons doesn't even have a drummer, they have banjos and acoustic guitars," Vannucci notes. "It's fresh and new and so different from the norm right now, but they've got a good song ('Little Lion Man')."
And The Killers have shown great adaptability ever since their first album, "Hot Fuss," and its signature single, the new-wavey "Somebody Told Me" in 2004.
"We wrote our song 'Human' six years ago," Vannucci says, and when he hears it on the radio now, "I feel like that song sounds more contemporary than our stuff now. Maybe 'Runaway' in six years' time will be what everyone is doing. Maybe I'm saying we're ahead of the game."
The unifying hand for a new song is how it sounds when it's played, he adds. "It's always fun to mess around with keyboards and computer technology, but at the end of the day we all look to how this is going to go over live. We're very much a live band."
Vannucci and his bandmates – singer and principal songwriter Brandon Flowers, guitarist Dave Keuning and bassist Mark Stoermer – named "Battle Born" not just for their home state, but for the Las Vegas studio where they recorded it (as well as 2008's "Day & Age").
"It's like the clubhouse, we all own it and contribute to it," Vannucci says. "The mindset of being in a studio makes you work a certain way. … We're extremely lucky to have sort of the old style of recording studio. We employ a lot of old sort of techniques. I doubt you can go in your house and set up the whole band and make it sound the same way."
Recruiting producers with direct ties to U2 – Daniel Lanois and Steve Lillywhite – do not discourage the assumption that The Killers are still trying to make the album that will put them into the football stadiums.
"We're definitely not there yet. We'd love to get there and we'd love to swing for that fence and do that," Vannucci says. "We're just taking it day by day. If we get there, then great. That's sort of what we're aiming for."
"Ambitious" isn't the dirty word it might have been in the punk-rock era. "I don't see the logic in somebody setting up and devoting all this time and not being ambitious about it," he says.
"I want to write songs that people will remember in a hundred years."
Contact reporter Mike Weatherford at mweatherford@
reviewjournal.com or 702-383-0288.
Preview
The Killers
9 p.m. today-Saturday
The Cosmopolitan of Las Vegas, 3708 Las Vegas Blvd. South
$86; $125, includes open bar (800-745-3000)