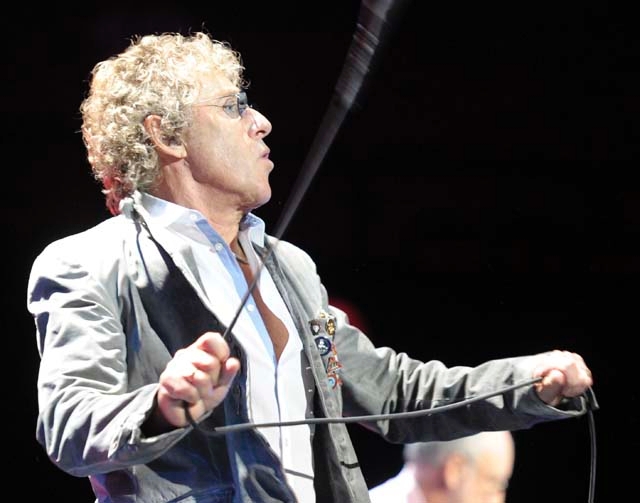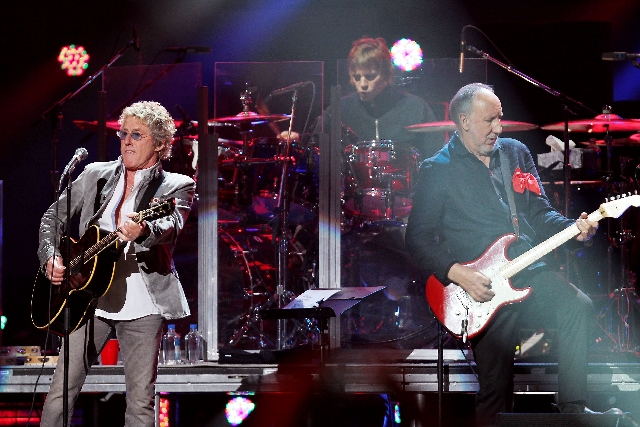 "Who is that?"
People shuffling through the MGM Grand on a weekday afternoon want to know who is posing for photographers in the middle of their pathway, not knowing how close they are to the "Who Are You" joke.
Maybe their failure to recognize Roger Daltrey is a generational thing. Or perhaps it's the sheer incongruity of seeing him near the MGM Grand's food court, posing in front of the "pop-up" studio for the Rock 'n' Roll Fantasy Camp that's plunked down in the middle of the foot traffic.
Those who walked by a few minutes earlier could have peered through the porthole windows of this temporary structure and seen Daltrey singing "Behind Blue Eyes" with amateur and working musicians who pay good money to jam with their heroes.
But even without the camera flashes they can tell he's someone — a rock star most likely — from the shades, the tussled hair and the properly knotted scarf.
There will be no confusion today and Sunday, when Daltrey is back in his proper context with Pete Townshend as The Who, playing the "Quadrophenia" album at the Hard Rock Hotel.
Judging by the added second show, The Who sell out, finally, in Las Vegas, a town that hasn't always been kind to them. It's the very casino where bassist John Entwistle died before a planned concert in 2002. And the town where an earlier revival of "Quadrophenia" only half-packed the MGM arena in 1996.
So it's understandable if the relationship between Las Vegas and The Who is a little ambivalent.
Daltrey agrees to chat for a few minutes as part of his Fantasy Camp promotional duties. You can only laugh at his reaction when asked if The Who might like to dig in for a longer stretch at the Hard Rock, as Motley Crue and Guns N' Roses have done.
"No, no, no. God forbid," he says flashing that square-jawed Daltrey smile. "I do this for joy now, not for the money."
More to the point, "I don't think our music is Vegas music," he opines. "Who music's a little too serious for Vegas. We're not a party band. It's intellectual music and I think in Vegas, the audience is too transient."
■ ■ ■
In 1996, The Who still had Entwistle and 13 years on their side.
But Townshend was still fresh from the Broadway adaptation of "Tommy" and wary about even putting The Who's name on the expanded staging of "Quadrophenia," which drafted a small orchestra of musicians and guest stars Billy Idol and Gary Glitter to deliver the 1973 magnum opus.
"I felt that it would be morally wrong to infer that people who were hoping for a greatest hits package might get one," Townshend said then. And it could explain why only about 6,000 people turned out for that arena show.
This time, a bonus encore of greatest hits is part of the advertising. And the band has condensed to eight, including sidemen who have given consistency to the later years of The Who: bassist Pino Palladino, Townshend's brother Simon on guitar and Ringo Starr's son Zak Starkey duplicating the late Keith Moon's bashing on drums.
It was Daltrey who assembled the production this time. Some reviewers have likened the visual components to Roger Waters' revival of Pink Floyd's "The Wall," in that it expands the selfish concerns of its young protagonist to more topical issues.
"It was probably my first gathered, focused storytelling effort," Townshend said in 1996 of the double album, which was light on isolated radio hits ("5:15" and the climactic "Love, Reign o'er Me" are the songs most heard out of context).
But it's The Who's most focused effort in terms of theme and structure, tying each member of band to the fictitious adolescent at the heart of a conflict between "Mods" and "Rockers" in seaside Brighton, England.
Townshend's trademark British humor emerged in an email interview for the band's 2006 "Endless Wire" tour at Mandalay Bay.
"In fact the story of 'Quadrophenia' is very short isn't it?" he wrote. "A Mod kid has a very bad day. He carries four people in his head — The Who. They carry him in theirs. He feels he should count more when compared to the Ace Face (the cool Mod leader played by Sting in the 1979 movie version), but he doesn't. He takes drugs, returns to the scene of his halcyon moment, becomes depressed and goes and sits on a rock. It rains.
"The music is everything," Townshend added. "It works as the backdrop to a thousand different lives, rather than just being the backdrop to a kid called Jimmy."
Daltrey says now he didn't see "The Wall" to compare, but this show is "about us, and about what 'Quadrophenia' was originally about, which was the four different personalities in a band making it a band.
"And The Who was the fifth person … and two of us are still alive," he adds. "So that's why we can bring it up to date." He laughs, then adds, "Barely."
■ ■ ■
Daltrey turns 69 on March 1. When Adele started losing her voice, Daltrey says he convinced her to see the same doctor — Steven Zeitels — who removed a pre-cancerous growth from his vocal cord weeks before The Who's Super Bowl halftime show in 2010.
He says he gives his Fantasy Camp money to research funding for Zeitels and a Massachusetts Institute of Technology scientist to perfect a gel that can be directed directly into damaged vocal cords, and which might even help throat cancer victims speak again.
Beyond that, he enjoys the Fantasy Camp because "it reminds me what I must have been like when I started. Which is a long time ago and I barely remember it, but I remember how I desperately so much wanted to do it and the enjoyment I used to get out of it.
"And that's what this takes you back to, those very first emotions. Which was just pure enjoyment."
Referring perhaps to his first job with a skiffle band called The Detours, Daltrey recalled, "When we started it was all acoustic guitars: ying-yang, ying-yang, ying-yang. Then all of a sudden, I still remember the joy of adding the first electric bass." He makes the sound of an Entwistle bass plunk.
"All of a sudden it sat, and you think, 'Wow.' … It probably was complete crap," he adds with a laugh.
The Who have been squeezing one obscure song into the encore, an "Endless Wire" cut called "Tea & Theatre," about two older men looking back ("We did it all, didn't we?")
Asked about that song before he is whisked off to his next commitment, Daltrey leaves with some upbeat parting advice for a town that has sometimes treated him badly.
"Well, hopefully everybody in their life will get to an endless wire one day, and then talk about it," he says. "Life is what you make it. I'm sure if you think positively, your life will be positive."
Contact reporter Mike Weatherford at
mweatherford@reviewjournal.com or 702-383-0288.
Preview
The Who, Vintage Trouble
8:30 p.m. today, 7:30 p.m. Sunday
The Joint at Hard Rock Hotel, 4455 Paradise Road
$99.50-$250 (693-5583)