The Who's Roger Daltrey bringing 'Tommy' to Hard Rock Hotel
October 21, 2011 - 1:15 am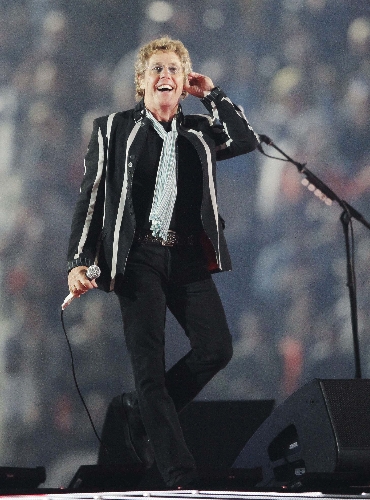 Baby boomers know The Who's "Tommy" all kinds of ways: The band's dawn-busting rally at Woodstock. The deliriously high '70s movie. The mannered Broadway musical of the '90s.
But Roger Daltrey says the original album about a pinball messiah's amazing journey has never been faithfully performed live, and that's something he is trying to set straight.
"When I did this for a charity performance earlier in the year, I was astonished how groundbreaking it was in its original form. I was taken aback with the fact that it's been presented in so many ways, but it's never been done the same as the record," says the iron-clad voice of the British rock legends.
So Daltrey brings a full-length version of "Tommy" to the Hard Rock Hotel on Saturday. He's touring without surviving Who-mate and primary "Tommy" writer Pete Townshend, but with his younger brother Simon Townshend in a band Daltrey says can nail the intricacies of the allegoric 1969 album that coined the term "rock opera."
"We've gone back to playing the music as written as a classical piece. I think it stands up amazingly well," Daltrey told reporters in a conference call. The original "Tommy" had instrumental textures and vocal harmonies that were lost in translation to the proto-metal Who sound of the Woodstock and "Live at Leeds" era.
"We were young, we were over-testosteroned, and we made it into much more of a physical rock 'n' roll, circusy type of event. This is completely different than that," he says.
His current band can "revisit things The Who haven't played since the early '70s. Because we lost our harmonies. John Entwistle (the band's late bassist) lost his angelic voice, and that wonderful harmony thing we used to do was lost forever. It's wonderful to be reminded of the power of the human voice."
At 67, Daltrey can't take his own vocals for granted. "I've had a lot of surgery on my throat in the last two years, which has been incredibly successful," he says of he removal of "a precancerous thing."
"It's given me a better voice than I've had for probably 30 years." But, he says, his throat condition has left him "ultra-allergic to any cigarette or pot smoke," so he asks a favor of fans: "I don't want to spoil anyone's fun, but I do request of my audience, can they please bring brownies?
"Because it shuts me down immediately. It's a serious problem, and there's nothing I can do about it."
There is talk of Daltrey and Townshend touring again as The Who, perhaps restaging the band's other conceptual classic, "Quadrophenia."
"We haven't gone away. We've got problems to solve because Pete is having terrible trouble with his ears," Daltrey says of Townshend's ongoing battle with tinnitus.
The Who were offered a Santana-like deal to play multiple engagements at the Hard Rock Hotel, but Daltrey says "we were never close to a contract." When they last played Las Vegas as The Who in 2006, Townshend said a Las Vegas-based retrospective of the band might be one area where Daltrey's "talents might even be better refined than mine."
Is this "Tommy" staging a step in that direction?
Not really, the singer says. "You might have a point about 'Tommy.' But that's not to say I would do that," he says.
"I've always felt, to be honest, that Who music generally, it's too demanding of an audience for Vegas. Vegas is an escapist place. And I don't know whether our music hits the right note for Vegas.
"Who music, it's exhausting on an audience and it moves an audience that way. It's incredibly demanding on the senses. Most people like to go see Elton John and Rod Stewart because it's a safe, entertaining night out. And that's the kind of thing that will sell night after night after night. I'm not sure whether The Who or The Who's music will ever do that."
But Who music is younger and healthier than its creators. "There's a whole new young audience for Who music. It doesn't seem to have dated at all," Daltrey says.
"There's something about the way that music was structured. The chord voicings, the lyrics, seem to not age. There's a lot of music from that period you put on and it sounds very dated.
"There's something about Who music, you put it on and it sounds as up to date as ever. I don't know what that ingredient is, but that seems to be the way it is."
Contact reporter Mike Weatherford at mweatherford@ reviewjournal.com or 702-383-0288.
Preview
"Roger Daltrey performs The Who's Tommy"
8 p.m. Saturday
Hard Rock Hotel, 4455 Paradise Road
$56-$101 (693-5583)