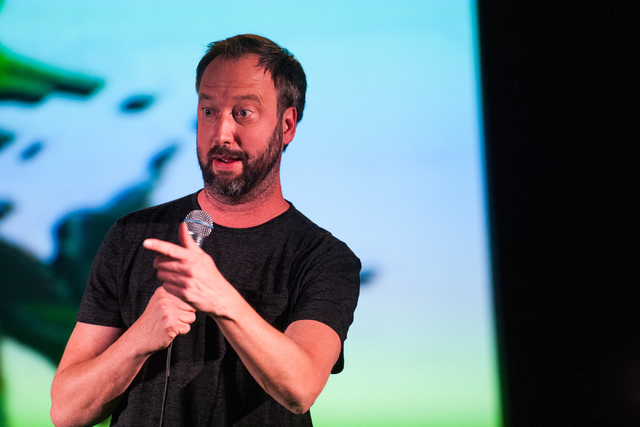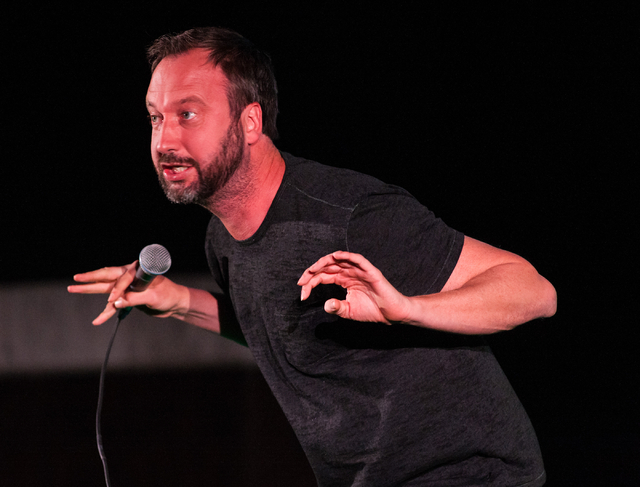 They say stand-up comedy is the loneliest of endeavors. That you live or die alone on that stage, facing down an audience.
Unless you have 'da Diceman in your corner!
Or even your mom and dad.
Tom Green is doing OK in his transition from TV prankster to agitated stand-up comedian, but he's not going to turn down any extra help. Who can resist the extra level of surrealism of watching his put-upon parents watching decades-old videos of their son tormenting them on MTV?
But, depending on the night, the real bonus to Green's stab at a Las Vegas residency comes in a visit from Andrew Dice Clay, who usually follows Green with a separately ticketed show in the Hard Rock Hotel's Vinyl club.
You aren't guaranteed this odd-couple comedy team when you buy a ticket for Green. But the 15 minutes or so they spent onstage together on a recent night suggests it happens often enough for the two to have made a routine of it. And the routine makes you wonder why comedy teams ever went out of style.
However, Green is billed as a solo ticket. So first, his stand-up.
The good news is that his MTV infamy in the 1990s gives him a head start as a headliner. The bad news is that all most of us remember of him is the stuff we wish we could forget. It comes back to haunt us in video highlights at the top of the show: Green licking a cow udder, drinking a bottle of mustard, tossing a cow's head in his parents' bed.
So at age 42 ("I'm basically dead," he proclaims), Green has both the blessing and curse of redefining himself as a stand-up persona. What we get so far is sort of half-formed.
"I got jokes. I got things to say," he announces. But only after he takes a few minutes to establish himself as a wide-eyed, loud and twitchy character who, as Jerry Lewis used to say, works from the crouch.
It wasn't altogether clear if we were watching Green doing a satiric take on his TV character as a has-been, or an amplified version of his "real" self now railing at society with George Carlin-esque maturity. If it's the latter, the insecure persona sets him up as a bit of an unreliable narrator.
But, as he said as much on this night, "These things take time to grow. They take time to build."
The "things to say" turn out to be solid riffs on basic stand-up themes such as airport security and the media's "manufactured outrage," even though they are doled out with a lot of filler. Many of them are built upon the irony of a guy who started us down the voyeuristic path to today's reality-TV cesspool now being part of the generation wishing we could disconnect from technology.
"Kids today don't look around anymore. Kids today don't look at cedar hedges anymore," he bemoans, remembering a day when we could walk to school without looking at a phone.
About a half-hour in, during a strong run about skin magazines becoming another Web casualty — and the days when "some kid would find a Penthouse way out in the woods … which made no sense at all" — in walks the Diceman.
Clay teaches Green how to Vegas-ize his act with impressions: "You gotta announce it first, then turn around" (to assume the character), he instructs to help Green punch up his Johnny Carson. When Green tries to imitate the Diceman, the real one loans him his leather jacket and instructs him to "Feel it."
They make a great odd couple, the hepcat and the awkward dude. And I usually get a bigger laugh out of what Clay slips in between his punch lines than from his official material. In this case, it was a reference to Green's ex, Drew Barrymore, as " 'dat 'Mod Squad' girl."
After this, there wasn't much point in belaboring the stand-up. And so Green called up his parents, then welcomed audience members to help chant "Daddy, would you like some sausage?" and other choice quotes from his cult movie comedy "Freddy Got Fingered."
It's widely considered one of the worst movies of all time. But, Green points out, nobody ever yells out quotes from "The English Patient."
Just as the movie didn't disappear, neither did its maker. People are willing to hear these things he has to say. He just needs to further define who it is saying them today and get on with the saying of them.
The Diceman isn't always going to be around to help.
Contact reporter Mike Weatherford at mweatherford@reviewjournal.com or 702-383-0288.
Review
Tom Green
7:30 p.m. Friday-Monday (more shows April 25-28, May 16-17)
Hard Rock Hotel, 4455 Paradise Road
$43.50-$81 (888-929-7849)
Grade: B- (B if Andrew Dice Clay shows up)