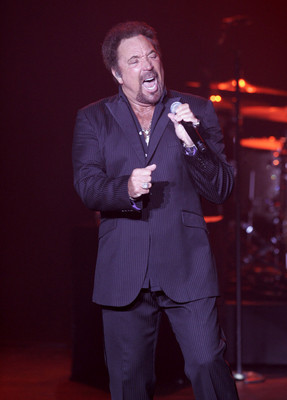 Bless ya, George Jones. You saved Tom Jones.
You never know how these things would have played out. But to hear Tom tell it from the stage of the MGM Grand, there was one song that might have cemented his success on the country charts and — I hereby extrapolate — could have derailed his current status as the heppest cat on the Strip.
Jones' initial glory years had leveled off by the end of the 1970s, but he would have a short stretch of country radio success in the early 1980s.
Songwriter Curly Putnam, who had penned Jones' big 1967 hit "Green, Green Grass of Home," had a new one called "He Stopped Loving Her Today." But the song ended up giving the other Jones a comeback in 1980. Tom had to tread water another eight years, until the fluke success of a flukier song, Prince's "Kiss" as mashed up by The Art of Noise.
It all evens out in the long run. Today, Jones uses "He Stopped" to stretch out, one of the many detours afforded to him by his 67 years and his long-term survival in show business.
But "Kiss" and its brethren are what make the singer remarkable for his 40 years on the Strip come March. You can't say most of the people on hand this night weren't in his age range. But while Barry Manilow panders to retirees by crooning "Love Is A Many Splendored Thing," Jones hits 'em with the "Sex Bomb."
The great thing about Jones is that he doesn't always slam the brakes before hitting the wall of camp. This is a man who can make the innocuous phrase "at the MGM Grand in Las Vegas" sound lascivious, by adding the proper blend of eye-rolling and lip-licking. The fans still eat it up.
But they also allow him to act his age for the gospel soul of Van Morrison's "Cry for Home," or a trio of standards in which the singer tries to dial his booming voice down low enough for a verse with just piano backing on "Here's That Rainy Day."
You once could count on Jones changing his set list each year to reward loyal fans, a laudable effort. But it turns out I jumped the gun by rushing down in January. The set was the same as it was in late 2006, including the high point of an obscure but suitably dirty blues shout-out called "Git Me Some."
Repeat business seems to be no problem either way, if only to answer questions such as, "Did he just point at his package when he sang the line 'What's mine is mine'?"
The Rolling Stones get more credit in the active-horny-senior department, and Jones no longer karate kicks through "Delilah" with the gusto he once had. But when "Kiss" comes and he declares, "I think I better dance now," you still know you'd best clear the way.
A lot of us will be patient to wait for that new set, and to see just how long this cat can go.
Contact reporter Mike Weatherford at mweatherford@reviewjournal.com or (702) 383-0288.
REVIEW
who: Tom Jones
when: 8 p.m. today-Wednesday
where: MGM Grand, 3799 Las Vegas Blvd. South
tickets: $92.40 (891-7777)
rating: A-