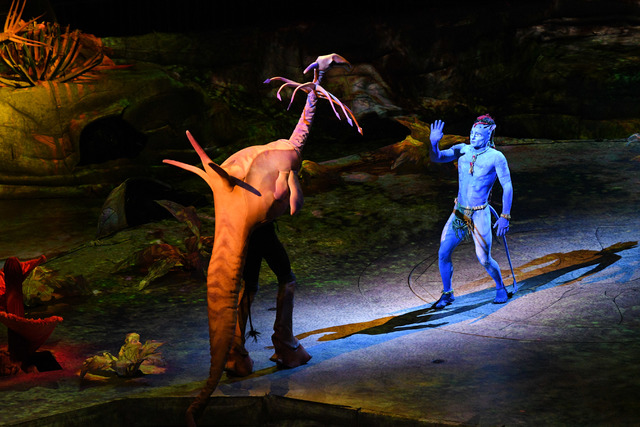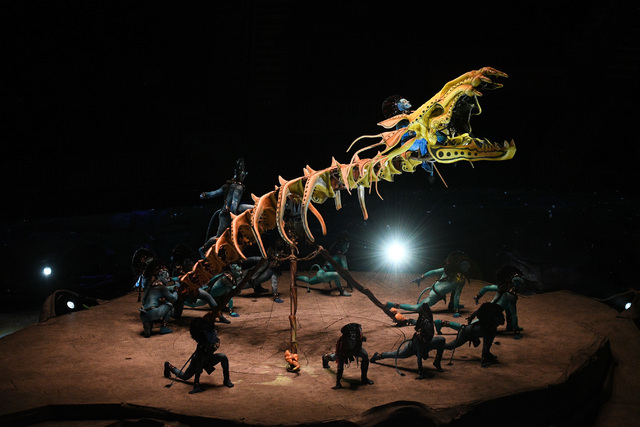 When the Cirque comes to your town, it's a pretty big deal. "Toruk — The First Flight" took in almost as much money as Paul McCartney on the road last year.
But when Cirque du Soleil comes to Las Vegas, its own backyard? Ehh. Depends on how busy those World of Concrete conventioneers are. And how much locals care about the "Avatar" connection to Cirque's touring arena spectacle.
Wednesday's launch of a five-day run had plenty of empty seats in T-Mobile Arena, even beyond a closed upper deck and the arena floor used as the set for the sprawling production. (If you're ticket-shopping, note the horseshoe of sections 8 through 12, usually not your first choice for concerts, is ideal for this one.)
Cirque-savvy locals may not find the "Avatar" ingredients strong enough to avoid a sense of deja vu with "Ka" and five other Las Vegas-based spectacles.
"Avatar" is a double-edged sword. In one sense, it's brilliant branding. Everyone saw the $2.7 billion-grossing movie. But unlike "Star Wars" or comic-book franchises, where fanatics come with impossible expectations, co-creators Michel Lemieux and Victor Pilon have a lot of freedom.
This prequel of sorts — comics geeks would call it a "shared universe"— is more a self-contained story set on the planet Pandora, before the humans showed up to screw things up.
On the other hand, "Toruk" could have used some nerd passion to enforce more action and urgency.
The first of its two acts takes its time in setting our young Na'vi heroes (Guillaume Paquin and Jeremiah Hughes) on a quest to collect talismans to help them tame the feared Toruk, a giant pterodactyl, and head off a predicted disaster. Their travels become a leisurely display of pageantry, an excuse to showcase Cirque's familiar acrobatics.
The second act kicks into higher gear with more forward motion. The blue lads and a chieftain's daughter (Giulia Piolanti) who joins the quest are menaced by cool creature puppets before they face off with the big bird. If the problem with Cirque's arena shows is the fact that acrobatic humans just can't get any bigger, they can at least do something about the impressive size and scale of the title puppet.
You can trust Cirque to do this stuff right. The company's usual good taste and eye for detail are evident from the get-go. As a narrating Storyteller (Raymond O'Neill) sets up the tale, the shadows of his billowing cloak create moody visuals on the towering set behind him.
And the video projection-mapping is stunning. At one point turning the set into a waterfall with rivers for our heroes to canoe.
The story isn't Shakespeare. Sample narration: "To unite the clans by convincing them of the common danger will be no easy task." Still, there are grounded moments when the native blue Na'vi interact in their native language, attempting to inject some genuine emotion.
Sure, the whole thing's a little languid and humor-challenged. And for locals, a little too familiar. But sports arenas are now a big part of our entertainment fabric. Technology has opened the door for a new kind of theater that enables cinematic action. If you picked another family-friendly arena show this month — or doubled down on both — you'll at least appreciate that this certainly isn't "Disney on Ice."
Read more from Mike Weatherford at reviewjournal.com. Contact him at mweatherford@reviewjournal.com and follow @Mikeweatherford on Twitter.
REVIEW
What: "Toruk — The First Flight"
When: 4 and 8 p.m. Saturday, 1 and 5 p.m. Sunday
Where: T-Mobile Arena, 3770 Las Vegas Blvd. South
Tickets: $39-$155; 888-929-7849
Grade: B