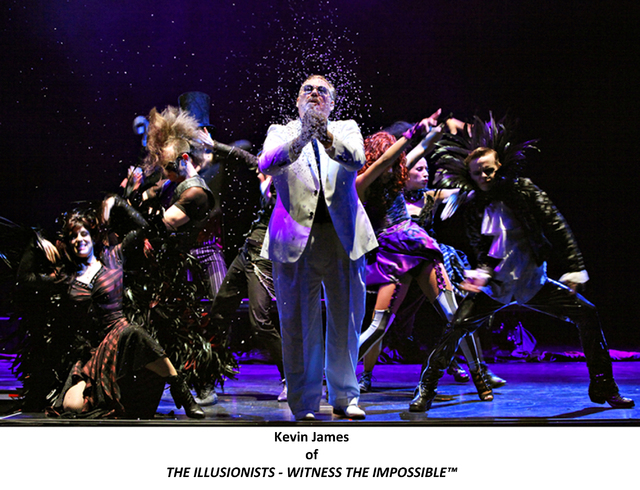 The billboards make them look like magic's version of "The Avengers." And they fight their way out of a basement like superheroes, too.
I've been keeping track of this show called "The Illusionists," a touring package of magicians, several of them from Las Vegas. It's a big hit overseas and will land on Broadway for the holiday season, in the Marriott Marquis Theatre where Donny and Marie Osmond worked the Christmas season of 2010.
Kevin James was on "Good Morning America" to promote it Wednesday. It's a big step up from the Plaza, where maybe 20 of us saw him in March 2012. "Avant Garde" was one of those shows that closed between the time I saw it and the time the review ran.
Seems like I've only seen him in little stuff here. James had the respect of his peers — some of the more famous ones lifted from him — but even "America's Got Talent" didn't elevate his profile on the Strip.
And comedy-magician Jeff Hobson? "My low point, and no pun intended — or is it pun intended? — was 'Little Legends,' " he reminds me. I had managed to forget the 2007 affair, where Hobson had to pad the limited appeal of costumed tributes by little people such as Mini-Britney.
"Somebody comes up to you when there's no other work and you're just sitting around for months," he says. They hired him as emcee, but "by the time the show opens, I realize they only have an hourlong show and I'm 35 minutes of it."
"That's when I knew the end was near, for me at least in this town."
But there was life beyond Vegas. "The Illusionists" toured Europe with four trucks and a cast and crew of 40. In Mexico City, it played three times a day in an 8,000-seat theater.
"It's Simon, basically," James says of "Illusionists" producer Simon Painter. "I don't know to explain how Simon is completely the polar opposite of the producer we had for the (Plaza) thing."
"Simon doesn't think of one city, he thinks of conquering the world," Hobson agrees.
And where did Painter come from? James met him at the Golden Nugget in 2002. He was the Amazing Johnathan's opening act and Painter was the fiddler in the roommate show "Spirit of the Dance."
Wait a minute. I saw that guy. I looked up my review of "Spirit." It harped on the recorded vocals and "tap-aoke" footfalls, so cheesy they cast suspicion on Painter fiddling away on an electric violin that had no sound emanating directly from it.
Painter wrote a cordial letter to the editor to assure "that every single note I play is absolutely live."
Guess what? "The Illusionists" has a live band.
So what we seem to have here is guys who worked in so many shows that got it wrong, or couldn't afford to do it right, they knew what to do if they ever had the chance. And now it's paying off heroically.
Contact reporter Mike Weatherford at mweatherford@reviewjournal.com or 70-383-0288.