January 23, 2009 - 10:00 pm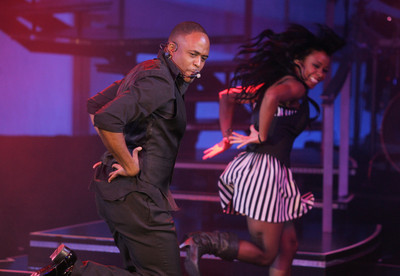 They always say, "It's an honor just to be nominated."
For Wayne Brady it's that, plus credibility. No small thing when you strut your stuff as Tina Turner in a minidress.
When the Grammys are handed out Feb. 8, The Venetian headliner will be, most would figure, a long shot to be chosen over Al Green for Best Traditional R&B Vocal Performance.
But since Brady is still better known as an improv comic, the Grammy attention is just one more way to say his debut album, "A Long Time Coming," isn't Eddie Murphy singing "Party All The Time."
Brady, 36, says the nomination for his cover of Sam Cooke's "A Change Is Gonna Come" lets him rest assured he will get to make another album and establish "a viable career in this part of the business, which is what I always wanted. It took 20 years to get here, but hey."
It's rare to find a Las Vegas regular in the Grammy race. Singers hardly play the Strip beyond one-night concert stops anymore. But Brady's "Making It Up" does an abrupt shift at about the two-thirds mark.
One minute, he's showing off his gym bod in high heels for the fully costumed Tina Turner gag. Then, after a video break, he returns in retro-cool jacket and Rat Pack-skinny tie, talking about his album and setting up a turn at Cooke's "Shake."
Brady says he hopes to phase in changes by March to further showcase the album, since he's locked in as a resident headliner and can't take off for a promotional tour. Because this show is all he has, he wants it to evolve into "a complete picture of an artist" instead of "a comedian begging for someone to listen to his music."
Brady was packing his bags for an Australian tour the morning he got the call with the Grammy news. "I was just overjoyed. I almost wept. It really was a validation," he says.
"When I looked at that roster (of nominees) and saw Al Green's name, I thought, 'Wow. This is Al Green and my name is next to his, for singing.' … That is a victory on so many levels, it is astounding."
Brady dreamed of a singing career when he was gigging in a theme park revue at the bygone MGM Grand Adventures in 1994. But his career took off in a different direction when he was cast in both the British and U.S. versions of the improv-comedy "game" show, "Whose Line Is It Anyway?"
With comic sidekick Jonathan Mangum, Brady gained a foothold on the Strip doing improv shows based on "Whose Line?" That led to the full Venetian revue with a band and dancers in 2007.
Converting audiences a few hundred people at a time still didn't guarantee people would accept a serious album, Brady says. But Jaime Foxx's success in music — and his Academy Award for "Ray" — helped prove to the record labels that listeners would accept a multiple talent.
Brady's album tempers his old-school sensibilities with contemporary production. He also wrote lyrics for the original songs. "One of the joys in doing music is being a songwriter and sharing your music with people," he says. "I haven't earned the right to do a bunch of covers."
One of the originals, "You and Me," addresses Brady's divorce, which became final last April. "It's a love letter to a family. Not too many songs say that," he says. "My ex-wife is my best friend on the planet, and we have this beautiful daughter. We aren't going to let anything stand in the way of us continuing to be a family."
Brady used to rent a house in Henderson, but got tired of driving to the Strip. Now he stays at The Venetian, but often hops a plane to Los Angeles in time to take his daughter to school.
"I go pick her up, take her to school, stay in L.A. to do what I need to do, and then pick her up from school, spend some time with her and then get back on the plane in time to do the show that night."
Brady says he isn't phasing improv out of his show, but is adding sets and props that will allow him and Mangum, who already seem to communicate telepathically, to take their improv to "a really cool, crazy place."
Whatever he does, "you're always going to get more than what you bargain for," he promises. "I hate it when people believe that they know me or can expect what I'm going to do. It's a little annoying. It's like your wife telling you, 'Oh, you're so predictable.' Nobody wants to be predictable, because then you stop being interesting."
Contact reporter Mike Weatherford at mweatherford@ reviewjournal.com or 702-383-0288.
Preview "Wayne Brady: Making It Up" 9 p.m. Thursdays-Mondays Showroom at The Venetian, 3355 Las Vegas Blvd. South $54-$98 (414-9000)