Wayne Newton's return ends 10-year-old feud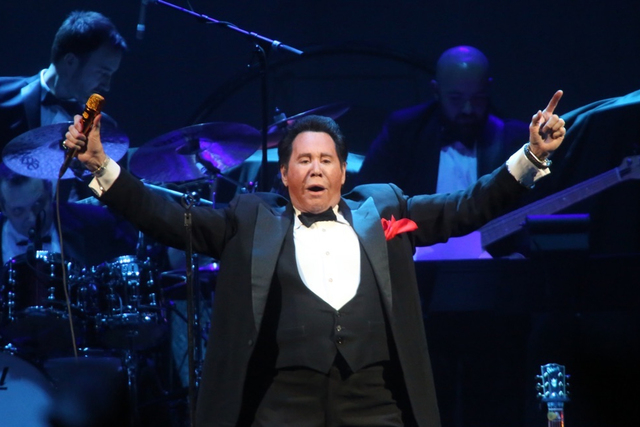 T-Mobile Arena started a new chapter in Las Vegas entertainment, but opening night also included a "new beginning" that put an end to an old feud.
The brief performance by Wayne Newton marked the end of a 10-year-old rift between the Las Vegas icon and the Las Vegas Musicians Union. A dozen union players backed his arena performance, the start of a new three-year agreement between the entertainer and Local 369.
"It was a great new beginning and lifted a big black cloud that was over everyone's head all the time about Wayne Newton," said Jack Gaughan, who became the local's president in January.
The feud stemmed to 2006 and got pretty ugly during the Midnight Idol's last residency on the Strip, at the Tropicana in 2009.
At one point, the union put up a website with audio samples of Newton's battered vocals sounding quite unlike the original studio recording of "Danke Schoen."
You can laugh it off as ancient history, one of those "only in Vegas" yarns, except for one thing. A big thing: For more than a decade, Newton has remained on the "unfair" list of the parent union, the American Federation of Musicians.
It put both sides in an awkward position. Anywhere Newton performed on tour, he either had to use nonunion musicians or players had to resign from the AFM to work for him.
"It was difficult to have conflict with someone they had worked with for a long time," Gaughan says of musical director Marc Atkinson and other veteran players. "He had been on the 'unfair' list for more than a decade."
Newton "came in good faith" to mend fences before the big April 6 arena gig, Gaughan said. The new contract was less about the particulars of the old feud — which was in some part about payment for rehearsals and post-show fixes of mistakes — than about making sure the members who were involved agreed it was time to move on.
"Over time your perspective changes," Gaughan said. "Everybody seemed to agree it was time to take a deep breath and let all of that go."
Newton now settles into the cozy Windows Showroom at Bally's with a show mixing music and biographical stories. Gaughan said he wasn't sure how many union players will be involved, but the residency has the potential to provide 32 weeks of employment per year. …
An old-Vegas rally continues if you combine Newton's comeback with last week's return of Rich Little to the Tropicana's Laugh Factory and news that the Scintas will continue to perform four nights a month — two Fridays and two Saturdays — through November at the Plaza.
With the latter, the question was less whether the Scintas would be good for the Plaza than whether the Plaza would be good for the veteran show band. The retro showroom offers fine atmosphere, but Louie Anderson and other performers who had bad luck there will tell you the larger property seems to stand outside of Fremont Street's resurgence.
But the Plaza "really stepped up their game for us in every way," Frank Scinta says.
The secret may lie in the small numbers; four nights a month instead of four nights a week. "I know we're on the cutting edge of that idea," Scinta says, because it runs counter to the usual theory of trying to squeeze as many shows as possible from fixed marketing costs (a taxi-top ad costs the same whether there are four or 20 shows per month).
But the limited schedule gives the quartet more flexibility to hit the road and work its strong fan bases in Michigan, New York and Ohio. …
A closing note about a Vegas serendipity that only old-Vegas and comedy nerds will appreciate: Last weekend hosted two titans of insult comedy, with Lisa Lampanelli at The Venetian and Don Rickles at The Orleans.
Dressing-room photos of the almost-90 Rickles with ventriloquist Terry Fator and "insult magician" Mike Hammer were later posted on Facebook.
The week before, Lampanelli said her two meetings with Rickles amounted to "meeting your hero."
"Still to this day, he and Howard Stern were the only people I met who I was kind of tongue-tied with and starstruck by." The second time she met Rickles "he remembered me, and I was so flattered."
The first time, however, she remembers "pretending to take his advice" to work clean, a reminder of what was once a distinct line of acceptability between racist material (no problem) and sexual (a bigger taboo) in Rickles' heyday.
"He might be appalled by some of my language," Lampanelli says. "But you always want him there. He's the only one of the really old guard who's still consistent that way. Sharp as hell."
Read more from Mike Weatherford at reviewjournal.com. Contact him at mweatherford@reviewjournal.com and follow @Mikeweatherford on Twitter.
The president of the local musicians union says both sides were ready to end a rift that had placed Mr. Las Vegas on its "unfair" list.