What's not to like about stalwart Las Vegas Tenors?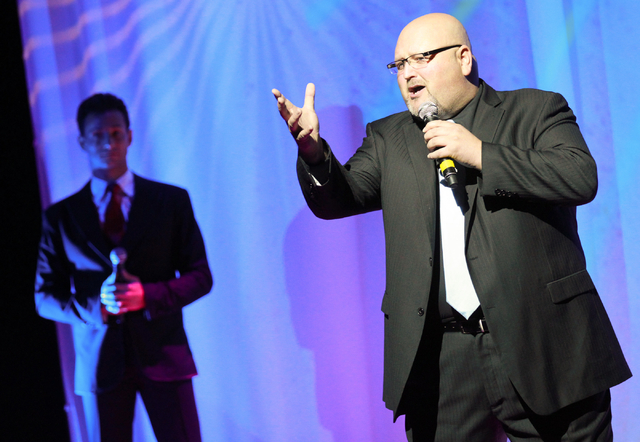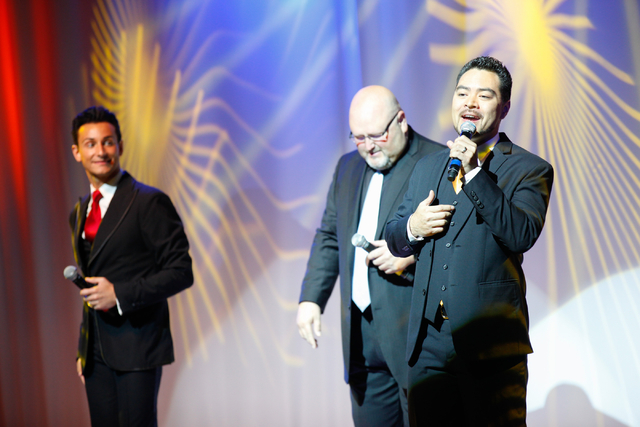 It's a fair question, especially from an act called the Las Vegas Tenors, when one of them asks if people even know what a tenor is?
Bobby Black shares with the audience that most people say it's some kind of opera. Or barbershop quartet.
Me? I would have said, "Something to do with PBS pledge drives."
Black's point is that a tenor is most broadly defined as "the highest male voice," and so three of them getting together in the Shimmer Cabaret of the Westgate Las Vegas (no longer known as the Las Vegas Hilton or LVH) can be as eclectic as they wanna be.
And yet the word "tenor" almost seems to be a mix tape label for the middlebrow "popera" you watch between cutaways to a TV studio full of volunteers waiting to take your calls.
Ain't goin' nowhere without the dramatic duet "The Prayer"? They got you covered, with an extra voice to spare. "You Raise Me Up"? Check.
"Nights in White Satin"? In Italian, baby ("Notte di Luce"). But if you want "Nessun Dorma," you will have to wait until the grand finale.
If these are the "greatest hits" you've been missing elsewhere, the Tenors sing them marvelously every Wednesday and Thursday, for the near future at least, inside the Shimmer.
Since the Shimmer is a one-of-a-kind venue in Las Vegas — one of the only components that functioned at consistent quality during years of upheaval for the fallen angel of a hotel — it shouldn't surprise anyone that it's reported to be closing as part of the renovation plan by its new owner.
If the Tenors bring the curtain down on the place, they will go out as a prime example of the room at its best: structured, ambitious entertainment in the intimacy of what Black calls a "living room" environment.
No one has said how much time they can borrow. But Black, Lou Gazzara and Shai Yammanee can make use of whatever time they have left to further refine an act better known to locals than tourists. One just now trying to sell tickets in the tourist corridor, after years of playing suburban casinos, cruise ships and corporate events.
There's no questioning their vocal authority, which makes you smile with your mouth open as they layer harmonies of "Danny Boy" without the recorded tracks that accompany the rest of the show.
If the PBS standards create the foundation, then it's what the trio does beyond that which will distinguish itself from all the other tenor groups out there.
These Tenors surprise us with their opening song, Boston's "Long Time." But it's a long time before they surprise us again, with Lionel Richie's country version of "Stuck on You" or the Doobie Brothers' "Long Train Running."
The trio's forte seems to be the mashup, but they can take it too far. One medley is so overstuffed and eager to please that it plays like Will Ferrell and Ana Gasteyer as the singing Culps on "Saturday Night Live": The Temptations lead to the Bee Gees which sets off the Lettermen which launches the Four Seasons who catch a ride on the O'Jays' "Love Train."
The three tell us they are "totally different singers." But in the Good Problem to Have department, their voices blend so well we don't really see what's different about them until Gazzara, a 2003 "American Idol" contestant, serves up a dead-on and utterly sincere Elvis Presley on "If I Can Dream," complete with spoken intro.
"It's hard not to like that, isn't it?" Black says afterward.
It sure is. And you can say that of the whole trio's talent and earnestness, however predictable its set list.
Just don't wait too long to like it if you want to get your classical-crossover groove on at the Shimmer.
Contact reporter Mike Weatherford at mweatherford@reviewjournal.com or 702-383-0288.
Review
Las Vegas Tenors
8:30 p.m. Wednesdays-Thursdays
Westgate Las Vegas, 3000 Paradise Road
$39, $29 for Nevada residents and hotel guests (800-222-5361)
Grade: B