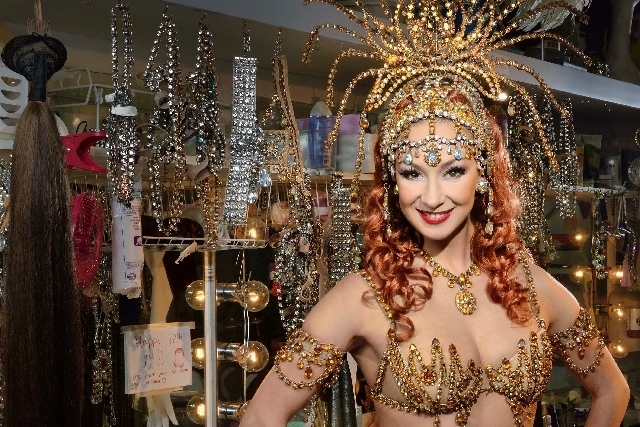 There's an old saying on the Strip: "It ain't a show without a gaucho."
"Jubilee!" is about to find out. The new version of the showgirl spectacle that relaunched this week did so without variety acts such as the comedic Argentine cowboys, who sometimes literally woke up showgoers when they started pounding drums in the back of the room.
It's not an irreversible decision, but for now it does end the revue's long tradition of "front of curtain" performers who not only covered set changes backstage, but broke the fourth wall and directly engaged the audience. As a much younger lad, my first memories of "Jubilee!" include, yes, the showgirls, but also a pickpocket (Bob Arno) and the guy (Hans Pantar) who shot an apple off his wife's head with a crossbow.
New director Frank Gatson Jr. says he is obsessed with staying true to Donn Arden Jr., the late Vegas impressario who created "Jubilee!" and several spectacles before it.
"But the reality was Donn Arden with all his vision realized the power of having specialty acts. Specialty acts are a show within a show," Fernando Quevedo says.
He should know. He spent nearly 10 years (off and on) as a gaucho.
Will anyone miss the "Jubilee!" acts beyond the people who performed them? The ultimate answer will be whether 24 minutes of new song-and-dance is better than the three acts (performing about 8 minutes each) it replaces.
You can understand the logic. The Strip has, in a sense, become nothing but variety acts. If you count all the Cirque du Soleils, plus "Absinthe" and "Vegas Nocturne," it seems everyone now agrees with producer David Saxe's philosophy when he hatched "V — The Ultimate Variety Show" in 2002.
If the front-of-curtain guys were the best parts of the old revues, Saxe figured, why not make a whole show of just them? It has worked for years in the V Theater at Planet Hollywood Resort. And "Jubilee!" is the last place to find traditional showgirls doing their classic-Vegas thing. Gatson seems to have more than two hours' worth of ideas for them.
Just don't expect a variety performer to concur.
"I think maybe they think the act cuts the flow of the show. But that's the idea," says Quevedo, who was last in "Jubilee!" more than a year ago and now produces shows outside of Las Vegas. "You cleanse the palate. You throw in something different and then we bring you back into the show."
"Specialty acts do bring some kind of special material, a breakup that is at some point necessary," agrees Cees Dekok, who with his wife, Cathy, has the dubious honor of being one of the last variety acts to perform in "Jubilee!" Their aerial ballet was part of the final months of the previous edition.
"The way I see it, you gotta wow people. It has to be (a contrast of) black and white because the people will see the difference," Cees says. "If you go from black to dark gray, the audience doesn't see that."
Time will tell who is right. For now at least, if you just have to see a gaucho, you can always go next door.
Contact reporter Mike Weatherford at mweatherford@reviewjournal.com or 702-383-0288.