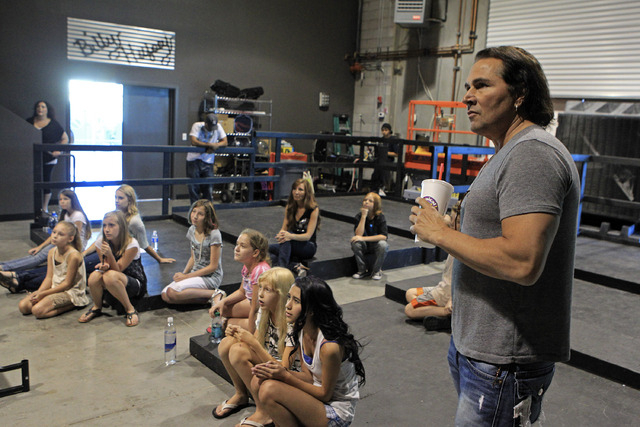 Another Halloween is over, but it carries on all year for those in costume as celebrity impersonators on the Strip.
A dozen tribute shows (one of them drag) are listed in our weekly Neon showguide. Two showrooms, the Rio's Crown Theater and the Westgate's Shimmer Cabaret, are now fully devoted to tributes.
The real Celine Dion has sidelined herself, canceling 40 Las Vegas shows to devote her energies to her husband's cancer battle. But there's always Steven Wayne's drag-sync in "Divas Las Vegas." Or you can hire Elisa Furr to be Celine for your next corporate event.
But on Nov. 13, Furr will be back on the Strip as herself in "Celebrity Idols." The variety show headlined by Billy Hufsey of "Fame" fame will stop short of costumed impersonations in saluting musical and movie idols.
"With so many shows in town, I want to do something different," says Nanette Barbera, who in December will add a second title, "Hollywood Bombshells" with Angelica Bridges, to run in tandem in the cozy Sin City Theatre at Planet Hollywood Resort.
(Barbera's last venture was "iCandy Burlesque" in 2012. She wants to make it clear the new shows do not involve producer John Stuart, from whom she says she is still trying to collect unpaid "iCandy" salaries.)
"One, it's overdone," she says of the impersonators. "The audience, I think has seen it, been there, done that for the last 30 years. My entertainers are too great in their own selves to be mimicking other artists. They can do the songs in their way."
But when you talk to Furr and Barbera, you can see why this is a welcome, but potentially risky, move.
"I can work in town as myself. I just opted not to," says Furr, whose resume includes the singing mistress of ceremonies in "Jubilee!"
She likes having Christmas off and working fewer than six nights a week. And though she has had some luck licensing original songs to TV and films, "no one wants to hear you do your own music unless you've got a huge marketing monster behind you."
Furr says she "never wanted, desired, or thought about being an impersonator, ever."
But 10 years ago, she was singing four sets a night in Napoleon's lounge at Paris Las Vegas.
"You're singing over people, everybody's in there trying to get laid or get drunk," she says.
But when she would cover "My Heart Will Go On," "the whole place would get completely silent. I wasn't even trying to sound like Celine. People would come up and drop $20 bills in the jar. I thought, 'I'm onto something here.'  "
Since then, the Celine costume has taken her everywhere from "Legends in Concert" to singing for Malaysian heads of state.
In Las Vegas she hopes there is room to work as both Celine and herself. Audiences probably do, too.
Contact reporter Mike Weatherford at mweatherford@reviewjournal.com or 702-383-0288.