With new division, leader, Cirque gives regard to Broadway
January 15, 2014 - 11:12 pm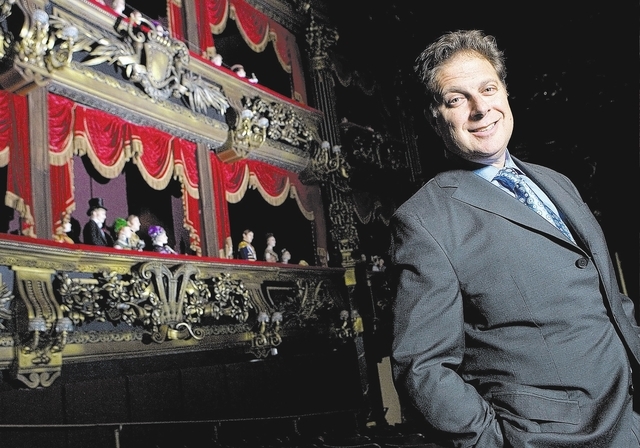 Broadway musicals have been about the only thing (besides concert headliners) to challenge Cirque du Soleil on the Strip. Now Cirque has hired the guy who brought a lot of them to town to create some Broadway musicals of its own.
Cirque announced Tuesday that it's creating a new theatrical division to create titles for Broadway, London's West End and theatrical touring.
The man they picked is Scott Zeiger, whose Base Entertainment was behind such Broadway-to-Vegas imports as "Phantom — The Las Vegas Spectacular," "Rock of Ages" and "Million Dollar Quartet."
Zeiger said it's time for Cirque to get into traditional theater, whether it be adaptations of public-domain fairy tales or joining the current Broadway trend of turning movies into stage shows.
"There's a universe of intellectual properties that could be available for this venture," he said. "We're going to have book writers and composers and lyricists combined with Cirque artists," with the Canadian company's signature "feats of virtuosity being folded into the show to sort of punctuate production numbers."
The odd twist of the news is that the venture involves two major Las Vegas entertainment players but seems to have no short-term goals for the Strip.
Cirque seems to finally be at rest on the Strip with seven titles (plus producing "Criss Angel: Believe" with little input on content).
Cirque also has been loyal to MGM Resorts, so it seems unlikely to urge Zeiger to develop a show for The Venetian or Planet Hollywood Resort, where Base holds the lease on a theater.
"I have not been recruited to fill any Vegas stages," Zeiger said. "But then again, I have not been recruited to fill any specific stages."
Zeiger gives up his job as chief creative officer for Base but will remain an equity partner in the company. That leaves Zeiger's longtime business partner Brian Becker to oversee "Rock of Ages" and "Million Dollar Quartet" as well as Base's stake in the Ross Mollison-produced "Absinthe."
Zeiger brought more of a theater background to Base, while Becker, who now heads the company, came more from the concert and events side of the industry.
"My interest is going to be broader," Becker said Wednesday. "What we have in mind is a broader spectrum for the types of shows we would like to pursue doing."
"Base won't be an active concert presenter," Becker added, though he is bullish on producer Adam Steck's new series "Rocktellz &Cocktails" slated for eight months of bookings with the Jacksons, Meat Loaf and others in the theater Base leases inside Planet Hollywood.
Absinthe" is another example of "people we have relationships with who have creative ideas," Becker said. "We really like partnerships. That's in our DNA." Becker mentioned the touring packaged magic revue "The Illusionists" as another potential partnership.
"I don't think Broadway plus Vegas is an automatic success," he added. "I think it has to be done very carefully, so again, we'll just be opportunistic on that."
"We'll be judicious, but we'll be opportunistic in terms of working on content that is original," Becker said. As far as importing more Broadway titles such as "Motown the Musical," "we'll evaluate those opportunities as they come along. We've had some great successes and some not-so-great successes."
With Zeiger making most of the content choices, Base had a mixed track record with adventurous bookings that didn't always pan out. Wins such as "Rock of Ages" were offset by disappointments ranging from "Stomp Out Loud" to last summer's "Priscilla Queen of the Desert." A management shuffle last year was said to bring in more bottom-line oversight from private-equity investor Clarity Partners.
"At the end of the day, there are economic parameters you have to operate within," Becker noted. "What that means to me is people are going to have to be much more focused — and I know we will be — on marketing differentiation." …
Caesars Entertainment Corp. hasn't just taken a more active hand in the booking of concert stars such as Britney Spears at Planet Hollywood Resort and Elton John at the Colosseum at Caesars Palace; the company announced this week it has become an official partner in the Forum arena in Inglewood, Calif.
The company will have a 4,000-square-foot hospitality space in the refurbished arena and offer tickets through its Total Rewards program. …
If you show up for "Evil Dead The Musical" this weekend, you might end up hearing your laughter on an official cast recording for the campy musical at the V Theater.
"We've been working on this CD for a while," producer Sirc Michaels said of the soundtrack that's been sanctioned by the show's keepers. It's the first such recording since the original off-Broadway cast album in 2006.
"We're the only resident production. This is one of those things that helps legitimize it," Michaels said of the venture that, as far as I can remember, hasn't happened since the local cast of "Forever Plaid" updated that show's cast album a few years back.
Loyal fans of "Dead" have been encouraged to show up this weekend to have their ambient noise recorded and blended with the studio work that's gone into the tracks.
On Monday, the "Dead" cast will join "Absinthe" burlesque singer Melody Sweets, Adrian Zmed and others at the "Mondays Dark" show at the Hard Rock Hotel. Michaels is now circling Feb. 18 as the new target date for "a bigger, shinier" version of "Dead" to move upstairs into a new theater space inside the V.
Contact reporter Mike Weatherford at smweatherford@reviewjournal.com or 702-383-0288.