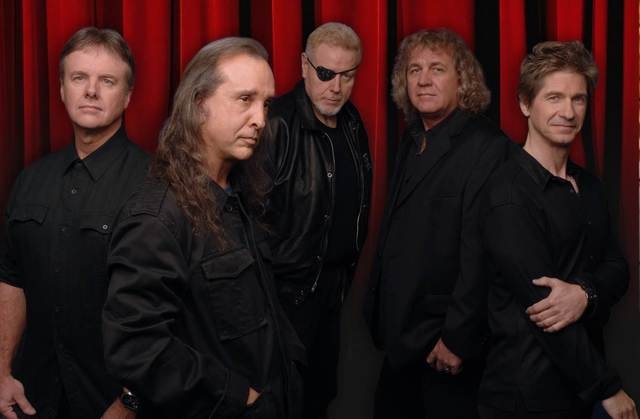 The rock band Kansas plays Red Rock Resort on Saturday as part of its 40th anniversary year. The classic rock die-hards probably would have stuck around anyway, but casinos sure made at least a fourth of their run a lot more comfortable.
The thought occurred to me near the end of a phone chat last week with the band's guitarist, Rich Williams. We had talked about the things we needed to cover, such as an upcoming documentary about the band (Come back Friday for more on that in the Neon section).
We spent the last few minutes talking about how often the group has played Las Vegas over the years. Kansas was early to the locals casino game, playing Boulder Station back in 2000 after previous stops that included the bygone Beach nightclub and Huntridge Theater.
"I love playing a casino," Williams said. "You stay right there, you walk over to sound check, rooms are covered, free chow. A lot of places you do two nights. What's not to like about it?"
Maybe only too much of a good thing.
A local date by these high school favorites will always catch my eye. Their namesake state bordered mine during their peak years in the '70s. They were one of my first concerts.
When I think about how exciting it was to see them in an arena back then, I chuckle at the irony of the current incarnation playing Las Vegas more often than I need to see them. The Orleans, Texas Station, the Stardust, Fremont Street, the House of Blues at Mandalay Bay. Maybe some I missed in an archive search. And those don't count packaged tours with fellow road warriors such as Foreigner and Styx.
During the heyday of "Carry On Wayward Son" and "Dust in the Wind," Kansas was one of the groups to play the Aladdin theater, a venue quite non-reflective of the Strip at the time.
The reaction was, "You guys are playing Vegas? Wow, you're selling out," Williams recalls. "Now there are casinos everywhere and rock bands are playing them all."
Las Vegans may not even keep up on the explosion of tribal casinos around the country until they leave town. And even then, why take sand to the beach? I don't need to visit the Hard Rock Hotel when I visit family in Tulsa, Okla., because we have a perfectly good one here.
But Williams stepped through some specifics of how casinos around the country have made life easier for aging road dogs.
"We've retooled things," he says of playing about 70 shows a year, nearly all of them on weekends. "That way you get a home life, you don't get burned out. You're not crammed on a bus. We fly everywhere and truck the gear."
I told him that sounded good, because I remember seeing the group when it just seemed tired and out of gas.
"The bus years are a blur," he said of the '90s and venues such as The Beach (which was on Paradise Road, across from the Las Vegas Convention Center). "I don't remember much. You pull up behind a building, get off the bus, go in, get back on the bus, you drive, walk back into a different building."
And the routing.
"You're in Omaha (Neb.) on a Sunday and Friday you're playing in Los Angeles. You've gotta pick dates along the way. Now it's Tuesday night, you're in Thermopolis, Wyo., playing a bowling alley for no money just to pay your expenses."
Most casinos and cruise ships now have quality in-house light and sound systems that can allow a band to "plug and play" when it carries on to the Gold Country Casino in Oroville, Calif., the Seneca Allegany in Salamanca, N.Y., or the Choctaw Casino in Pocola, Okla.
"We manage ourselves, so we pick and choose when and where (to play)," Williams says. "Financially we make the same money doing weekends," because most locals-oriented casinos don't care about weeknight shows either. "We're not getting burned out so we still enjoy it. It works for us."
Contact reporter Mike Weatherford at mweatherford@reviewjournal.com or 702-383-0288.