Young singer Charice among performers whose careers aided by 'David Foster & Friends'
September 30, 2011 - 1:00 am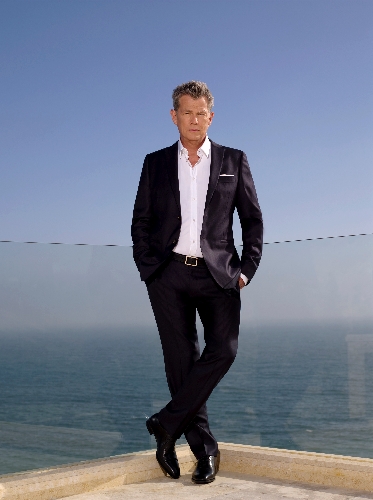 Thanks to David Foster, Las Vegas has marked the growth of young singer Charice like marks on a kitchen-wall height chart. She agrees with that, as long as we're being metaphorical.
"The height is still the same in real life," the petite 19-year-old says with a giggle.
But Charice (Pempengo) has been part of the producer's "David Foster & Friends" since the inaugural arena show taped for PBS and video release in 2008, one she darn near stole from Michael Buble, Josh Groban and Andrea Bocelli.
"I was really scared," she admits of singing "I Will Always Love You" that night, even though she already was a YouTube sensation who had performed on "The Oprah Winfrey Show." "I wasn't expecting any of it. It's kind of a fairy tale story.
"I feel like I was like, 40, and now I'm back to 15," Charice says of reaching beyond producer Foster's adult-contemporary base, with a recurring role on "Glee" and pop collaborations with Bruno Mars and Nick Jonas.
"I had the opportunity to reach more teenagers because of 'Glee.' I don't feel like people just talk about the voice anymore," she says.
On Saturday, though, Charice is still bringing the youth appeal to a Mandalay Bay bill that so far includes Kenny Loggins, Donna Summer and Ruben Studdard. But the show also includes "surprise guests" as well as winners of a talent contest organized by the producer.
"When I find a new talent, it's the best way to get them in front of a lot of people," Foster says. "It may not exactly be their demographic, although quite often it is. But it just gets a buzz going. And if you do that enough times, they fly."
Foster spun the format of these for-profit "Friends" concerts from the annual benefits he organizes for the Andre Agassi Foundation. Over the years, Agassi audiences were privy to early performances by Groban, Buble and Charlotte Church.
"I think that audiences love to be in on something new. I can guarantee that every single person who saw Josh Groban (10) years ago at the Andre Agassi event, every time they see him subsequently on TV, they feel a little bit a part of his career."
He says he feels the same way in following their careers, even when they fly the coop. He has never gone the Simon Cowell way of staking out management rights to a protege's career. "Simon has the time to do that because he's not in the studio making records 12 hours a day like I am. My life is in the studio," Foster says.
More of it is onstage of late though, as Foster attempts to expand his "Friends" concerts; there will be another one at Mandalay Bay on Nov. 25. He is trying to "build up this brand" based on his name, because the guest artists vary from date to date and are "like a moving target" to lock in and advertise.
Veteran TV producer Ken Ehrlich is on hand to pull the show together, after directing Celine Dion's new Las Vegas showcase earlier this year.
Thanks in part to Cowell, superstar hip-hop producers and TV shows such as "The Voice," Foster says more people than ever are aware of what he actually does in the studio.
"The Voice" has it all right, he says, in terms of not letting the celebrity mentors see the singeing contestants until they hear them.
"In my studio, I don't have any glass. I can't see the person singing," he says. "I do it on purpose, and I actually learned that from Streisand about 20 years ago: 'I don't want people looking at me when I'm singing, and I don't want to look at people when I'm singing.'
"She's right, because when you're looking at someone when they're singing, they sound better than they really are. When you're not looking, you can concentrate on what you're really supposed to be doing, which is getting a great vocal out of them."
And Foster figures that's his real talent. "My mantra to myself is, 'I want to get a better vocal out of this person than anybody's ever done before.' That's what I tell myself. Maybe it doesn't always work that way, but that's my intent."
Contact reporter Mike Weatherford at mweatherford@ reviewjournal.com or 702-383-0288.
Preview
"David Foster & Friends"
8 p.m. Saturday
Mandalay Bay Events Center, 3950 Las Vegas Blvd. South
$55.50-$265.50 (632-7580)