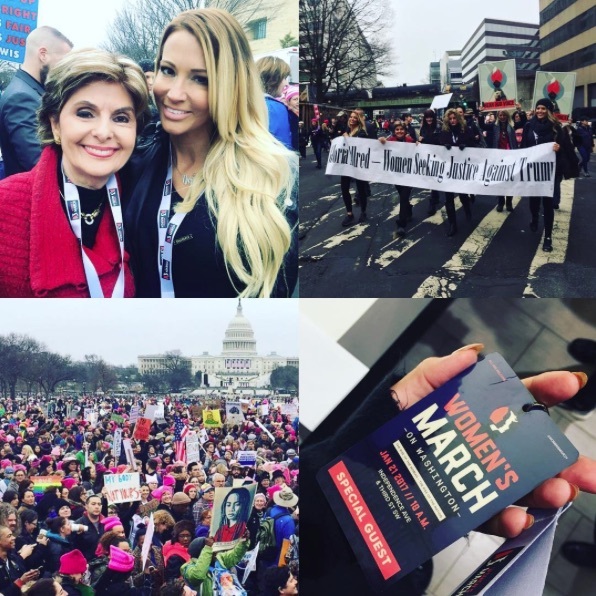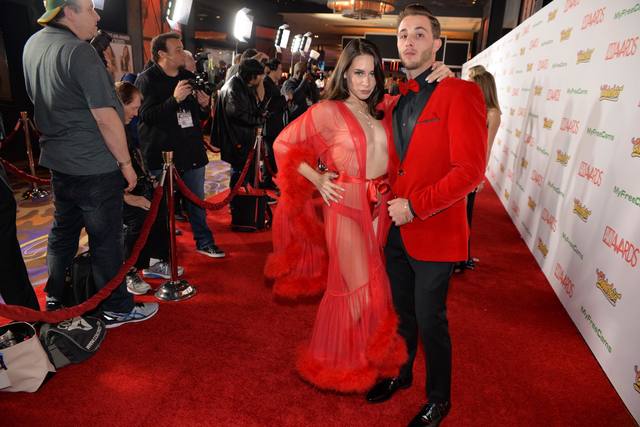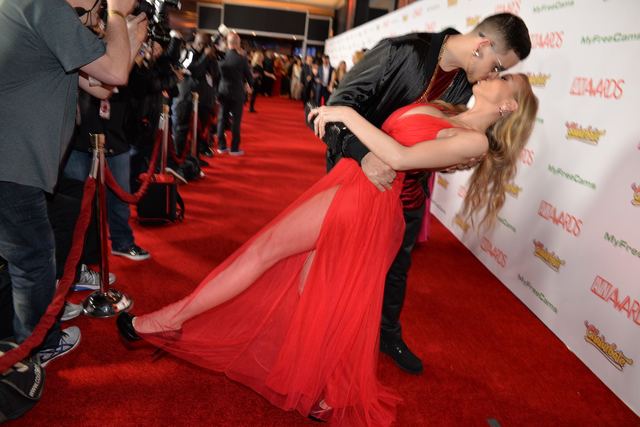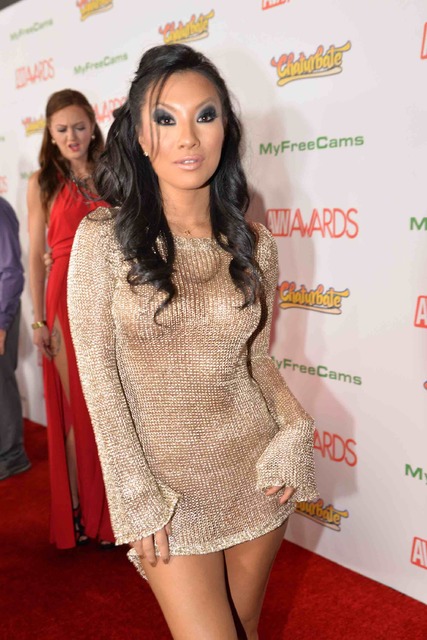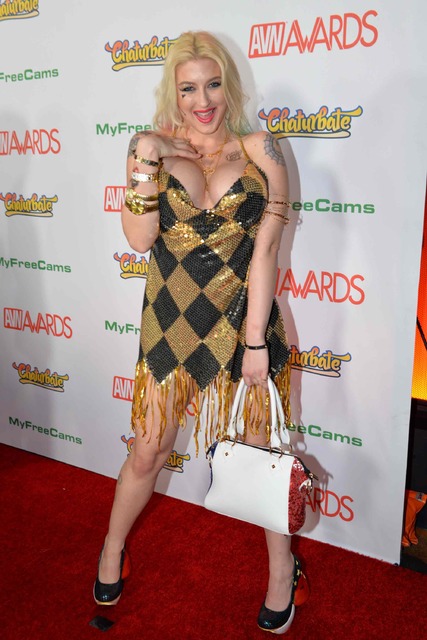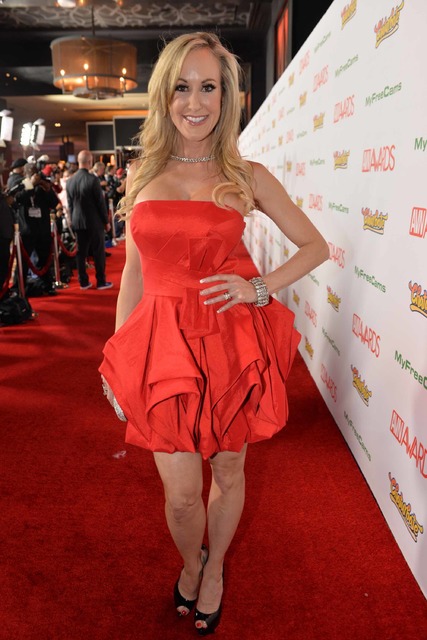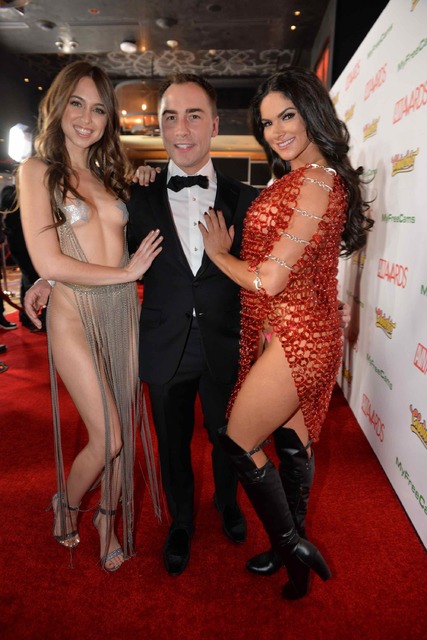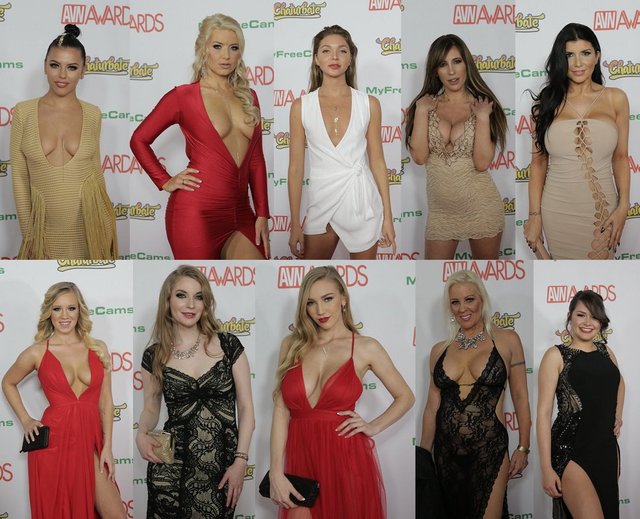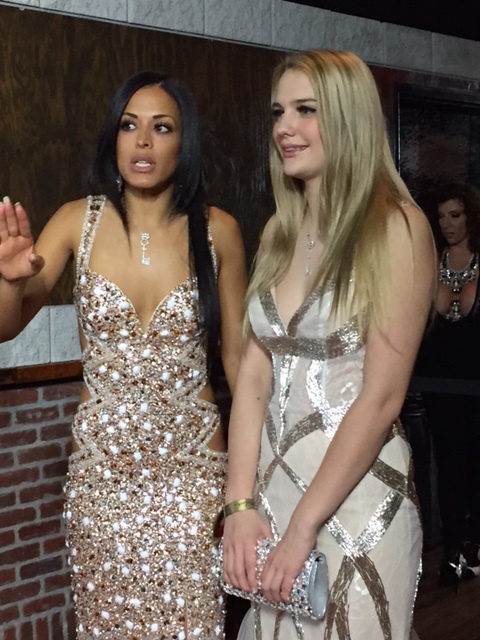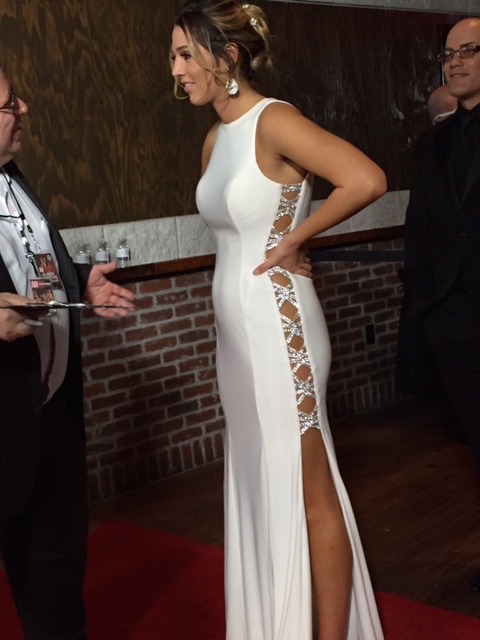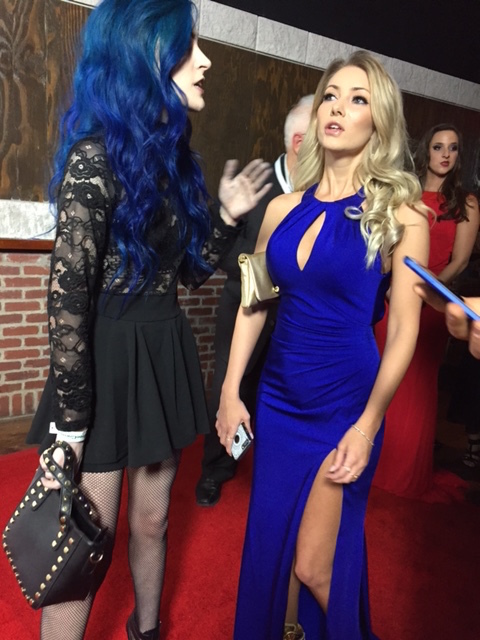 It was a whirlwind 24 hours for Jessica Drake, who took round-trip flights to and from Washington, D.C., for the Women's March protest of the inauguration while attending the 2017 AVN + Adult Entertainment Expo and AVN Awards at The Hard Rock Hotel.
The adult actress, sex lecturer and activist departed at midnight Friday after a long day of photo-and-autograph sessions at the Wicked Films booth. On Saturday morning, she went from arriving at Washington National Airport to the parade and joined attorney Gloria Allred, met with more fans and kicked off the march.
On Saturday afternoon, she went to Baltimore International Airport for the return flight here, where she landed in time to appear on the red carpet and, as promised, made a fashion statement outside The Joint.
Here's Richard Corey's YouTube video of Jessica and other adult stars on the AVN Awards red carpet (WARNING: Adult content and profanity). You'll find our interview with host Riley Reid, who won fan voting for favorite female porn star and social media star.
Riley brought her mother to watch her hosting debut. Las Vegas' Joanna Angel won best supporting actress and best virtual-reality scene. Julia Ann won mainstream star of the year and best marketing campaign.
Jessica created a revealing gown from an American flag and carried a handbag emblazoned with the hashtag #NotMyPresident. Her director, Brad Armstrong, who won best supporting actor, said he used a blowtorch to burn the holes into the design of the dress.
Jessica told me: "I am very proud to be an American, but I am also passionate about women's rights that I feel will be thrown out by this new administration. I am so passionate about fighting to protect what we spent years winning that I flew round trip to make sure that our industry is not crushed and women's rights are not turned back."
Brad, who supports the Free Speech Coalition with Jessica, also was emphatic: "With Mr. Trump's disturbing announcement of a war on porn, you really have to wonder what the future holds. Mr. Trump may soon become a very real threat to all our livelihoods. We cannot let this administration shame us into hiding.
"Why should we be marginalized because of our job description? It's not just the actors and actresses, the producers and directors or even the owners here tonight that his new agenda will hurt. It's the film editor who can't have a regular 9-to-5 job because he's the stay-at-home dad and caretaker of his autistic son.
"It's the husbands, wives and students in every state, it's the nurse who gets into the industry as a second job to pay off her crushing student loans. It's the secretaries, accountants and warehouse staff who punch a timecard just like any other hard-working American.
"Mr. Trump needs to know that we are not just the easy targets in front of the camera who have been insensitively and unknowingly categorized as a public health risk. We in the adult-entertainment business are real people.
"People who pay taxes, people who feed the economy, people who deserve respect. Yes, we are pornographers, but we're also mothers, fathers, husbands, wives, sons and daughters. We are Americans, and we are proud."
Another adult entertainer chimed in: "I do not condone violence as protest. It was very wrong of Madonna to suggest blowing up The White House. That does not lead to us having a unified, loving country. We can protest policies, but we can do it with love, not hate."
The breakneck work-and-travel schedule took its toll on Jessica, who wound up staying an extra day in Las Vegas after the awards confined to bed with a 104-degree temperature and heavy cold. Our Q+A with Jessica was posted last Thursday.
Also making a striking entrance on the red carpet in a black-lace gown was "The Queen of Virtual Reality" Ela Darling, a former reference librarian who said that VR for porn was a major winner at this year's expo, with new innovations giving users a total immersive experience.
Our thanks to Dominic Ace of The Emm Report and Hew Burney for their photo coverage of the red carpet and awards. More than 1,000 fans three deep lined the near-quarter-of-a-mile red carpet that became a four-hourlong parade route to the official photo area at Vinyl.
Former Hawaiian Tropic beauty pageant winner Jesse Jane, who parlayed that into a porn career, announced her retirement during AVN. She told us on the red carpet that her first project is to finish an expose book on the adult industry. "I retired, yet I still got offers to make movies while I was in Las Vegas," she said.
The usual displays of barely there dresses and pasties to cover wardrobe malfunctions were on show by the 500-plus performers. The dress order of the night was cleavage-baring, slashed-to-the-thigh, see-through gowns, super-short skirts and sky-high heels.
All were on full display, including one actor who brought his girlfriend on a leash and delightedly told me that when they go out to a restaurant for dinner, they eat at pet-friendly establishments so that she can kneel beside the table!
Adriana Chechik finally won female performer of the year after five years in adult entertainment and being nominated for the honor at the 2015 and 2016 shows. "Falling short was beginning to feel normal," she said. "I honestly really thought that it was a lost cause.
"I thought that I would finish porn being the Leonardo DiCaprio of it, so I'm happy to know that the 92 scenes I put in this year finally counted. I'm going to remember this forever."
Actor Mick Blue became the first to win male performer of the year for the third consecutive time. Axel Braun won movie of the year for his "Suicide Squad" parody, marking his seventh consecutive win in the category.
Las Vegas resident and HBO sex-advice TV-show host Katie Morgan attended with new beau, porn prince Evan Stone, who Showtime recently voted as one of the industry's Top Two performers.
Katie and Evan met while filming an X-rated feature together. Evan told me that California's rules and regulations and high taxes prompted many adult-film companies and stars to move here in the last year.
"Now I can commute to work down the street," laughed Katie. "I don't have to worry about overweight baggage for clothes." And Evan joked: "Everything I need for filming fits in one hand."
The adult-entertainment sexpo and AVN Awards return to The Hard Rock Hotel next year.