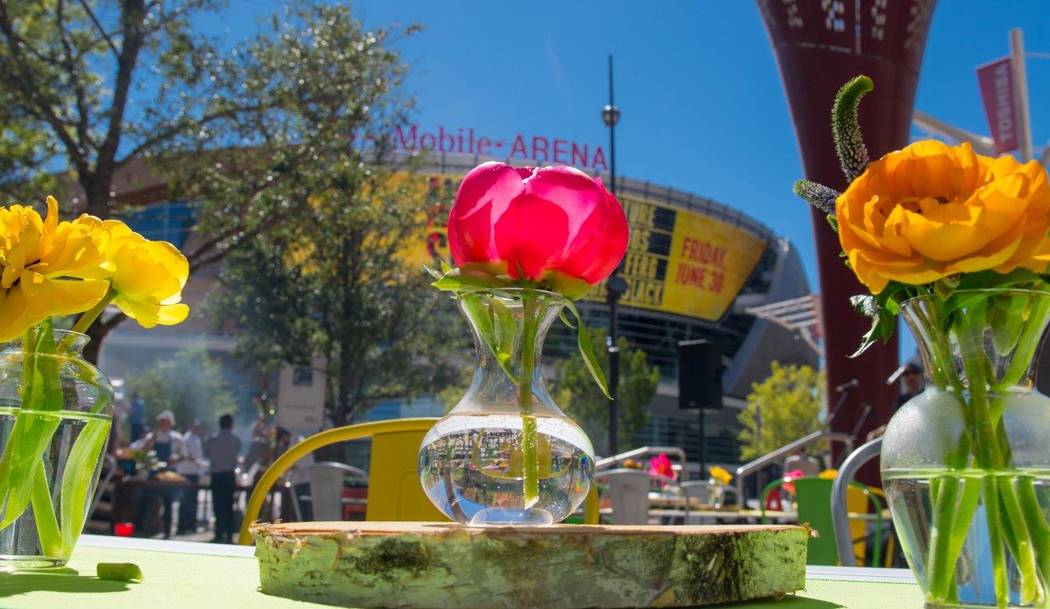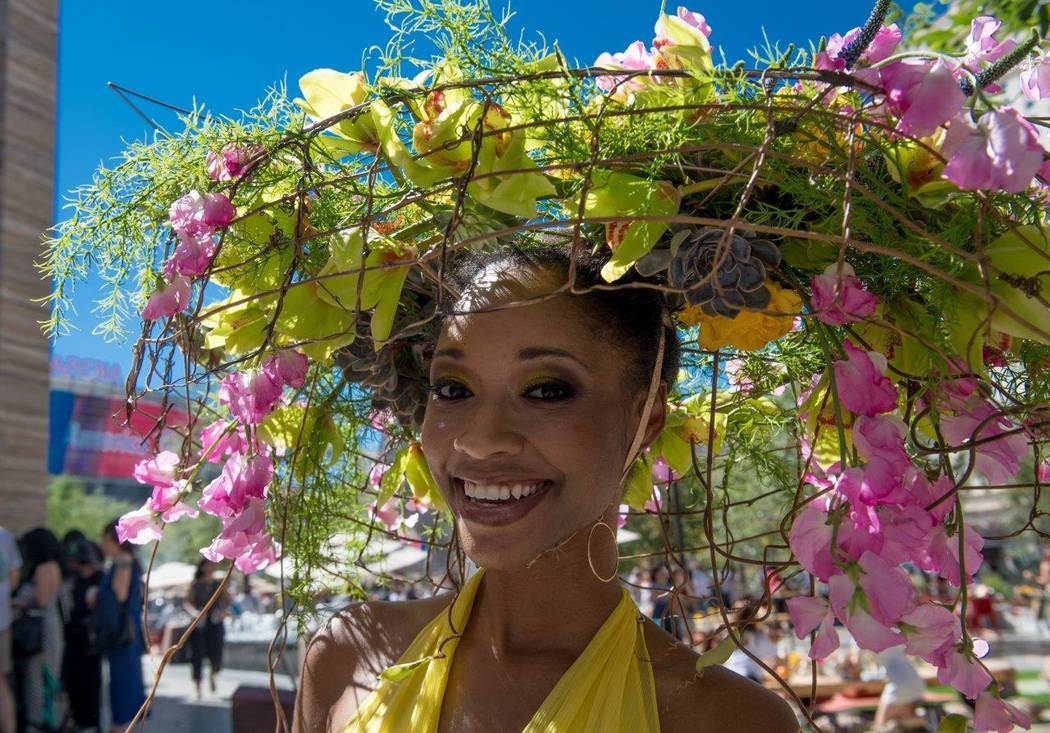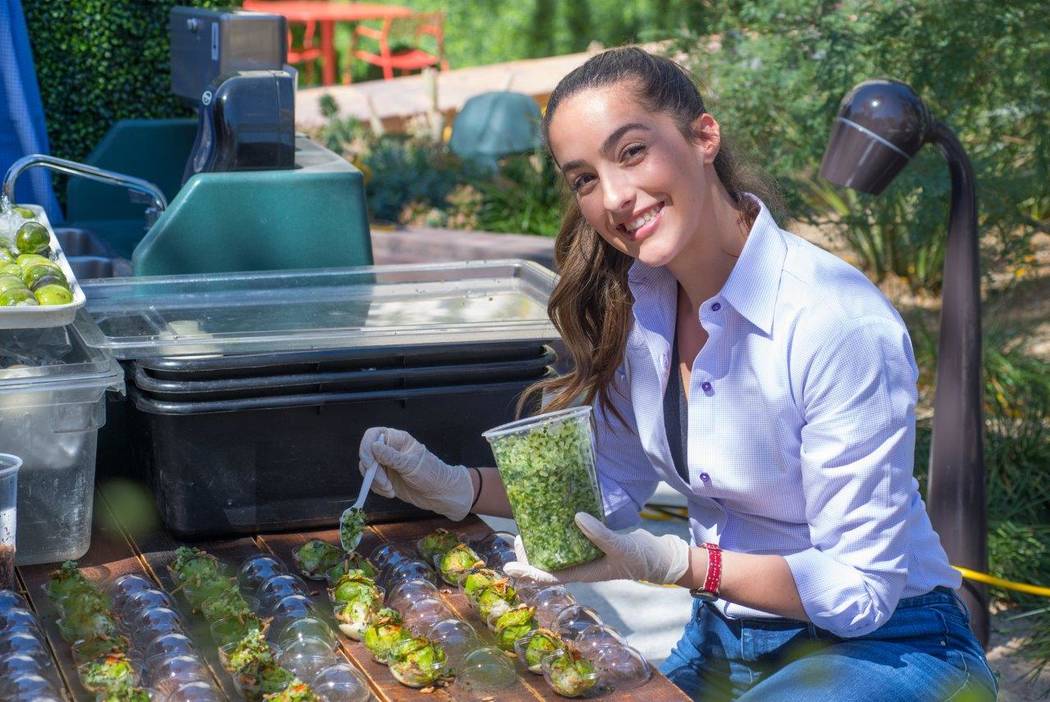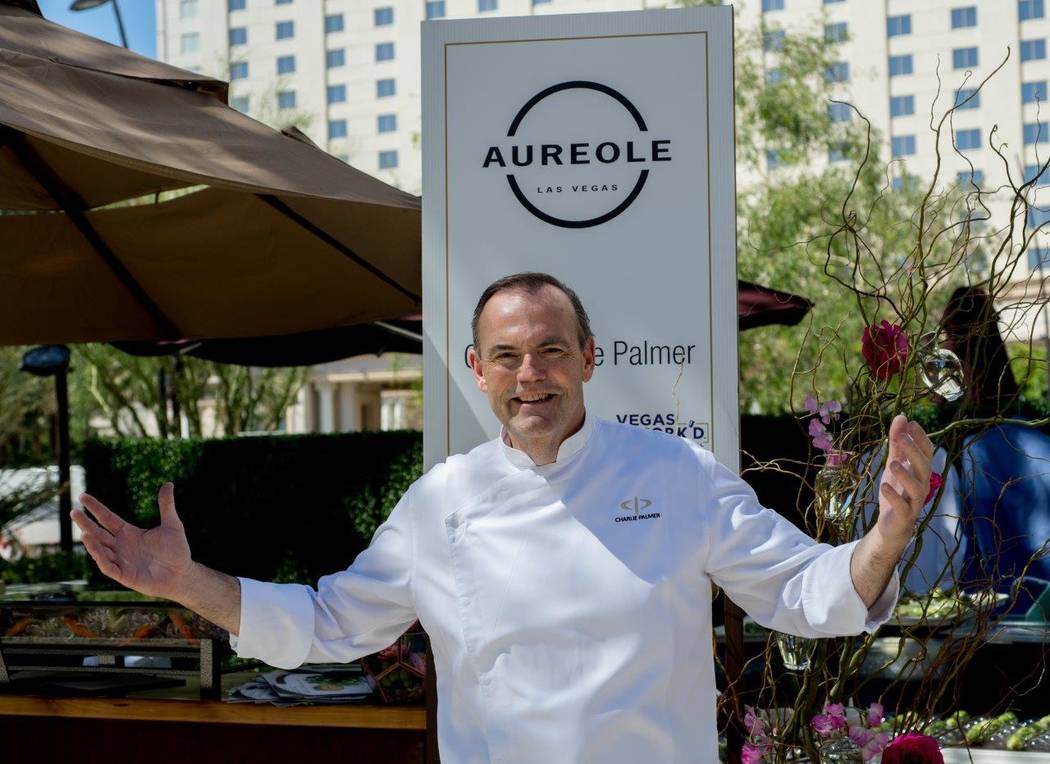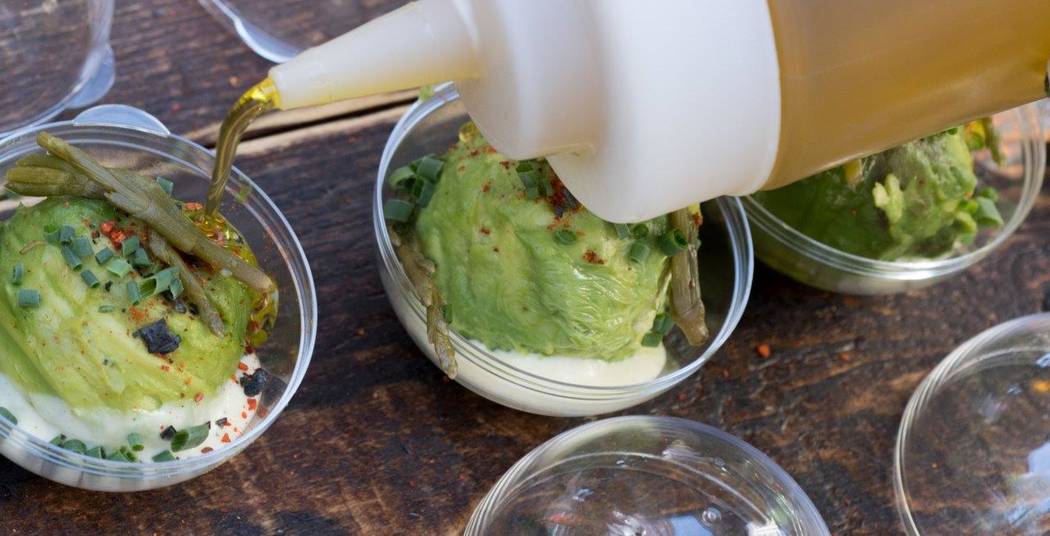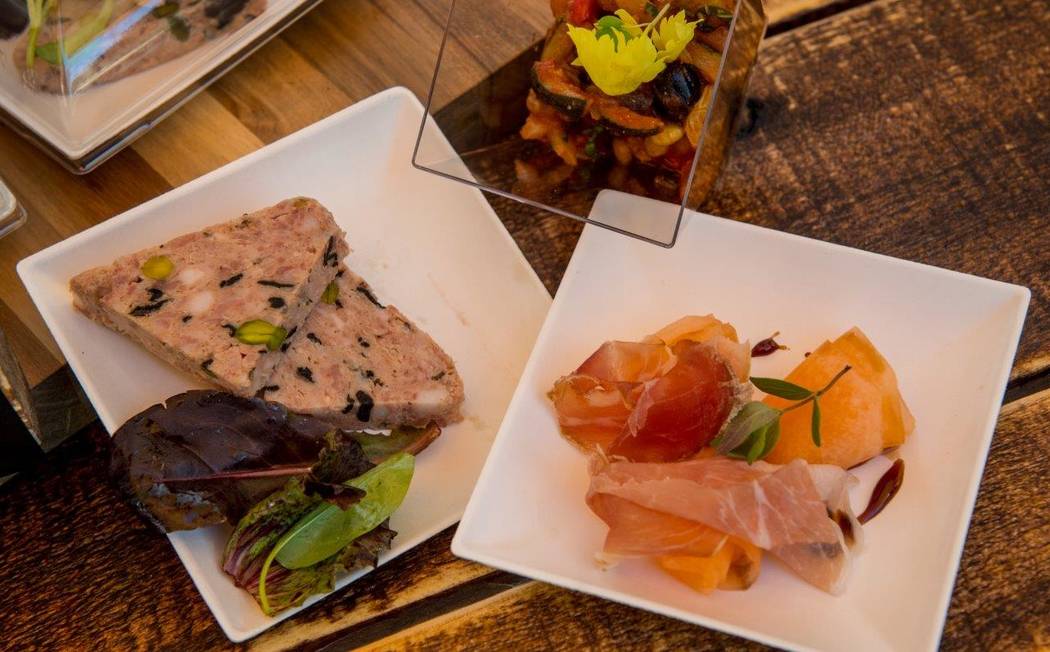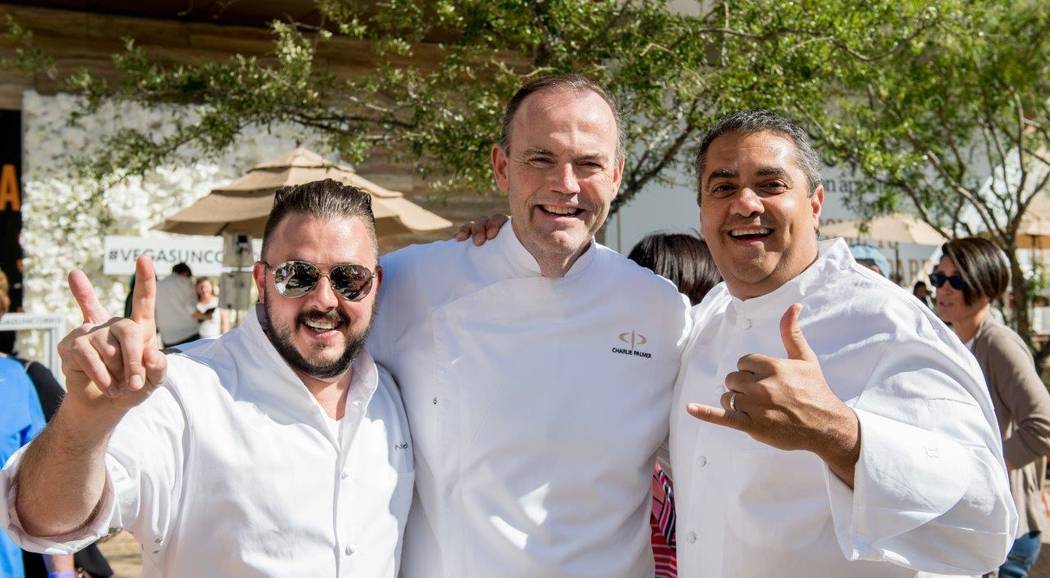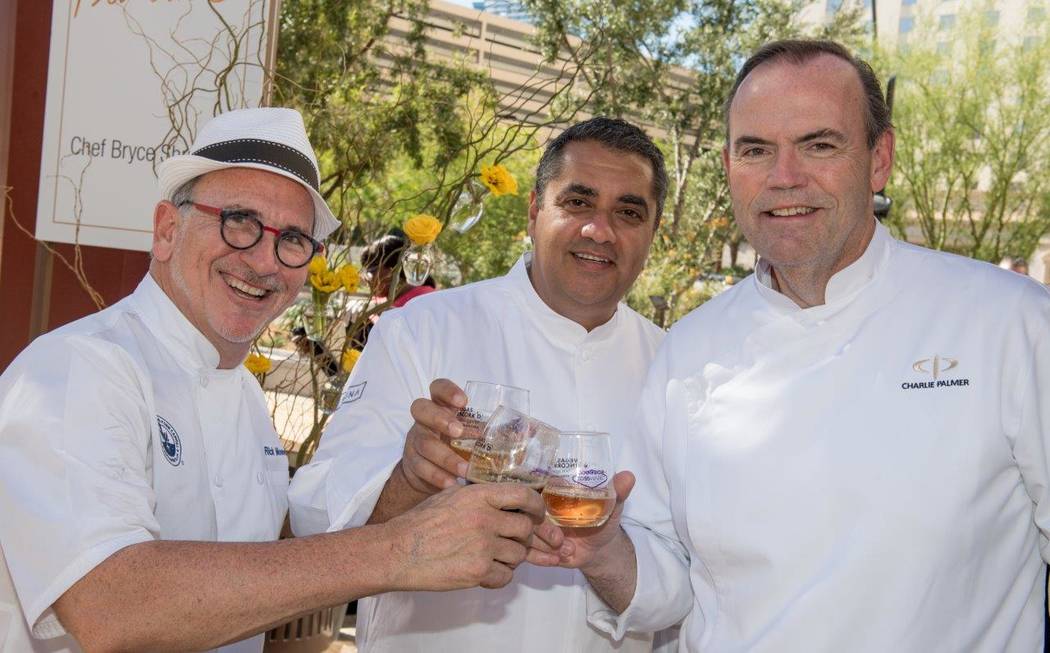 DAYS 3 + 4
It was a busy weekend here for chef Gordon Ramsay. He announced that his restaurant Hell's Kitchen, a combination of theatrics and competition dining, will open at Caesars Palace on Dec. 8. He took part in Vegas Uncork'd events, and he surprised a fan at a wedding at Caesars. Check out the Facebook video of Gordon being the ultimate wedding crasher.
A Wicked Whisper + Racy Rumor! It was in fun, but a female chef slapped the face of a male chef with a salmon steak when he grabbed her from behind and kissed her neck. "I decide who kisses me where and when," she told me afterward. "He was so much bigger than me, I had no choice but to pick up the fish and smack him with it."
Bobby Flay hosted not one but two brunches at his Mesa Grill at Caesars. Guests were delighted as Bobby introduced them to his twist on his favorite meal. Guests, ahem, grilled him as he answered questions during the brunches, which he prepared in the kitchen.
Emmy-winning chef Giada De Laurentiis brought back her brunch at her Giada at The Cromwell. Guests were greeted with frose and signature antipasti dishes. Giada indulged guests with fan-favorite dishes that included chia seed parfait, Waldorf panzanella salad, salmon cake benedict and lemon and rose semifredo dessert.
At MGM Resorts' The Park, culinary masters including Alain Ducasse, Charlie Palmer, Michael Mina, Julian Serrano, Rick Moonen, Tom Colicchio, Shawn McClain, Roy Ellamar, Akira Back and more hosted the first Picnic in The Park. Patron had two bicycles powering blenders for margaritas; more than 1,000 bottles of Veuve Clicquot were on hand; and games included Jenga, cornhole and croquet. Our thanks to contributing photographer Tom Donoghue for his gallery.
One of Caesars' most popular destination bars, Montecristo Cigar Bar, hosted an intimate 10-seat dinner featuring the smokiest of scotches paired with dishes from Old Homestead, and everybody smoked stogies afterward.
The world's master Japanese and Peruvian cuisine chef Nobu Matsuhisa hosted three successive events in one day at Nobu at Caesars. His first event was a returning fan favorite, "The Beauty of Sushi," where guests were treated to an up-close view of Nobu's original "Nobu Style" way of making sushi paired with premium sake.
In the evening, Nobu hosted two intimate dinners around the restaurant's teppan tables. The menu started with sushi and other cold dishes, then moved to dishes created on the teppan tables. Also in attendance was Sake Master Fumio Hazu, the genius behind Nobu's Hokosetsu sake.
With news of the world's first Hell's Kitchen restaurant opening at Caesars in December, Gordon's Master Series dinner was abuzz with extra excitement. Gordon brought in winners of the hit Fox competition series to lend a hand — Season 10 winner Christina Wilson and Season 14 winner Meghan Gill greeted guests and assisted with dishes.
Meghan, head chef at Gordon's Pub & Grill at Caesars Atlantic City, composed the third-course halibut dish. We'll have my interview with Gordon about the new Hell's Kitchen here Tuesday.
The red carpet wall was made of 3,000 doughnuts at The Venetian and The Palazzo when everyone's favorite baker, Buddy "Cake Boss" Valastro, hosted "Sweet Escape: An Evening of Buddy, Beignets, Bonbons & Booze" at The Aquatic Club at The Palazzo. Our thanks to contributing videographer Richard Corey for his YouTube coverage of the party.
The wall was broken up while guests partied so that everybody had a box of a dozen doughnuts to take home. There were takes on bonbons and beignets from Buddy V's Ristorante and other Venetian and Palazzo eateries: Bouchon, Carnevino, Chica, Hong Kong Cafe, Lagasse's Stadium, Lavo, Mercato della Pescheria, Sushi Samba and Tao. It was the last event for F&B king Sebastien Silvestri, who left today for his new home in Miami as F&B chief at SBE.
Buddy welcomed the crowd: "I always love any opportunity to come to The Venetian and The Palazzo with Buddy V's and Carlo's Bakery. It's a home away from home for me." Chef Lorena Garcia of Chica, opening May 14, made an appearance: "I am so excited to be part of Vegas Uncork'd with The Venetian and debut our new restaurant Chica that is opening this month. … It is going to be the most beautiful Latin American-flavored restaurant in Las Vegas."
The evening continued at The Dorsey for the "The Ultimate Big Cake and Craft Cocktail After-Party." The Cake Boss rolled out a big cake for guests and told us: "This was an incredible chance to enjoy this beautiful property and share some excellent treats with great foodies and fans. So much talent was here this year for Vegas Uncork'd, and I look forward to many more events with The Venetian and The Palazzo famiglia."
On Sunday with a few extra pounds in the stomach, foodies left town after the farewell brunch at Rao's with business partners Frank Pellegrino Jr. and Ron Staci. They hosted "Little Italy From City to Strip: Rao's Italian Brunch," one of Vegas Uncork'd's most-beloved events. The brunch is not only a feast of Rao's dishes but also interactive, as guests learn how to make pan-seared steak and zeppoles.
Adam Rapoport, Bon Appetit editor in chief, summed up: "It was all a fantastic success, and now the work starts on making next year's Vegas Uncork'd bigger and better – if that's possible. We've already got some new ideas and locations in mind. There is no place on Earth like Las Vegas to do this festival of fine food. It's the best."