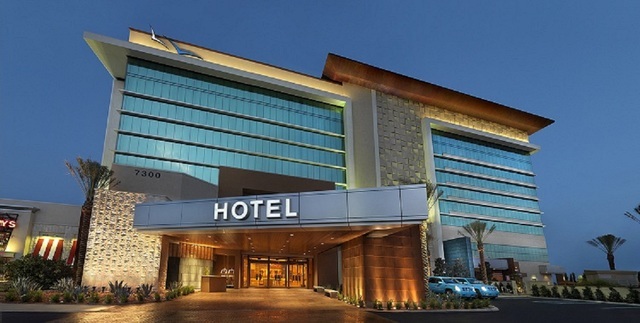 Editor's Note: Robin Leach is working from the cooler climes of La Jolla near San Diego for the remainder of this hot and thunderstorm-y month in advance of our newly designed website launching shortly. We'll continue with our guest columnists until his return for Labor Day Weekend.
Today, one of our guest columns is by Michelle Huntzinger, vice president of hotel operations at Aliante. Although a fair distance from the Strip, Michelle says that it's the ideal destination for a sensible staycation. Stay close to home, no annoying TSA airport crowding, no airport schedule computer failures, no gone-astray flight baggage, no passports or foreign currency.
Our other guest column from Michael Storm, general manager of Hooters Casino, reveals the property's new entertainment lineup. Here's Michelle:
By Michelle Huntzinger
There are a lot of hassles and obstacles when traveling, especially with family and children. You're late to the airport, your flight is delayed, or you've chosen to drive and your kids' DVD player went out, subjecting you to spend the next six hours with backseat boredom.
Sound familiar?
While a lot of travel plans include vacationing and visiting new places, what if you want to just escape for the weekend close to home, and staying on the Strip sounds anything but relaxing?
A staycation at Aliante Casino + Hotel + Spa is the answer. Aliante offers more than 200 deluxe rooms and suites, 100,000 square feet of gaming space, five signature restaurants, resort-style pool and spa, 650-seat showroom, adjacent golf course and a lot more.
Think luxurious hotel and casino meets family-owned bed and breakfast, and that's only the beginning. We take pride in being calm, clean and quiet while still offering amenities of the bigger Strip properties.
Aliante is about 20 minutes from Downtown Las Vegas, making it a manageable drive and just far enough away for the ideal staycation feel. It's a quick drive from home, but your problems are left light-years away.
Local guests often stay for two-night staycations, taking advantage of our many amenities. Typical staycations include dinner, gaming, live entertainment, cabana at the pool or locals discount at the spa. We work to make it easy and affordable for locals to plan a perfect staycation, and we've created experiential packages to appeal to different interests.
Aliante's packages are perfect for staycationers. There's the Pool Retreat, including two nights and a $50 pool credit; Family Retreat, with two nights, $50 dining credit and four movie tickets for the 16-screen IMAX theater on property; Stay & Play, including two nights, two rounds of golf and $25 dining credit; and Spa Retreat, with two nights and $50 spa credit, among others.
We take pride in creating an overall great experience for our guests. We focus on not only consistently delivering a great product at a palatable price, but also by making personal connections with each guest.
As the only AAA Four Diamond property on this side of town, Aliante is a natural stop for a staycation. Guests are continually wowed when they arrive, and, as a neighborhood casino, there is an appreciation for the relationships built with guests.
We invite folks to come out and give us a try. We're a great option for a local getaway, and we find that once people discover us, we become part of their summer plans.
Be sure to check out our other guest column today from Michael Storm, general manager of Hooters Casino who reveals his new entertainment plans. Also check out Robin's report of the extraordinary mechanical miniature theater that The Gazillionaire has purchased to put on display at The Cosmopolitan of Las Vegas to celebrate the arrival of ABSINTHE there Nov. 1.