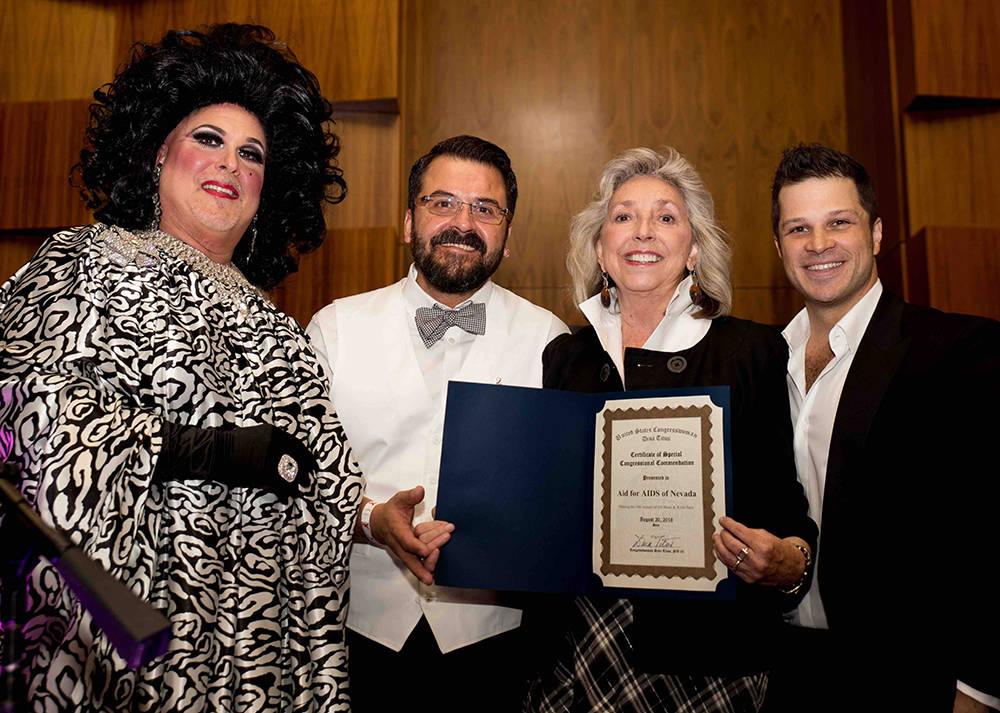 Note: AFAN's annual Black & White Party, which raises AIDS awareness and funds for services, is slated for Aug. 19. Antioco Carrillo, who has served as AFAN's executive director for over five years takes an insider's look at the group's 33rd anniversary and how the Black & White Party has grown from a small simple dinner event into a major fundraising affair.
……
Aid for AIDS of Nevada (AFAN) was founded in 1984 and is the oldest and largest AIDS service organization in the state of Nevada. This year marks our 33rd anniversary of providing support and advocacy for adults and children living with and affected by HIV/AIDS in Southern Nevada.
We also work to reduce HIV infection through prevention education to eliminate fear, prejudice and the stigma associated with the disease. Our mission has always been to one day help make Nevada AIDS-free.
I have had the privilege to serve as AFAN's executive director for over five years, and to this day I'm driven by our clients to work endlessly for HIV/AIDS advocacy. With still no cure for AIDS, there is more work to be done so the next generation doesn't have to deal with this disease.
Although I have personally worked with HIV for over 25 years, it still amazes me to see the resilience and courage our clients exhibit when dealing with HIV/AIDS.
Perhaps one of my favorite aspects of my job is witnessing the power of community. Throughout the year, AFAN puts on events to raise money for client services. People from across valley come together and donate their time, money and resources to support our cause.
This is no exception to our upcoming annual Black & White Party. Slated for Aug. 19, this over-the-top event is our second-largest fundraising event of the year and crucial to our organization to continue to provide services to more than 1,200 men, women and children.
This year, we are extremely excited to return back to our home, the Hard Rock Hotel. Hard Rock has proven to be an ally to our organization by being a consistent sponsor and a tireless advocate for our cause.
Black & White comes with a little twist this year. The party has a theme — New Orleans flair. In addition to having all attendees dressed in black and white attire, we are challenging guests to be as creative as possible by incorporating elements of New Orleans.
If there's something that guests have come to expect from the party is that they should expect the unexpected. Through the years, we've had surprise celebrity appearances, show-stopping numbers by fabulous drag queens, guests dressed in balloon dresses and pasties, marriage ceremonies, and that doesn't even scratch the surface.
Every year, we take it to the next level, and this year is no different. While the evening is a celebration of life, it is also a humble reminder that you are changing someone else's. Medical transportation, medical case management, housing assistance, mental health therapy, nutritional therapy, HIV prevention/education, HIV testing are all services we offer our clients and are funded by events like this.
Starting out as a dinner party in a backyard, Black & White has grown into a display of extravagant décor, outfits, and the best food and drinks that our city has to offer. The whole event is outrageous! It is a chance for people to come together, have the time of their lives while changing other people's lives.
Guests can join in on the fun by getting tickets at afanlv.org. Buy tickets early and use code "EARLYBIRD" to save 15 percent. Keep up with the latest information pertaining the party by liking our Facebook page, facebook.com/afanlv and following us on Instagram and Twitter at @afanlv.