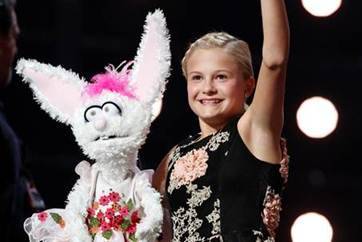 Pint-sized Darci Farmer, a 12-year-old ventriloquist, beat out nine other finalists on the "America's Got Talent" show, Sept. 20, to become the Season 12 winner of the $1 million prize. And, our Mirage headliner Terry Fator was on hand to deliver the other prize of competing against him on the Strip when she stars at Planet Hollywood on Nov. 3-4.
Terry had returned to the "AGT" stage where he became the Season 2 winner. He performed a duet with Darci when they both sang "Anything You Can Do (I Can Do Better)" with help from Terry's puppet, Winston, the impersonating Turtle, and Darci's doll, Petunia.
Terry has been a supporter of Darci since the beginning of the new talent show series. This season has also been the most-watched in the 12-year history of NBC-TV's top-rated program. The live telecast, where she defeated 10-year-old vocalist, Angelica Hale, in the final moments, hit a three-year high in the 18-49 age demographic and a six-year Tuesday high in total viewers.
Darci received the most votes ever for a finale show in "AGT" history and won viewers over with her incredible performance of the Beatles' classic "With a Little Help From My Friends," alongside her puppets, Oscar and Petunia. She faced tough competition with the other top 10 finalists, including singer Evie Clair, dance group Diavolo, singer Chase Goehring, singer Angelica Hale, singer Mandy Harvey, comedian Preacher Lawson, dance group Light Balance, singer Kechi and animal act Sara and Hero.
This season of "America's Got Talent" concluded Sept. 20 at the Dolby Theatre in Hollywood with a star-studded live finale featuring performances by the 10 finalists along with Kelly Clarkson, Shania Twain, Derek Hough, James Arthur, Kevin Nealon, Jeff Dunham and Terry.
In her audition earlier this season, Darci wowed Mel B and received her golden buzzer for an incredible rendition of Ella Fitzgerald's "Summertime" with puppet, Petunia. In 24 hours, her audition video amassed 105 million views on Facebook, and within 30 hours of broadcast, she became the most socially viewed "AGT" performer in series' history. Since then, Darci has received 306 million views to date across all social platforms, including Facebook, Twitter and YouTube.
She was in tears when host Tyra Banks made the winning announcement.
Darci, who considers herself shy, began singing at 6 years old, and her mother entered her into a pageant in the hope that it would give her daughter confidence. After her first performance, Farmer went on to win multiple talent contests and pageants by the age of 10. She was then inspired by a ventriloquist at a pageant and decided to give it a try. She has since won multiple state and national talent contests for ventriloquism and has appeared on TV around the world. With her success as a ventriloquist, she recently gave up being a gymnast to pursue her love for performing.
Her other memorable performances this season included her rendition of Jackson 5's "Who's Loving You" in the quarter-finals round, alongside her puppet, Oscar, and in the semifinals, she performed Aretha Franklin's hit song "Natural Woman," debuting her puppet, Edna Doorknocker.
In addition to winning the $1 million grand prize, Farmer will headline "America's Got Talent Live" inside the PH Showroom at Planet Hollywood Resort Nov. 3-4, along with special season 12 guests: singer Angelica Hale, dance group Light Balance and comedian Preacher Lawson.
Auditions for the next season of "America's Got Talent" have just gotten underway and open calls for season 13 of "America's Got Talent" will be held here in Las Vegas on Dec. 13.