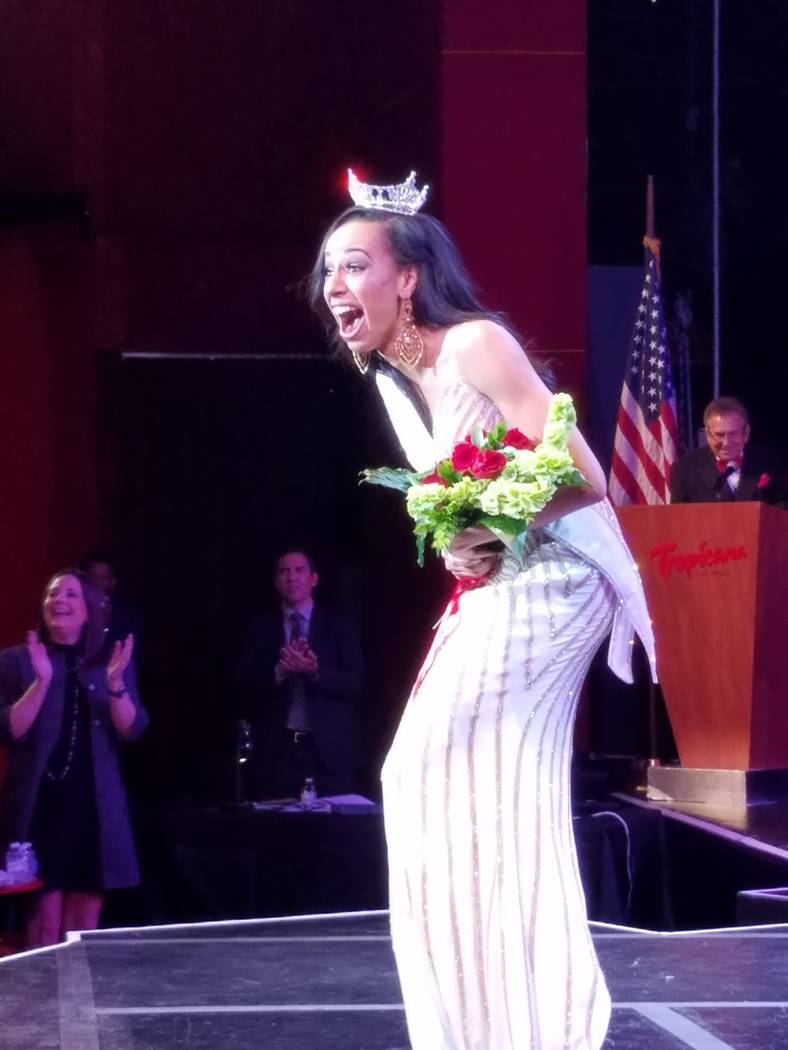 Sixteen Miss Nevada contestants and 22 teenage girls competing for the Miss Teen Nevada pageant have spent the last three days being grilled by a panel of seven entertainment and lifestyle experts. On June 15, the 22 teenagers, including Ashley Harrison on crutches, paraded for the judges at the Tropicana showroom and on June 16, it was time for the older girls.
When they'd completed their on-stage talent demonstrations, swimsuit modeling, evening wear and that dreaded final surprise question the judges selected Carli Gumm from Minden as the new Miss Nevada Teen and winner of a $5,000 scholarship and Andrea Martinez from Las Vegas as the new Miss Nevada and winner of a $10,000 scholarship. Carli keeps the legacy of her family pageant wins alive and follows in the footsteps of her older sister, Bailey
Last year's winners — Miss Nevada Bailey Gumm, celebrating her 22nd birthday, and teen Miss Heather Renner — crowned the winners with their new tiaras and sashes.
Said Bailey: "My dreams never reached the levels I experienced as Miss Nevada. The crown is worth all the work. Your life changes in a matter of minutes. It's bitter-sweet relinquishing the title – and just for a moment, I thought about not handing it over to the new winner."
Andrea will represent the Silver State at the September national Miss America pageant in Atlantic City and Carli will compete in the national Miss Teen America pageant July 25-29.
During the shows, which each ran two hours, entertainment was provided by The Golden Nuggett and Smith Center solo singer Frankie Moreno and Nashville country singer Caleche Ryder, who was our Miss Nevada in 2007. Christy Molasky performed the opening national anthem.
"This weekend, the lives of two young women will forever change," said the Miss Nevada Pageant Director Jodi Hale Fonfa, who steps down from the role after three years of service raising funds for its Scholarship Organization to return to the national Miss America organization. She was on the same stage in 1989 when she won the Miss National Fitness Champion. Since 2014, she raised more than $500,000 in scholarship funding for the Silver State contestants.
Two former Miss Nevada winners, Elizabeth Hunterton and Jennifer Lier, will be taking over the duties.
"This has been an incredible journey rebuilding the Miss Nevada organization and getting it back on track," Jodi said. "I am confident that its future is a bright one."