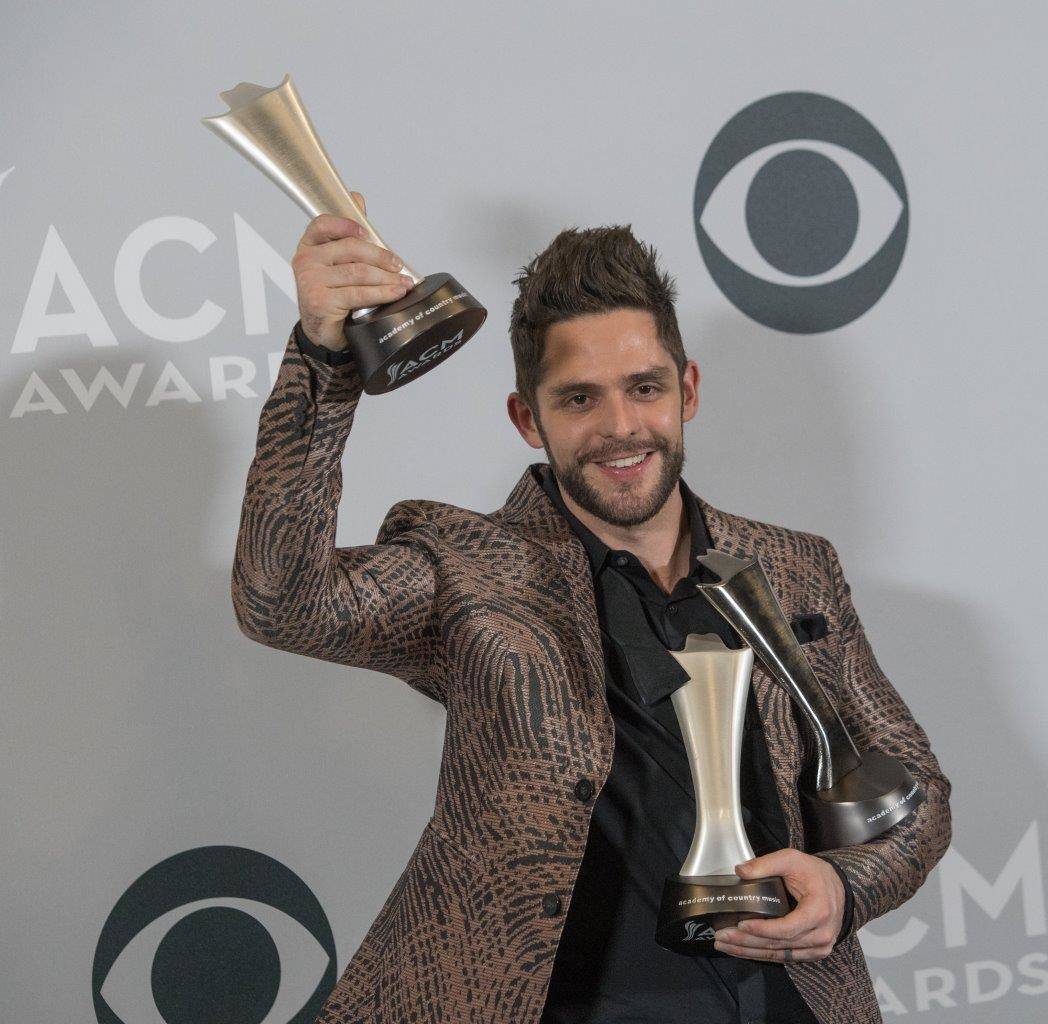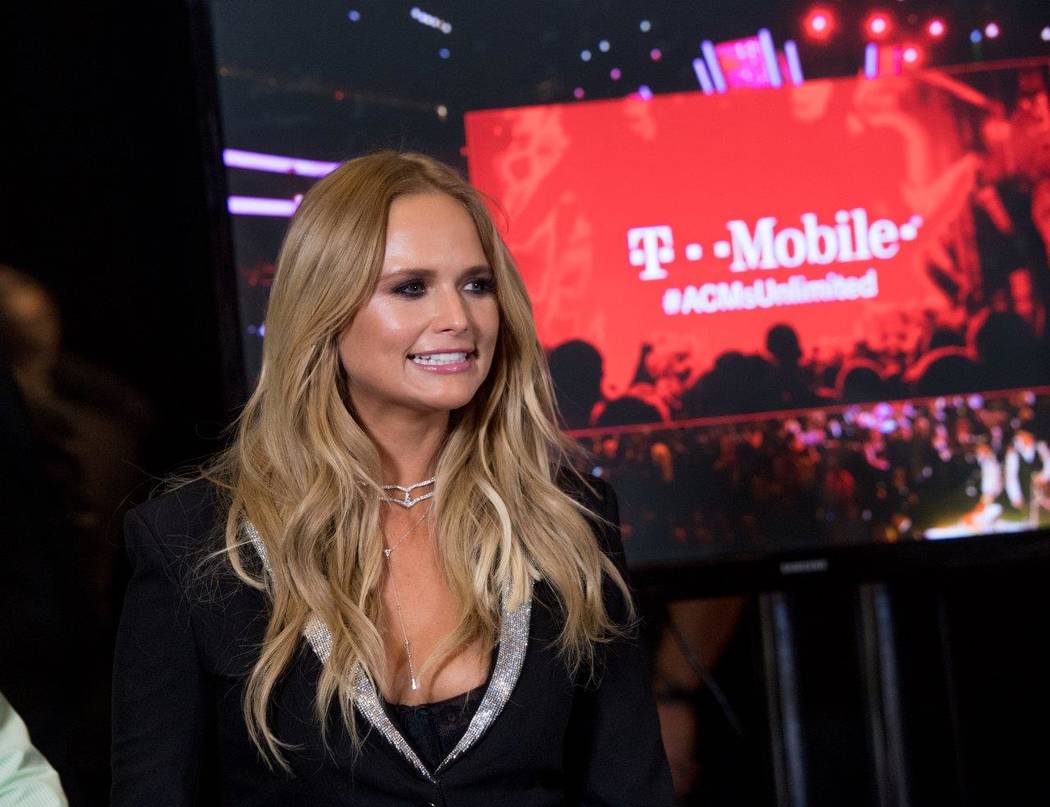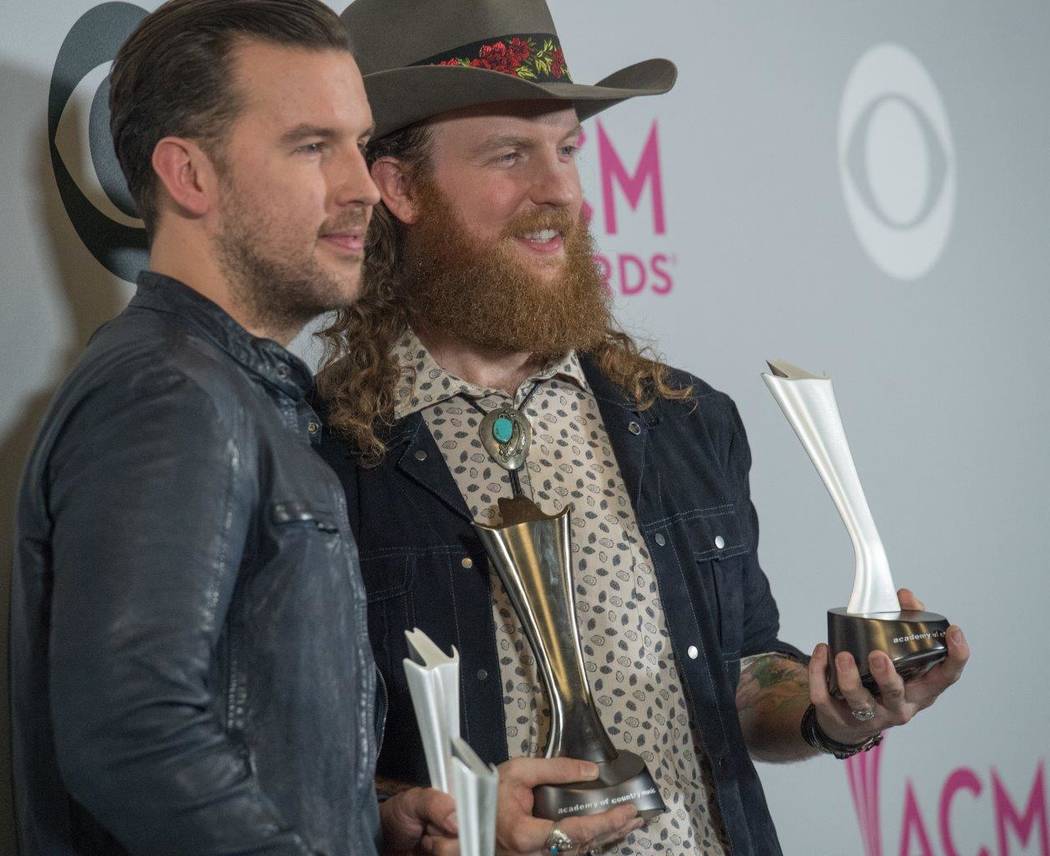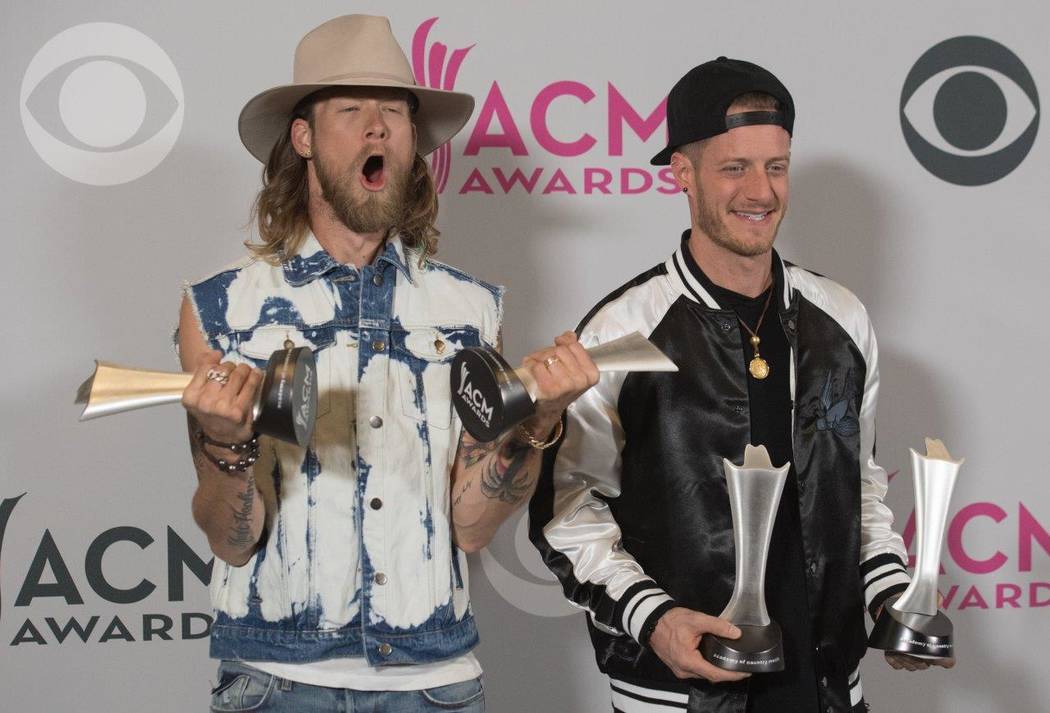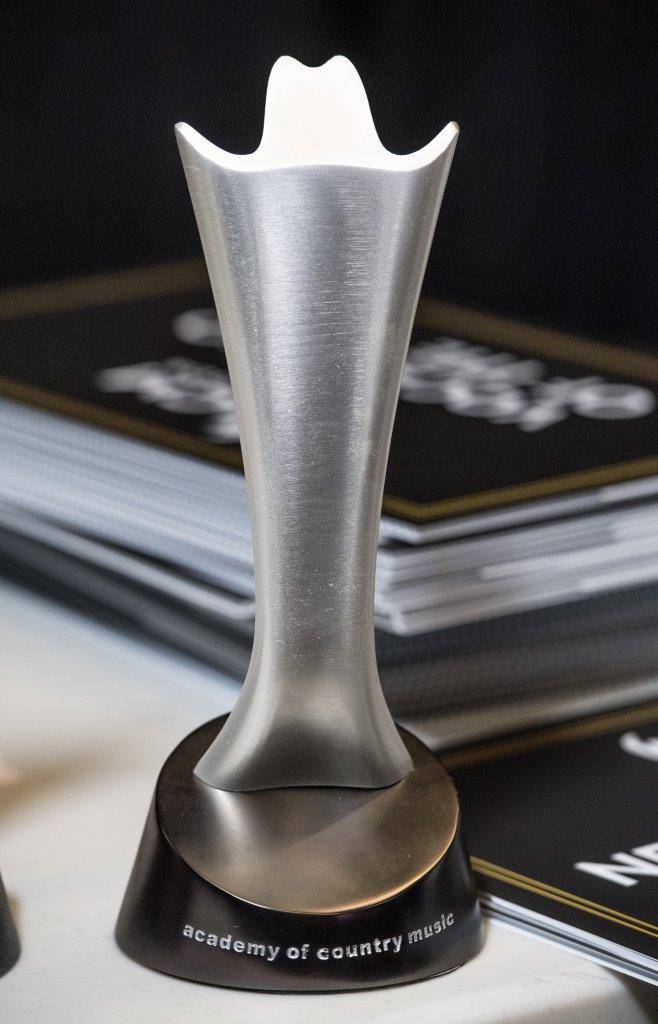 The biggest backstage news at Sunday's 2017 ACM Awards at T-Mobile Arena had nothing to do with country music and everything to do with 1980s boyband pop. Our new resident Strip headliners The Backstreet Boys revealed that their new single will be released by the end of the year and followed early next year by their new album.
The fivesome also confirmed a new world tour next year but said that it would be staged so as not to interfere with plans to expand the number of dates of at Axis at Planet Hollywood, where Nick Carter, Howie Dorough, Brian Littrell, A.J. McLean and Kevin Richardson resume their residency April 12.
They performed with country duo Florida Georgia Line on the three-hour CBS telecast and not only surprised Brian Kelley and Tyler Hubbard by making them dance to their boyband choreography, also but the front-row lineup of country's superstars when they leapt offstage into the audience.
On the T-Mobile floor, they had everybody from George Strait to Tim McGraw singing "Everybody (Backstreet's Back)," then adding fist-pumping action. Nick spent time with the duo, who won two ACM Awards on Sunday, teaching them the steps they choreographed while rehearsing in their underwear.
The action began two hours before the telecast with the red carpet. Our thanks to Richard Corey for his video posted on YouTube. Oakland Raiders turned Las Vegas Raiders quarterback Derek Carr only smiled in answer to our question as if he was house hunting in Las Vegas in advance of the team's move here to the new, proposed NFL stadium. Thanks also to contributing photographer Tom Donoghue for his photo gallery backstage.
Two of the onstage celebrities Sunday wound up crawling on all fours when they took time out this weekend to see Britney Spears and her hit resident show "Britney: Piece of Me" at Axis. First up Friday was new country hunk Chris Lane for her S&M-laced "Freakshow," where she leads a guest across the stage on his hands and knees while holding a leash and spanking him.
Said Chris: "When I woke up, I had no idea my night was gonna go like this. Britney: Thanks for the spankin." The next night, Howie proved that he had no tension because he became the surprised victim. However, as A.J. pointed out, he was the first Backstreet Boy to have succumbed to Britney's wilder side when he was pulled out of the audience last year.
The biggest drama unfurled backstage was whether Miranda Lambert would make the awards at all. Her inbound flight was forced to land in Phoenix because of last week's storms, but Miranda was determined not to miss the show and promptly rented a car, repacked her luggage and drove in for the remainder of the journey.
Miranda made it in time for a rehearsal, then the telecast, where she won Female Vocalist of the Year — her eighth consecutive win — and Album of the Year. She delivered an emotionally riveting acoustic performance of "Tin Man." Miranda told us that her new album, "The Weight of These Wings," was her first since her 2015 divorce from Blake Shelton.
"Thank you for letting me use my heartbreak and sharing it with me," said Miranda, whose ex-husband is now with singer Gwen Stefani. She added: "Country music is about life be it happy or sad. This year it's been more sad than happy, and there were many things going wrong when I sat down to write some of those lines."
The most visual number of the night was "Happy People" by Vocal Group of the Year winners Little Big Town, who performed on a multi-colored set staged by Raj Kapoor, who directed Shania Twain's residency at Caesars Palace and is currently the guiding genius of The Backstreet Boys at Axis.
Congratulations to Jason Aldean for winning Entertainer of the Year for the second consecutive year. But I believe it was our UNLV Marching Band with five tubas and a whole lot of trumpets who stole the show as Lady Antebellum's brassy backup when they performed "You Look Good" and "Use Me."
A big shout-out also to the powerful performance by Caesars headliner Reba McEntire and Christian star Lauren Daigle for their gospel song "Back to God." And that kiss between Tim and wife Faith Hill after they performed the world television premiere of their hit "Speak to a Girl" was so hot and sizzling, the Clark County Fire Department was seconds away!
Las Vegas had plenty of wonderful plugs during the telecast right from the opening montage where co-hosts Luke Bryan and Dierks Bentley were filmed fishing in the front lake of Bellagio, volunteering to be sawn in half at the David Copperfield show, tumbling backstage with Cirque du Soleil and stripping down to join the Thunder From Down Under hunks.
The co-hosts, back together for a second consecutive year, then partied until passing out at Hakkasan after Dierks corrected Luke, who called Hakkasan, "Pakistaaan!" David took part in a spoof of the Oscar envelope snafu, first revealing that the Song of the Year winner was Emma Stone of "La La Land" before magically setting it on fire to announce that the actual winner was Thomas Rhett for "Die a Happy Man."
There couldn't have been a happier guy in T-Mobile Arena than Thomas, who later won for Male Vocalist of the Year, and he even kissed his wife's baby bump. "Absinthe" at Caesars Palace cast members were on hand for the fun, laughter-filled Brett Eldredge walk through the arena while he sang "Something I'm Good At."
As the ACMs ended, Luke encouraged everybody to go out and gamble and party because "this is Vegas," and he followed his own advice winding up early this morning doing cannonballs into the MGM Grand pool with Thomas after both stripped down to their underwear. The stars sure went out on the town to hit the hotspots and party:
* Jerrod Niemann visited The Mob Museum, the National Museum of Organized Crime and Law Enforcement, to surprise a bride during her wedding reception and serenade her with his new single, "God Made a Woman." The bride, L. Suni Hawksworth, and groom, Patrick Gary, who live in Portland, Oregon, then exchanged their vows in the museum's courtroom.
* Country fans flocked to Go Pool at The Flamingo for the ACM Pool Party for a Cause featuring Jerrod, Dee Jay Silver, Jackie Lee and Old Dominion.
* After the debut performance of his new single at the ACMs, Chris Stapleton rounded up a party of 50 to dine at Jenna and Michael Morton's Downtown hotspot La Comida. Chris enjoyed chicken tacos, queso fundido, flautas and margaritas. While in town, Chris and ACM winner Maren Morris headlined at The Pearl at The Palms.
* Keith Urban played a two-hour set for guests, who included Chase Bryant and Dierks, at an intimate party on the patio of La Cave Wine & Food Hideaway at Wynn Las Vegas.
* And Big and Rich hosted a VIP after-party Sunday night at their new Redneck Riviera at The Grand Bazaar Shops at Bally's.
By the early hours of this morning, we knew that Nashville had taken over Las Vegas. Everything is still intact, so we can't wait to welcome ya'll back next year!