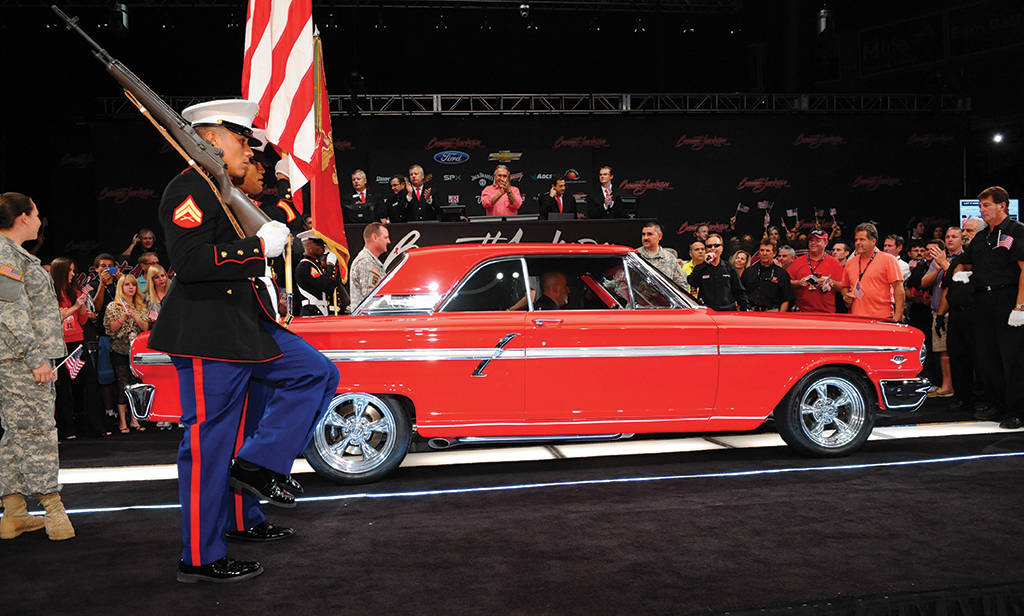 The world's greatest collector car auction gets underway all day today (Oct. 19) at Mandalay Bay with Barrett-Jackson unveiling valuable classic automobiles up for sale through Saturday night. It marks the 10th year for the world's leading auto auction to call Las Vegas home. Millions of dollars will pass under the auctioneer's hammer. The excitement in the auction arena easily rivaled anything our neon-bedecked city could offer.
The Las Vegas auction became the third automotive and lifestyle event offered by the company, which had already presented successful automotive lifestyle events in Scottsdale, Arizona and Palm Beach, Florida that year.
"We've always believed that adding a Las Vegas event was a natural step in the evolution of the company," said CEO Craig Jackson at the time. Now, Barrett-Jackson President Steve Davis reflects on the Las Vegas auctions that began back in 2008 and each year have grown in quality and quantity attracting collectors from around the world. It's one big party from start to finish filled with glitz, glamour live entertainment and celebrity appearances.
At the first auction Steve sold a 1949 MG TC for $313,500 and at the 2011 auction he sold a 1964 Ford Fairlane for $700,000 to benefit the Armed Forces and Veterans foundation
"It's really amazing to look back and see what we have done in Las Vegas and what transpired over the past years," Steve said. The inaugural event back in 2008 was incredible for many reasons. Up until that time, no major auction company had ever executed a successful auction in the city. There had been many attempts, but none of them had ever achieved greatness, or even mediocrity. There are so many things to distract your attention in Vegas. Could we come in and make people focus on Barrett-Jackson, the headline show of the week?
"The other part of the uphill battle was the financial crash that year. We were watching the Dow drop like a boat anchor during the event; it was a critical time. But we got some great cars and worked real hard, and, lo and behold, that inaugural event was a tremendous success. Even today, it stands as one of the top auctions we ever presented in Las Vegas, which is a testament to the remarkable team we have at Barrett-Jackson.
"One of the exceptional vehicles on the docket for that first auction was Carroll Shelby's 1949 MG TC, historically one of the most important cars of his career because it was the first car he ever won a race with. We put in a lot of hard work getting that deal together, and then selling it at No Reserve at that first Las Vegas event.
"Of course, things at Barrett-Jackson have a way of coming full circle. The MG TC was purchased by our longtime friend Ron Pratte, who kept it until he decided to sell his collection at our 2015 Scottsdale Auction. When that MG TC crossed the block again, the winning bidder was none other than Aaron Shelby, Carroll's grandson, who purchased the car for the Shelby family. Another amazing moment that unfolded on the Barrett-Jackson auction block.
"Barrett-Jackson has long enjoyed a relationship with the Shelby organization, which is headquartered in Las Vegas. In addition to the sale of the MG TC, a number of other significant vehicles with ties to Shelby have crossed the block in Vegas. One milestone that comes to mind was the sale of the 800-horsepower Prudhomme Edition Super Snake Shelby GT500 Mustang at our 2009 event, with Carroll Shelby and drag racing legend Don Prudhomme, who designed the car together, on the block to help auction it off.
"Another big tie-in with Shelby in Las Vegas was the 2008 Barrett-Jackson Edition Shelby GT. We collaborated with Ford and Shelby Automobiles to create only 100 of these special cars, making them the rarest of the contemporary Shelbys, and they were all built in Las Vegas. We've sold a number of significant Shelbys in Vegas over the years, including several Series 1 models – the only car Carroll Shelby, with his company, built from bumper to bumper in the city. I was fortunate to be on the development team for that car – another Barrett-Jackson/Shelby connection.
"This week our relationship with the Shelby organization will again be center stage with the 2007 Ford Shelby GT Concept Car No. 1 – one more historically significant piece of Shelby history being sold on the auction block in Vegas. Unquestionably, some of the most memorable moments on the Barrett-Jackson block in Las Vegas have involved charity car sales.
"Jay Leno sold one of his motorcycles, Wayne Newton and Penn Jillette helped auction a VIN 001 Hellcat. … There have been a multitude of charity cars and celebrities. But the one that stands out for me was my 1964 Ford Fairlane. That car was special. It was the first time I was building a car for myself with the intention of adding it to my collection. But then I got to thinking. I have long been a champion of Barrett-Jackson's charity involvement, asking people to bid from their heart, not their wallet. Why not practice what I preach and auction my Fairlane for charity?
"I'm a big supporter of our armed forces and veterans, so I chose to sell the Fairlane to benefit them. We passed out hundreds of American flags to the crowd, had a Marine Color Guard on the block, I had my entire family there – it was extraordinary, something I'll never forget. We brought the house down when it sold for $700,000 to my friend Ron Pratte, who, an hour later, gave it back to me to sell at the next Scottsdale auction, where it raised another $1 million for our armed forces. That's what I call catching lightning in a bottle – twice!
"I really wanted to show people that Barrett-Jackson believes in what we say on the block – we truly are sincere. Las Vegas has provided many memorable moments over the years, and will continue to provide a platform for great cars, great causes and great people to come together and celebrate long into the future."
Last night (Oct. 18), Barrett-Jackson hosted its opening night party at the Drai's nightclub atop the Cromwell and from noon through 7 p.m. today through Saturday, the Velocity and Discovery cable channels will televise the exhibit cars and auctions.
THE $2M CON
Vegas visitor and airline executive Sir Richard Branson who's Virgin Atlantic planes fly to and from Britain and McCarran International foiled a $5-million swindle when a government defence imposter tried to persuade him to pay off kidnappers of a Secret Service agent. He refused to pay up believing it was a scam he'd read about in newspapers, earlier. However, a friend of his did give up $2 million to a man pretending to be Sir Richard, while the tycoon was leading hurricane emergency aid efforts in the Caribbean.
Said Sir Richard: "The con man did an extremely accurate impression of me and spun a big lie about me urgently needing a loan while I was trying to mobilize the aid effort in the Virgin islands. I think that both scams were by the same person. Everyone has to be incredibly cautious about anything when cash is wanted. There has been a big rise in fake scams online and I urge everyone to look out for them and report any they see. It's also on the phone and even in person."
JERRY 'S KID?
New York Post society columnist Cindy Adams is claiming that Jerry Lewis has left out his daughter Suzan from his will. She claims she's struggling, both disabled and homeless on the streets of North East Philaelphia. being helped by a stepbrother. Her mother is former fashion model Lynn Dixon, who was engaged to Jerry for years back in the days of Manhattan's Copacabana nightclub. Jerry never denied or confirmed the existence of this daughter, who's DNA tests in 2008 validated her claim. According to my old friend Cindy, Suzan plans to hire a lawyer to contest the will. Suzan's book "Jerry's Kid"was published in 2009.
SOCCER FILMING
Vegas crooner Brian Evans, who racked up 12 million views on YouTube with his thematic video "At Fenway" with William Shatner https://www.youtube.com/watch?time_continue=6&v=2U5euOQiaZEscored another massive hit with a music video with Luxor headliner Carrot Top at the Bates Motel.
Now he's taking on soccer with player Ramon Igdaly Amador from Mexico. They'll film the music video next month during a live soccer gamer. Brian's own new album is due for release next year and his book "Funny Robbers," co-written with Carrot Top's manager Dan O'Leary, will be produced as a film with the props comic co-starring and executive producing.
TALENTED SINGERS
The lineup of female singers and the girl musicians when Femmology made their Las Vegas showcase debut last night (Oct. 18) was awesome.
They're so extraordinary they will appear again tonight (Oct. 19) at the Keep Memory Alive Center downtown and again Nov. 25 and Dec. 21. This was the female version of Earth Wind and Fire: super talented voices and fabulous musical instrument performances. Keep your eyes on a superstar of the future Tamyra Gray, who placed fourth on television's "American Idol" show. Here's her YouTube video of "A House is not a Home."
They are all from Los Angeles and here in the hopes of landing their own production show at a Strip venue. With magical voices and incredible high energy that should come quickly.
ANOTHER GOLD WIN?
Can the USA have a back-to-back first-place gold win in the world culinary Olympics known as the Bocuse d'Or? Once again The Venetian will host America's most prestigious food competition to find the Team USA national selection for the Bocuse d'Or biennial contest in Lyon, France at the end of January 2019.
The winning team will have a year of practice before competing.
This preliminary competition will take place in the Palazzo ballroom where three teams are allotted five hours and 35 minutes to prepare a stunning meat platter and restaurant-style dish. Each entry will be scored on presentation and taste by an esteemed panel of judges led by founders and event hosts, star chefs Thomas Keller and Daniel Boulud.
The competing chefs this time are Ben Grupe of Elaia & Olio, St. Louis, Missouri, and Jeff Hayashi of Mourad and Matthew Kirkley of COI, both in San Francisco.
In 2017, onetime Bouchon brasserie at The Venetian chef Mathew Peters and his assistant Harrison Turone delighted culinary fans round the nation when Team USA won first place in Lyon. This "journey to gold" began at The Venetian in 2015, when the Team USA National Selection competition was held for the first time in Las Vegas.
CONFIRMED
Singer Jason Tenner, who stars
in Purple Reign, a Prince tribute show confirmed this morning (Oct. 19), our earlier story of his new Las Vegas residency at Tropicana, which is set to debut on Nov. 1. The award-winning Prince production show will be the 9 p.m. headliner. Jason closed his run suddenly last weekend at the Westgate and I predicted the Tropicana takeover on Monday,
POSTPONED
The three-day inaugural Emerge music conference set for next month will be pushed back to April 6-8 of next year but also refocused as a November one-day concert at Brooklyn Bowl in the Linq with proceeds to benefit victims of the Las Vegas shooting and their families. Emerge is presented by Life is Beautiful founder Rehan Choudhry and his Beautiful Perspective company.
1000 SHOWS
Raiding The Rock Vault, the ultimate rock experience which relocated to Vinyl at Hard Rock Hotel in March and will celebrate its 1,000th performance since launching in 2012. The weeklong celebration from Sat Nov. 25 through Nov. 29 will feature encores for the first time, a grand prize giveaway and special performances by past and present band members. The all-star lineup will include Rock and Roll Hall of Fame member Howard Leese, guitar (Heart); Dave Amato, guitar (REO Speedwagon); Hugh McDonald, bass (Bon Jovi); Jay Schellen, drums (Asia, Yes); Michael T. Ross, keyboards (Lita Ford, Hardline); Andrew Freeman, lead vocals and guitars (The Offspring, Last in Line, Lynchmob); Robin McAuley, lead vocals, (MSG, Survivor); Paul Shortino, lead vocals (Rough Cutt, Quiet Riot); Mark Boals, lead vocals (Dokken, Yngwie J. Malmsteen); and Cian Coey, lead vocals (Meat Loaf, We Will Rock You, Dweezil Zappa).
BARTENDER COCKTAILS
Call it a micro residency but The Dorsey lounge at The Venetian has launched its new series of the Collective, featuring artists, musicians and bartenders. Yael Vengroff , a bartender at the Spare Room in Los Angeles was the first guest serving up complimentary cocktails of her own creation to the invited guests.
She made a Long Tall Sally with tequila and honey, Diamonds to Dust with gin, Helter Skelter with Irish malt and Ballet of the Dolls with vodka and strawberry-peppercorn.
"More people are ordering more cocktails than ever," she told me. "They really want a drink with a difference. The customers in Las Vegas are far more adventurous with their orders than they are in Los Angeles."
OUTRAGEOUS BRUNCH
It's the wildest brunch in all of America and the new winter season has begun at LAVO in the Palazzo again. And, this year the star attraction is the ginormous new bloody mary setup: The over-the-top cocktail is available in two different sizes and features an entire lobster, shrimp skewers, crab legs, bacon skewers and celery sticks. Priced at $500 and $250, the bloody mary is served to the table in an ice sculpture and comes with a bottle of Tito's Vodka. But that's not really expensive compared with the humungous $800, boozy ice cream sundae the restaurant added to its menu. They sold 60 of them over the season. Also last year, customers bought 3,500 bottles of champagne, 600 each of waffles and pancakes and 400 orders of French toast. This season's new menu item is the avocado toast and 200 have been sold in the first two weeks.
TONIGHT'S TIPS
• Over 70 magicians from Jeff Mcbride's Magic & Mystery School in Henderson will attend the Wonderground Shows to set a world record for the most magicians performing in one place on one night. The event is so big at the Olive Mediterranean Grill it will be divided into three one-hour shows with three different emcees: Tim Wise, Will Bradshaw and Jeff with strolling magic and closeup trickery beforehand.
• The three-story 75,000-square-foot Enclave special events venue complete with 5,000-square-foot panoramic rooftop deck celebrates its grand opening with musicians Mike Xavier and Brittany Rose, providing live music for rooftop dancing under the stars and performances by Cirque du Soleil. Money raised will go to the Shooting Victims Fund created by Clark County commissioner Steve Sisolak.
• Singer and beloved regular Clint Holmes has his one-man concert of smooth vocals and cherished standards at Myron's Cabaret Jazz in The Smith Center.
• Lord of the Lost, EMDF and OhGry support industrial rock icons KMFDM headlining at the Fremont Country Club for Smash Magazine's lineup of shows.
• Champagne and canapes will be served at the Burberry store in the Forum Shops of Caesars Palace when couples Juliette Bauman and Frank Schrek and Lee and Benson Riseman host the Nevada Ballet Theater dancers there.
• It's the Howl-o-ween themed Paws on the Piazza costume contest for pet dogs at Tivoli Village. Your local TV news anchors are judges joined by BMX Rider and stuntman Ricardo Laguna.
• It's the eighth anniversary of the Crazy Horse III gentlemen's club with DJ Eric D-Lux cranking up the heat and popping the champagne bottles.
• Las Vegas celebrates PRIDE week with the Human Rights Campaign kicking it all off with DJ Lisa Pittman and Nick Ayler at the Living Room of the W Hotel at SLS.
• DJ's Ayati & Casanova team up for duty behind the dual decks at Chateau atop the Paris Las Vegas.
• DJ Shift pulls the graveyard hours at Drai's atop the roof of the Cromwell.
• DJ RL Grime spins the 1s and 2s on the turntabes at the Intrigue club in the Encore.
• DJ Five gets to count them down again at TAO in The Venetian.