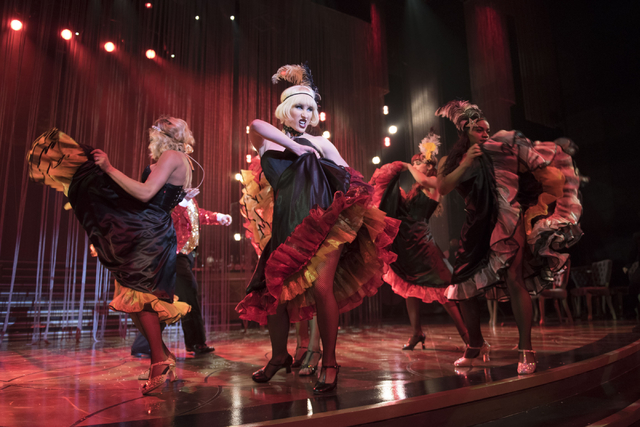 What a way to celebrate the first anniversary with the return from Broadway of original cast member Ruby Lewis, who won recognition in the Palazzo production that took her to the Great White Way, to launch "Paramour" for Cirque du Soleil. The Broadway star put on a breath-taking performance in her return to the Palazzo.
Acclaimed Las Vegas show, "BAZ-Star Crossed Love," celebrated its one-year anniversary with a star-studded event on July 31 where Ruby and the entire cast dazzled from start to finish. To commemorate the first year's success story audience members were encouraged to dress up as their favorite "BAZ" character. With sparkles, fringe and the champagne flowing, this was one party that lasted throughout the night. Guests included boy band pop king Lance Bass and his husband, Michael Turchin, along with Barrett Foa who stars in "NCIS Los Angeles."
"The energy tonight was nonstop," Ruby said. "I'm so glad I was able to rejoin the cast and celebrate the one-year anniversary of this magical show."
With emotional renditions of popular songs including "Young and Beautiful" by Lana Del Ray, "A Little Party Never Killed Nobody" by Fergie, and "When Doves Cry" by Prince, the production, which has been noted for "soaring performances" and "the best vocals on the Strip!" features an ensemble cast and band.
"BAZ-Star Crossed Love," a show five years in the making, is the creation of For The Record, a genre-bending theatrical company in Los Angeles with a vision of turning the soundtracks of iconic filmmakers into immersive theatrical concert experiences.
"BAZ -Star Crossed Love" performs Tuesday through Sunday at 7 p.m. at The Palazzo Theatre.