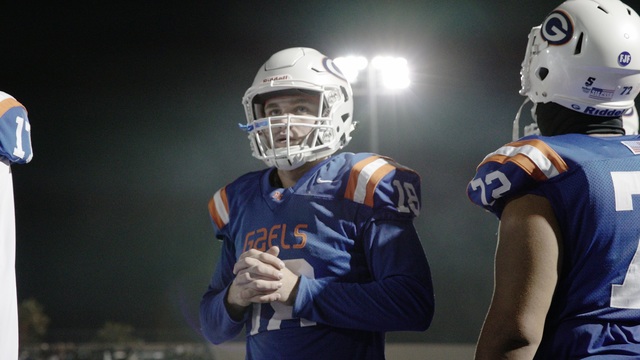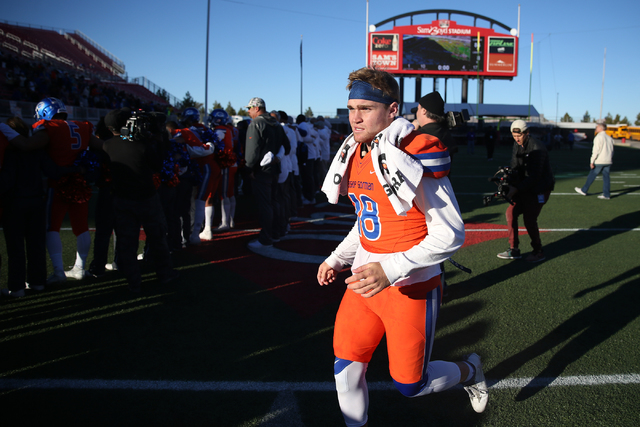 Tate Martell of Las Vegas amassed impressive record stats in his time as quarterback at Bishop Gorman High before moving to Ohio State last week. Named All-USA Offensive Player of the Year by USA Today, Tate threw three completions on five attempts for 23 yards as a starter and was a captain for the West team at the U.S. Army All-American Bowl.
In his first Ohio State outing, Tate had an 18-yard touchdown run and gained 38 rushing yards on seven carries. There is no question that down the field, we will see our hometown hero at The Super Bowl. He's that great!
Meantime, Great Tate has landed a role in a 10-part docuseries that follows him on and off the field during his unforgettable senior year. Award-winning director and actor Peter Berg ("Friday Night Lights," "Lone Survivor," "Patriots Day") and Complex Networks' Rated Red launch the series on the mobile TV network Go 90 beginning Feb. 15.
"QB1: Beyond the Lights" profiles three athletes each committed to NCAA Division I Football programs who are entering their final year before they leave behind families, friends and teams, who have supported them since the beginning of their journeys, in pursuit of furthering their dreams.
The series is a look at the quest for the American Dream as seen through the lens of the nation's top high school quarterbacks aspiring for NFL greatness. Said Peter: "It's intimate and soulful and takes us deep inside the hearts and minds of these young men who are faced with an unknown future — one that is filled with anticipation, anxiety, excitement and fear.
"And yet, they need to be fearless in the face of it all to succeed. It's the kind of narrative that pulls no punches. These are personal and very compelling stories." In an official statement, Rich Antoniello, CEO of Complex, said:
"Peter is an incredible storyteller who has left an indelible mark on American football. The show transcends a sport; it's about the people and choices that define us and the things that inspire greatness. The themes in 'QB1' are exactly the kind of storytelling that is at the core of a Complex Networks original series."
Tate is one of the three young star players who each aspire to the NFL: He went into this season with a 30-0 record. As one of the most-watched quarterbacks in the country, he must block out the publicity drumbeat noise to lead his team to perfection.
The two others are Jake Fromm of Warner Robins, Georgia, and Tayvon Bowers of Harrisburg, Pennsylvania, who overcome tremendous personal tragedy to lead one of The Commonwealth's powerhouse football teams.
"QB1: Beyond the Lights" takes viewers inside the game, lives and the minds of these three extraordinary athletes, from the parents who sacrifice everything to devoted communities who fill the stands every Friday night.
Complex Networks, formed from a joint acquisition of Complex by Verizon and Hearst, is a global lifestyle brand and media company. The company generates more than 500 million video views a month across its digital channels and is a Top 10 publisher in the U.S. in social engagement on channels including Facebook and YouTube.
Complex Networks recently launched Rated Red and Seriously.tv to distribute a growing slate of original programming on Verizon's Go 90 focusing on music, art, street style, action sports and entertainment reaching the coveted 18-24-year-old male audience. Last year, the company hosted the two-day Complex-Con in Long Beach, California, drawing more than 20,000 attendees.