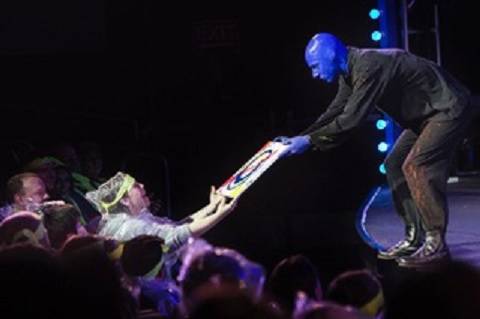 EDITOR'S NOTE: Happy Fourth of July. It's that time of the year again when Robin takes off for his monthlong family trip to Europe. He arrives today in Athens to explore its historical treasures before moving onto the Greek island of Santorini. Next weekend, he'll wind up as usual in Italy exploring the delights of Tuscany.
In his absence, a great number of showbiz entertainers, celebrity VIP's, chefs, restaurateurs and Vegas dignitaries have stepped forward to write their guest columns – and today (July 4) we welcome Alain Rochefort, the current captain of the Blue Man Group trio at the Luxor.
Alain left a tiny town in Canada to become a Blue Man and its taken him all over the world as you can see:
My friends and I used to play a game in Tokyo where we would order something random from a menu in a restaurant which we could barely read; give that food item to each other and say: "Can I watch you eat that?" We then wait to be thoroughly entertained by the reaction. Most often than not it was disappointing as the food was usually pretty good. (If you have life threatening food allergies I do not recommend you play this game.)
For me, to be in this scenario was unimaginable growing up in a small town called Astorville in Northern Ontario, Canada. The nearest cosmopolitan city is Toronto and it's a four-hour drive. The township has a population of 5,000 people and not a lot of ethnic diversity.
So, how did I end up in Tokyo with a Scotsman, an Englishman and an American eating fish eyes, cow tongues and raw horse meat? The answer: Blue Man Group.
I joined Blue Man Group in the fall of 2006 to play the egoless, infinitely curious character who doesn't speak. I was 21 years old.
My journey started with training in New York City and Chicago. I then joined as part of the cast in our productions in Toronto, Oberhausen (Germany), Tokyo, Sydney, Boston and finally here in Las Vegas. I have been in eight cities and a cruise ship in the past 11 years performing as a Blue Man. The length of stay in each city varied from a few months to a few years.
When a Blue Man is transferred, we have to learn to adapt to the culture of that city. I learned to speak new languages, eat different food and learn new customs.
In Germany, I learned you can't hog the left lane on the autobahn because someone will run into you going twice as fast as you are. The left lane is for passing only! This is now one of my biggest pet peeves while driving.
NO NEED TO RUSH IT
In Europe, I learned Europeans are all about the quality of life. Eat good food and love the people around you. Enjoy life – no need to rush it.
In Japan, 35 million people live in the metropolis of Tokyo, yet it is the cleanest and most-organized city I have ever lived. This is because they treat the city as their home so they keep it tidy.
Most of all, throughout my travels, I learned that humans are humans no matter where you go. People laugh at jokes, get moved by music and have words in their languages to express the same feelings. We all want to be social and to be loved.
This is why Las Vegas is such a special place to me. It's a bit of everything all in one place. People from all over the world travel to Las Vegas to let loose and forget about the stresses of daily life.
I have been very lucky to have my perspective of the world opened. At Blue Man Group, our audiences are as diverse as is the world and I hope that in some way here in Las Vegas, and at our shows around the world, we can bring all people together in a euphoric celebration of human connection.
TOMORROW: (July 5) reality stars Sabina Kelley and Chumlee are our guest columnists. Newly-wed Sabina left Las Vegas after a three-year run of her "Inked" tattoo show for a new life on Australia's Gold Coast and she writes about the difference of living in the desert here and in the land "Down Under; and Chumlee has opened his own retail store at Pawn Stars Plaza.