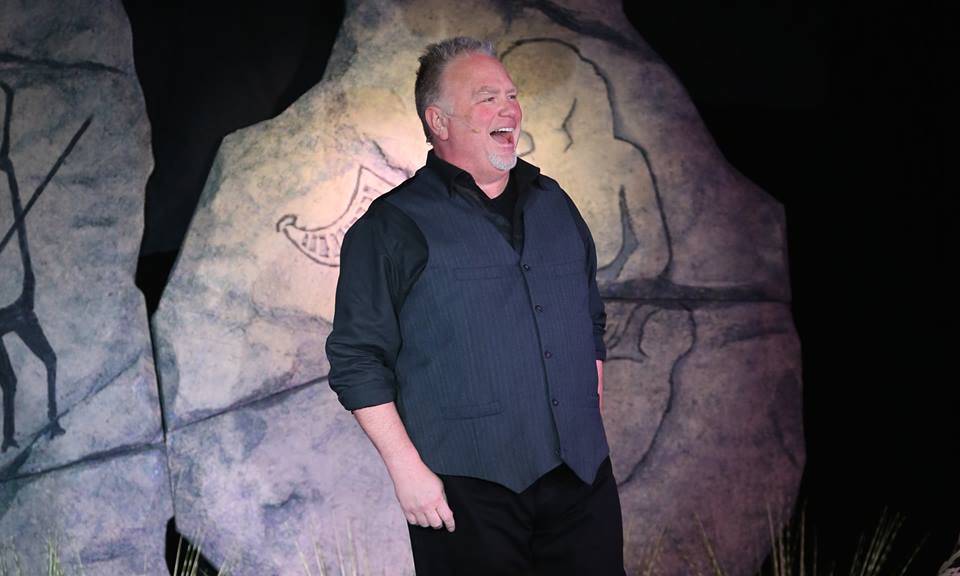 EDITOR'S NOTE: It's that time of the year again when Robin takes off for his monthlong family trip to Europe. His travels this week take him to La Spezia close to the beautiful Cinque Terre area of Italy. Tomorrow, he'll wind up, as usual, in Italy exploring the delights of Tuscany. In his absence, a great number of showbiz entertainers, celebrity VIPs, chefs, restaurateurs and our Vegas dignitaries have stepped forward to write their guest columns.
Time now for Broadway actor Kevin Burke still in Vegas with the longest-running show. "Defending the Caveman." in the past decade!
……
Broadway! We love it. We pay big bucks to see it, whether on Broadway itself, at the Smith Center, or in a resident casino show. But what is it, exactly? What makes a show a "Broadway" show as opposed to any other show? Is it the music? Singing? Acting? Dancing? None of the above. The answer is surprisingly simple. If a show played in a Broadway theater in Manhattan, it's a Broadway show. Currently, there are 41 Broadway theaters in NYC.
Broadway has a long and glorious history in Vegas casinos. Stars including Betty Grable, Frank Gorshin, Juliet Prowse, Jack Soo, Dick Shawn, Tony Danza, Carol Channing, John O'Hurley, Ann Margaret and, yes, David Hasselhoff, have all performed in Broadway shows in casinos. Peter Marshall, host of TV's "Hollywood Squares," starred in two separate Broadway shows here before he became a television star.
Broadway musicals were first offered by casinos in the early 1960s. The Thunderbird produced two to three Broadway shows per year. Over the years, Vegas casinos have offered "Fiddler on the Roof," "South Pacific," "Mame," "Sweet Charity," "Hair," "Flower Drum Song," "High Button Shoes," "Artists and Models," "Bye Bye Birdie," "Anything Goes," "Priscilla: Queen of the Desert," "Starlight Express," "Cabaret," "Phantom of the Opera," "Jersey Boys," "Mamma Mia!," "Million Dollar Quartet," "Lion King," "Spamalot," "The Producers," "Avenue Q," "Chicago," "Saturday Night Fever," "Guys and Dolls," "Hello Dolly!," "Tommy," "Cats," "Rock of Ages," "Rent," "Hairspray," "Miss Saigon," "A Chorus Line," "Jesus Christ Superstar," "A Funny Thing Happened on the Way to the Forum," The Odd Couple," "Mike Tyson: The Undisputed Truth," "A Bronx Tale," "The Boys in the Band," and "Defending the Caveman."
Virtually every casino on the Strip has hosted a Broadway show at some point, as well as the Plaza, Golden Nugget and The D on Fremont Street.
As an actor, I've been astonished by the quality of work I've seen here. Something about a long run enables actors to dig deeply into their roles. "Jersey Boys" made me tear up three times during the show, "Music of the Night" from "Phantom" made my "soul take flight" all four times I attended. Mark Donovan's monologue in "Million Dollar Quartet," in which he describes Sam Phillips' recording studio as a place where "the soul of a man never dies," never failed to move me, and I saw it every night on the way back to my dressing room after my show.
My daughter, McKenna, and I rocked out, laughed, and had a blast at "Mamma Mia!" on her eighth birthday. (No, I didn't know the plot beforehand. Yes, I had to dance around the question, "Why doesn't she know who her daddy is?")
But that's the beauty of Broadway shows. They make us ask questions of ourselves. They make us think, and feel. They move us. (Not that spectacle-centered shows and reviews aren't wonderful. After all, I am a spectacle guy myself, having toured with Ringling Bros.) Broadway shows ask a little more of an audience. They ask us to engage. To follow these wonderful characters as they act out the arc of their life stories, sometimes to victory, sometimes to their own destruction. It's an emotional as well as a sensory experience, and that's what makes Broadway special. That's what makes it important. Broadway tells us a story about us.
Currently, Las Vegas is in a "Broadway doesn't work in casinos" phase. The closing of three shows during the past year have sounded the predictable death-knell of Broadway in the tourist corridor. I think that's a bit premature. Broadway cycles in and out. After their national tours wind down. "Book of Mormon," "Wicked," "Hamilton," or something equally wonderful will take up residency in a casino, and the headlines will read, "Vegas Discovers Broadway!"
Until then, there is one Broadway show in a casino residency today. It's been here since 2007 and has set the records for longevity and number of performances — over 4,000 — of all Broadway shows in Vegas history. It's a one-person comedy about men and women in relationships. It explains women and men to each other in a way that brings couples together, instead of tearing them apart. It's called "Defending the Caveman," and is presented nightly at The D at 8:40 p.m.
As the actor in the show, I've been privileged to be named Entertainer of the Year in 2008 and set the Guinness World Record for Most Theatrical Performances in 50 Days. It's a show of which I am extremely proud, and I'd love for you to see it. Grab your significant other, have some laughs, and let me tell you a Broadway story about you.
For Caveman tickets, call the Box Office at 702-388-2111, or book online at TheD.com.
Be sure to read our other guest column today (July 14) by Susan Anton who is still going strong after 40 years in show business. She has added Spa Girl cocktails to her entrepreneur hat!